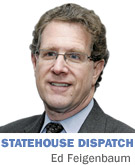 Amazing how deadlines—particularly pushing them forward—can ensure compromise in the General Assembly's conference committee process.
Within hours after House Speaker Brian Bosma revealed that he expected lawmakers to conclude their business by the end of March 13, instead of March 14—and given his druthers, adjournment sine die would be bumped up to March 12—agreement suddenly came together on the bulk of problematic issues that had been in search of solutions for weeks.
As this column was coming together, so, too, were initiatives to limit the nursing home moratorium and allow growth where essential, and to pave the way for a preschool pilot program for low-income Hoosier families (and effectively expanding the voucher program) funded from the state surplus.
Movement also was afoot to further cut the corporate income tax rate and trim business personal property taxes for many businesses at the county's option, and to give counties additional abatement tools. Yet another involved laying the groundwork for a central Indiana mass transit program funded through assorted mechanisms (and which is likely to change shape significantly before it starts moving Hoosiers), with a conditional multi-county referendum likely this November.
Of course, there will be no constitutional amendment defining marriage as between one man and one woman on that fall ballot, the most publicly debated issue of 2014. The amended resolution should return for legislative approval next year.
After that, some would say, it was all anti-climactic.
Nothing matched the drama of the House Joint Resolution 3 marriage amendment debate.
Even the faux divide between legislative Republicans and the Republican governor over spending issues became news only because of the lack of other substance as Gov. Mike Pence drew upon his federal legislative experience and deferred much of the heavy lifting—picking the colors and filling in the empty spaces—to lawmakers in the "paint by numbers" pictures he had outlined for them in December.
But the spending battles won't be as easy to resolve next year when lawmakers draft a biennial budget.
The February revenue-collection report released March 7 ended any thought of spending outside the budget.
The numbers have been largely disappointing through the first two-thirds of the current fiscal year (the governor even forced agency spending cuts and one-time moves to save and boost revenue). February collections continued the trend, falling $54.1 million (-7.1 percent) below the updated (and more pessimistic) Dec. 20 revenue forecast.
Forecasted revenue levels have now fallen short six times in the eight months of fiscal year 2014. All of this seemed to confirm for Senate Committee on Appropriations Chairman Luke Kenley that he made the right decision by calling a time out on off-budget spending the governor sought in early December.
"I'm focusing on the bigger picture and I'm still seeing things that are concerning me," the Senate fiscal leader said as he took the unusual step of making himself available for comment at the Statehouse after the numbers reinforced his concerns.
The "bigger picture" Kenley refers to includes total General Fund revenue collections running $59.3 million (-0.7 percent), behind the same eight-month period in fiscal year 2013. He finds it "very unusual that you'd be below the prior year," particularly as the numbers appear to be "in contradiction to the overall picture of the national economy."
Cumulative income tax revenue is down from the prior July-February period, even as the unemployment rate has fallen below 7 percent from an 8-percent rate midway through fiscal 2013. Gambling tax revenue is also in free fall.
Rep. Greg Porter, D-Indianapolis, echoes Kenley's concerns and clearly expects more cuts questioning whose ox will be gored this time.
Lawmakers have deferred a large number of policy issues into interim study panels and to the next session, but absent a change in revenue trend lines, funding any new priorities might prove difficult next year.•
__________
Feigenbaum publishes Indiana Legislative Insight. He can be reached at edf@ingrouponline.com.
Please enable JavaScript to view this content.