A chain of "hyper-local" community newsletters has entered four more Indianapolis-area suburbs and plans to launch in Greenwood, its 10th market, in June.
Locally based TownePost Media Network licenses its format to publishers in each community. It provides a network of writers, layout assistance and other support services for the newsletters that it says reach more than 100,000 central Indiana readers each month.
Focused primarily on northern suburbs, TownePost licensees recently launched newsletters for Broad Ripple, Lawrence, Noblesville and the Morse Reservoir area. Publications for Fishers and Zionsville began circulating last year. TownePost also counts a newsletter in Center Grove, which will make the upcoming Greenwood publication its second south of Indianapolis.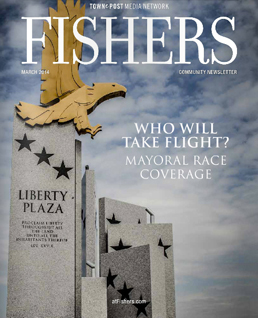 The Fishers newsletter launched in early 2013 under licensees Laurie and Matt Quinn. (Image courtesy TownePost Media Network)
TownePost was created a decade ago by Tom Britt, a veteran of specialty publishing and marketing. He also once hosted the "weekend update" on WZPL-FM 99.5's "Smiley Morning Show."
Britt's first effort was targeted at the wealthy bedroom community of Geist, northeast of Indianapolis. Even after TownePost expanded into other communities, the estimated annual average income of its readers is $114,000, compared with the state average of $44,000.
Stories typically range from coverage of economic development initiatives to profiles of local celebrities, business people, politicians and successful students.
"We kind of carved the niche early on of being hyper-local. We're looking at a very myopic view of just that community," said Britt. "That's been our secret sauce for 10 years."
Most of the distribution is via direct mail, with about 10 percent of the publications available at retailers such as CVS, Kroger and Marsh Supermarkets.
Britt said he sees a vacuum in the market, with the shrinkage of suburban coverage by some mainline newspapers such as The Indianapolis Star and specialized publications once offered by parent Gannett Co. Inc.
The newsletters, which have evolved over the years to appear more magazine-like, were formerly printed on glossy paper that give them an upscale look. Recently, the design was toned down to a matte finish, a trend now more common in the magazine world.
Britt also created website versions and apps for each newsletter, along with video content and the usual feeds via social media channels.
Britt is contemplating expansion. He wants to expand TownePost's reach to cities around the Midwest with extensive suburbs.
His licensees are often businesspeople who know their communities and are able to drum up their own ad sales.
Laurie and Matt Quinn, of Fishers, were in other lines of work before becoming licensees for the Fishers newsletter, which launched in early 2013. Laurie Quinn is chief publisher, and grew the newsletter such that her husband, Matt, left his 80-hour-a-week job to pitch in.
"It's gotten so big I'm helping her," he said of his new boss.
"There's an awful lot of economic development news in Fishers right now," he said, as well as compelling stories to tell about schools and not-for-profits.
The publications appeal to potential advertisers who don't have a big marketing budget but might justify an ad that reaches the right person just down the street.
"As print, Internet and video media converge locally, we're positioning ourselves to be a news and small business promotional conduit for the communities we serve," Britt has said of Townepost's strategy in marketing materials.
Correction: An earlier version of this story incorrectly stated that John and Ann Craig-Cinnamon publish the Carmel newsletter. They did at one time, but no longer do.
Please enable JavaScript to view this content.