Cummins Inc. is promising to build an "architecturally significant" office building on the remaining available land at the former Market Square Arena site but one that will be much smaller than what's planned to the north.
The Columbus, Ind.-based diesel engine maker announced Wednesday morning that it will build its global distribution headquarters on the two remaining MSA parcels, located on the block east of Alabama Street and between Market and Washington streets. The $30 million development initially will house about 225 employees—100 from existing multi-tenant office space downtown and 125 from Columbus, with space for up to 400.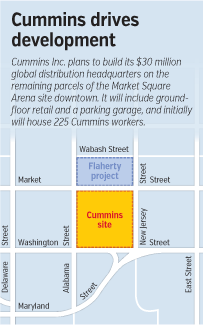 Later Wednesday, Cummins spokesman Jon Mills declined to provide details on the scope and size of the building. Besides office space, it will feature ground-level retail space below a parking garage.
Based on Cummins' plans, real estate brokers told IBJ that its office-space needs likely would amount to no more than eight stories.
That would be less than a third of the height of what Flaherty & Collins Properties has proposed just to the north across Market Street. It plans to break ground in May on an $81 million, 28-story apartment project with 300 luxury apartments.
"Regardless of the size, I think it will be something that the city will be proud of," Mills said at the press conference.
The Cummins Foundation has a long history of commissioning architecturally significant buildings in Columbus, considered one of the world's meccas of modern architecture. The structures include the Miller House in Columbus, the home of former Cummins chairman J. Irwin Miller.
Ross Reller, director of land services for Colliers International's Indiana Region, welcomed the announcement, regardless of how tall the building might be.
"I think anytime you can get a Fortune 500 company to commit to having a major presence in downtown with world-class architecture, it bodes well for our skyline," he said. "I don't understand people who say you have to go tall. There's no empirical evidence that the market is demanding more office space downtown."
Cummins currently leases about 31,000 square feet of space downtown between the OneAmerica Tower and Capital Center North. The company's lease expired recently at OneAmerica. But Cummins negotiated a short-term, two-year extension with OneAmerica, helping it to move forward with the decision to build new office space.
Cummins' lease at Capital Center also expires in two years, Mills said.
Construction on the new building is expected to begin within the year, with completion in late 2016.
"It was great that we were able to get the extension," Mills said. "Obviously, we don't have to move people now."
Real estate sources said OneAmerica initially wanted to lock Cummins into a longer, five-year extension before relenting with a two-year extension.
"They wouldn't want to be thought of as being the last impediment to a deal like this," Abbe Hohmann, president of Site Strategies Advisory LLC, said of OneAmerica. "They also have a building that is one of the two most desirable buildings [along with Chase Tower] downtown."
The OneAmerica Tower is nearly fully leased, somewhat of an anomaly in a downtown where Class A office vacancy is above 20 percent.
IBJ first reported in June that Cummins was scouting downtown locations to construct a new office building and reported in September that the company was eying the Market Square Arena site.
Deron Kintner, the city's deputy mayor of economic development, said at the press conference that the city began discussing potential sites with Cummins last spring. Talks became more serious after the city's selection of the Flaherty & Collins project, he said.
"As far as I'm concerned, I feel like we hit a grand slam with these two projects," Kintner said.
Mills said Cummins considered other locations and even other cities but wanted to remain in Indianapolis, in part because of the easy access to Indianapolis International Airport. The former Market Square Arena site's close proximity to the Cultural Trail made it attractive to the company, he said.
The retail space built into the project should get a boost from increasing development activity in the area, real estate brokers said. Besides Flaherty & Collins' project, Milhaus Development  has built 258 apartments to the east as part of the first phase of Artistry, and last month the city unveiled plans for a $20 million transit hub to be built on a surface lot across Washington Street from the City-County Building.
The city has made no secret of its desire to lure a large retailer such as Target downtown, and the Cummins project might represent its best hope.
But Target's local leasing agent said it's doubtful the retailer would consider the site.
"The time is not right for them right now," said Adrian Brown of Gershman Partners, citing a lack of density despite the slew of downtown apartment projects. "Someday I think they'll come downtown, but it's not right now."
Cummins will purchase the four-acre site from the city for $4.3 million. The city said it will invest $3.3 million in infrastructure improvements and parking on the site, and abate 70 percent of the development's property taxes for 10 years.
Please enable JavaScript to view this content.