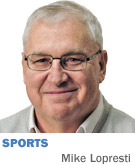 Here we are at the exit door for college basketball players in the state of Indiana, trying to get an idea if anyone might be leaving after this difficult season, and …
Swooosh.
Who was that? Oh, Noah Vonleh of Indiana, headed for NBA draft day. Can't really blame him, but that's not going to help the cause of getting rid of the bad taste of the past year. As of March 30, do you know it was only 391 days ago that the Hoosiers were ranked No. 1 in the country?
Swooosh.
Gee, that looked like Ronnie Johnson of Purdue, with transfer papers in his hand. It wasn't always smooth sailing at guard for Johnson, but he is a veteran, and the Boilermakers could use the experience as they try to find the door out of the Big Ten basement. In West Lafayette, the basketball season felt too much like the football season, only without the tailgate parties. Do you know it was just 741 days ago that Purdue was taking eventual national runner-up Kansas to the wire in the NCAA Tournament third round?
Swooosh.
Wasn't that Devontae Morgan of Butler? The Bulldogs' dive into the Big East went like skinny dipping in the Arctic Ocean. Do you know it was only 371 days ago that Butler was barely missing the Sweet 16, losing by two points to Marquette?
Swooosh, swooosh.
There went Jeremy Hollowell and Austin Etherington. This exit has certainly been busy with hurrying Hoosiers. Did someone in Bloomington pull the fire alarm?
Swooosh.
Another Bulldog, Nolan Berry. Who's next to trot out this door, Blue? When it comes to old movie titles, this state's basketball at the moment reminds you less of "Hoosiers" and more of "Exodus."
Two messages can be taken from all this.
No. 1, three glittering programs in Indiana are all facing moments of truth next season.
And No. 2, it certainly didn't take long for No. 1 to happen.
Their frustrating seasons ended within 22 hours of one another in March, all losing their first conference tournament games. Their combined record against league opponents was 16-41. Not that long ago, you could have reversed those numbers.
But then, disappointment was all the rage this year in many of college basketball's traditional epicenters. No Indiana team in the NCAA tournament. No Illinois team. The regionals went on over the weekend with no team from the state of North Carolina for the first time in 35 years.
The most visible Hoosier participant in the Sweet 16 was Lucas Oil Stadium, as Midwest Regional host. And as if to twist the knife about how this season had gone, whom did fate and the NCAA send to Indianapolis to play? Kentucky vs. Louisville.
So are the current ill tidings a freak of nature, or symptoms of something more serious? From Bloomington to West Lafayette to West 49th Street, the faithful wonder. Wonder about the future and—this is the way these things work— wonder about the coach, no matter the circumstances.
Tom Crean is still the man who revived the Indiana program. But …
Matt Painter is a Purdue guy who has produced a lot of good Boilermaker seasons. But …
Brandon Miller faced a perfect storm—incoming coach, heavy graduation losses, best player injured, the Big East a new and merciless reality. But …
"I like the improvement," Miller said of his team the day it was knocked out of the Big East tournament. "But I understand that we're not where we need to be."
That fits all three for 2014. All suffering from a bad case of the not-where-they-need-to-bes.
The question is, how long will it take? Often, good times can replace bad times as quickly as the other way around. But it can feel longer. None of these three programs—or three coaches—would care for a rerun next season. Now is not the time to lose perspective on any of the three, but that'll be harder to do with a bad 2014-2015.
The Sweet 16 included Hamilton Southeastern's own Gary Harris and Zak Irvin. Purdue's Cuonzo Martin, now coaching Tennessee. Two sons of Indiana coaches who now lead their own teams—Steve Alford and Scott Drew. That was as close as the state of Indiana came to active participation.
Meanwhile, we man the exit door, waiting to see if anyone else opens it. But that's no longer the important thing. Can someone go around to the other side and see if many newcomers are swoooshing in the entrance door? They'd better be.•
__________
Lopresti is a lifelong resident of Richmond and a graduate of Ball State University. He was a columnist for USA Today and Gannett newspapers for 31 years; he covered 34 Final Fours, 30 Super Bowls, 32 World Series and 16 Olympics. His column appears weekly. He can be reached at mlopresti@ibj.com.
Please enable JavaScript to view this content.