It's been five years since the American Cabaret Theatre was reborn, first as the Cabaret at the Connoisseur Room and, shortly thereafter, as the Cabaret at the Columbia Club.
I'm not usually big on anniversary stories, but the fact that this creative gamble paid off—and that its first half-decade has brought so much pleasure—warrants a birthday shout out.
It didn't have to happen this way. ACT could have easily faded away. But Cabaret Artistic Director Shannon Forsell and company took the earlier organization's commitment to song and gave it a new voice.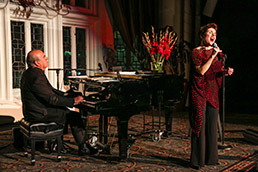 Christine Andreas (Photo courtesy of Mark Sheldon)
Selfishly, I'm thrilled that this reboot made it possible for me to hear such folks as Jason Robert Brown, Jonathan Groff, Tony DeSare, Liz Callaway and many others in a swanky-but-intimate setting (which is even cooler on December evenings when the Monument is lit up through the Columbia Club windows).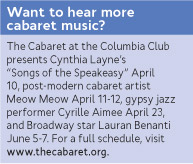 Sure, there have been duds in the mix. Anyone who witnessed the unfortunate first-night performance by composer Scott Alan (I survived only until intermission), knows the Cabaret isn't infallible in its selection. But I'd rather see a group take risks and occasionally fail than to play it so conservative that every show is predictable. And its batting percentage so far has been very, very strong.
The Cabaret also offers a bigger lesson to struggling arts groups. Sometimes such organizations stubbornly cling to what they know without considering what they could be.
Besides the presence of Forsell, this iteration of the Cabaret doesn't bear much resemblance to the old American Cabaret Theatre—not in location (that one was housed at the Athenaeum), not in content (straight-up cabaret performances vs. revues and book musicals from the former), and not in price point (the newer cabaret is pricier even before you add the food/beverage minimum). It's still got the same musical DNA, but in a form that fills a niche, aspires for excellence, and has the means to achieve it.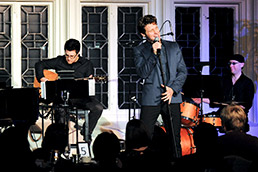 Jonathan Groff (Photo courtesy of Mark A. Lee)
And while it is primarily a showcase for the best from the outside world, the Cabaret has also demonstrated a commitment to local talent. In addition to Forsell's frequent benefit performances, it has also showcased locals Deb Mullins, Cynthia Layne, Brenda Williams and Karen Irwin (with her Janis Joplin show). It even featured a tribe of Ball State University students. And the Cabaret's visiting talent often offers masters classes, unique educational opportunities both for the participants and the observers, with the headliners listening, dissecting and guiding.
For me, one of my criteria for a successful arts group is how much I regret the shows I've missed.
In the case of the Cabaret, that list includes Barb Jungr, Leslie Odom Jr., Ute Lemper, Karen Mason and many more. I expect to be seeing what I can at the Cabaret, sharing my observations with you, and regretting those I miss, for many, many years to come.•
__________
This column appears weekly. Send information on upcoming arts and entertainment events to [email protected] Lou Harry is on vacation this week experiencing A&E in other cities. Stay tuned for more new reviews of local productions.
Please enable JavaScript to view this content.