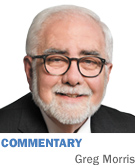 I love this time of year, when downtown streets get busy and crowded with happy visitors enjoying themselves. And, of course, they're happy when they spend money—which is good for business! It's great for the city and a welcome relief for local businesses looking to make the cash register ring after struggling through a brutal winter.
Indianapolis just hosted the NCAA Midwest Regional men's basketball championship, where about 40,000 Kentucky, Michigan, Louisville and Tennessee fans flooded the streets and Lucas Oil Stadium for an extended weekend. People were everywhere, and they were pumped up and proudly displaying their school colors. We're happy they were here, as this event was projected to have a $20 million financial impact. Next year, Indy will host the NCAA Men's Final Four for the seventh time. So there's another big-time sporting event to look forward to.
The next big convention in town is the Fire Department Instructors Conference, better known as FDIC, which runs April 7-12. FDIC is the world's largest fire training-based conference and exhibition and delivers extensive hands-on training to the men and women of the fire service.
This is the 20th year the annual conference has been held in Indianapolis, and the event takes up every available square foot in the Indiana Convention Center and Lucas Oil Stadium, and even spills outside with exhibits on South Street. Last year, FDIC drew its largest crowd ever, with more than 30,000 attendees. Registrations are running 4 percent over last year at this time. The projected financial impact of FDIC is just under $27 million, which ranks this conference fourth in size and economic impact.
After 20 years in Indy, the conference has a strong partnership with the Indianapolis Fire Department. The conference benefits from IFD's extensive donation of man-hours and involvement, and IFD benefits from the real-time experience and professional development.
I'm fortunate to get the opportunity to walk through the exhibit halls of FDIC each year. It's awe-inspiring. It's a reminder to me to stay humble and be appreciative of the great sacrifices these everyday heroes make so the rest of us can live in a safer place.
After FDIC, it's the big enchilada—the 143rd NRA Annual Meeting and Exhibits, which runs April 25-27. About 70,000 attendees are expected to create a $55 million financial impact, as the city steps up to host this mega event for the first time. A lot's been written already about the National Rifle Association event, so I won't rehash everything here. I'll just say I'm thrilled to welcome NRA members to Indianapolis and I plan to attend as many of the activities as possible.
Who knows, maybe there will be some manufacturers in attendance that are looking for a new home for their business after being shunned by lawmakers in their state. To them, I say, "Look around. Extend your stay. I'm sure economic development officials will make themselves available to show you why locating your business in Indiana is a smart decision."
So, there you have it. Indianapolis is playing host to a lot of visitors in a 30-day period. And that's big money for our city. Time and time again, visitors say they enjoy coming here because Indianapolis is clean, safe and walkable. As a result, visitor attendance to Indianapolis keeps increasing each year.
Feeling safe reminds me of this: Was I the only one who noticed at least one local television station going around to our NCAA visitors asking them if they were worried about their security? Everyone answered that they weren't worried at all, and they were thrilled to be here.
But the tone of the reporting and the inference of the questioning was, "Do you feel safe, and if so why?" Well, they were feeling downright giddy until all the questions about safety and they watched the TV newscast. Please stop that behavior—and you know who you are. There's no need to ask the fire department crowd if they feel safe, and I guarantee you the NRA folks feel more than safe. OK, I'm done with that now.
Let's get back to all the positive vibe going on in Indy. It's a great time of year. The city is buzzing with activity and spring has sprung. When you see our valued visitors walking around town, please be welcoming, friendly and helpful. They'll appreciate your hospitality and choose to return when the opportunity arises.•
__________
Morris is publisher of IBJ. His column appears every other week. To comment on this column, send e-mail to gmorris@ibj.com.
 
Please enable JavaScript to view this content.