Public architecture represents a community's confidence and aspirations. Public buildings are landmarks that welcome and connect us. They celebrate our arrival, become intersections for culture, symbolize our commitment to democracy and justice, and sometimes they heal us.
Investments in these buildings can be controversial. There are complaints about cost overruns or ostentatiousness. But it is the shortsighted who cannot see how our standing as a city and region benefit from public investment in good architecture.
As the debate begins over our new justice center, here are some examples of how recent investments in design have changed our community: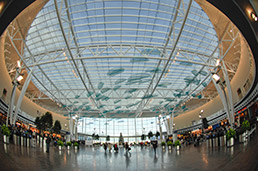 Colonel H. Weir Cook Terminal at Indianapolis International Airport (IBJ File Photo)
The 1.2-million-square-foot Colonel H. Weir Cook Terminal at Indianapolis International Airport is the public arrival space that symbolizes our national and international standing. The soaring central lobby and richness of structural expressions give the contemporary terminal a distinctive wing-like profile. The airport was designed by a consortium of architecture and engineering firms, led by HOK.
The 2007 Central Library addition designed by Woollen Molzan and Partners was controversial. The project ran significantly over budget. However, if you have not been, go visit. The light and airy addition is a contemporary counterpoint to the formal Neoclassical 1917 building designed by Paul Philippe Cret at the north end of the Indiana World War Memorial Plaza.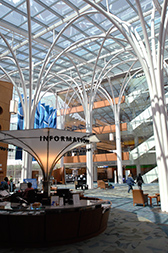 Central Library addition (IBJ File Photo)
A new standard for public hospitals that heal was established by Indianapolis when patients at Wishard Hospital were moved to the new Sidney & Lois Eskenazi Hospital last December. The 37-acre complex of daring cantilevering glassy slab forms with beautiful public spaces is a testimonial about quality, innovation and compassion. HOK and local firms collaborated with a quality result.
The brand is extended to the Eskenazi Health West 38th Street neighborhood health center campus. The new building on 38th Street design by arcDESIGN is developed on a "greyfield" site formerly occupied by empty commercial buildings and parking lots. The public hospital is the best building on the block. It establishes a new standard in a neighborhood of franchise strip development.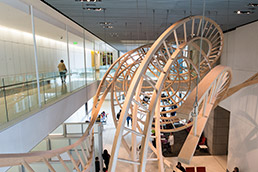 Sidney & Lois Eskenazi Hospital (IBJ Photo/Eric Learned)
That brings us to the proposed new justice center, a major project that can add to our public architecture portfolio if designed with the same vigor as Eskenazi Hospital. As with any great building, design starts with the program and site selection.
Indianapolis has released a request for proposals for private-sector delivery of a new justice center. More than 1 million square feet of jails and courts scattered across downtown are to be consolidated at the new building, freeing up existing sites for continued investment in downtown residential and commercial projects.
We are "letting the market determine the best location" and counting on improved efficiencies to cover added costs, according to the city. The 3,500-bed jail, courts and ancillary facilities will be a very large development—and a missed opportunity if we do not locate it somewhere that can benefit from its economic and design impact.

Moving the courts out of downtown is a big decision. In fact, none of the 14 sites studied by the city's consultants were located downtown. Most cities are looking to make a statement with their courts and justice centers about their commitment to downtown. Knowing how other cities are bending over backward to create high-profile courts facilities in their downtowns, I find it hard to believe we are allowing, even pushing, all those jobs and collateral economic benefits away.
If you want to see great downtown urban justice centers, read about Wake County's Justice Center in Raleigh, N.C.; Clark County's Regional Justice Center in Las Vegas; and especially the Denver Justice Center. These are edgy and sophisticated projects that were envisioned as an integral part of downtown economic development strategies.
The 101-acre former GM stamping plant site on the White River is the mayor's preferred location for the justice center. The proposed $400 million, 1.4-million-square-foot complex developed at medium densities with some structured parking will take up about 40 percent of the GM site. So, it is probably doable if you push the detention facilities to the west and orient the courts toward an internal boulevard or open space, saving the riverfront for commercial and residential uses. But the jobs it generates will not be downtown next to the future transit center.
Investing in beautiful architecture is good public policy. Our next large opportunity will be the justice center. It can demonstrate we are looking for public architecture that enhances our reputation as a city with high expectations.•
__________
Bruce Race, FAIA, FAICP, is an award-winning architect and urban planner, owner of RaceStudio and recipient of the Indiana Sagamore Planning Award. He lives in a historic Indianapolis neighborhood and teaches urban design at Ball State University's Downtown Indianapolis Center. His column appears monthly. He can be reached at br@racestudio.com.
Please enable JavaScript to view this content.