If Indiana hospitals want an expansion of insurance coverage for low-income Hoosiers, Gov. Mike Pence thinks they should contribute toward the hundreds of millions of dollars it would cost.

Pence
The Pence administration has started discussions with hospital leaders to use an existing program known as the Hospital Assessment Fee to generate money to help the state cover the costs it would incur under an expansion of health coverage to as many as 400,000 Hoosiers.
That expansion, called for by President Obama's Affordable Care Act, did not happen in Indiana this year, as it did in 26 other states, in large part due to Pence's concerns about the cost to the state. Hospitals say the lack of a coverage expansion, combined with the federal funding cuts they agreed to as part of Obamacare, are now pinching their finances.
The health insurance expansion would be paid for entirely by the federal government in 2015 and 2016, but would then require state contributions that could rise to $393 million per year by 2020, according to estimates by the actuarial firm Milliman Inc. Other elements of Obamacare are estimated to cost the state government $123 million per year by 2020.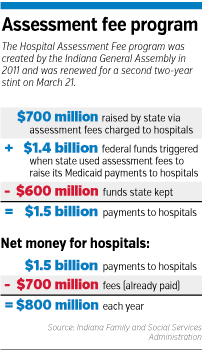 By using the Hospital Assessment Fee program, Pence thinks he can offset some or possibly even all of those costs, while at the same time bringing a flood of new patients to hospitals in a program that would pay them higher prices than the traditional Medicaid program. That would help Pence achieve his goal of expanding coverage "in a fiscally responsible manner."
"This is a mutually beneficial program," said Ryan Streeter, Pence's policy director, adding that Pence's staff and hospital leaders are exploring how it could be used as part of a coverage expansion to "bring in contributions from those who benefit the most from it."
Doug Leonard, president of the Indiana Hospital Association, said hospitals are open to Pence's approach, but are waiting until the idea is fleshed out and numbers are attached to it. The hospital association's staff has been having regular discussions with the Pence team since late February.
"Right now, they're bouncing ideas back and forth, and it would be hard to say any one idea has taken form yet," Leonard said. "We haven't had a proposed structure or anything."
The Hospital Assessment Fee effectively taxes hospitals to provide the state government with the funds needed to raise its reimbursement rates for Medicaid patients. When the state does that, the federal government increases its 2-for-1 matching funds to support the Indiana Medicaid program.
The result is that hospitals end up getting twice as much in new revenue as they pay out in assessments.
The Indiana General Assembly created the Hospital Assessment Fee program in 2011. In each of its first two years, the program collected $677 million in fees from hospitals, which drew down federal matching funds of $1.4 billion, according to the Indiana Family and Social Services Administration.
Out of a total annual pot of $2.1 billion, the state government kept $587 million and sent $1.5 billion to hospitals. That money, after subtracting the $677 million in taxes, generated $793 million in net new revenue per year for hospitals.
That money essentially follows each Medicaid patient, so hospitals get more of the money for each additional Medicaid patient they serve.
The Hospital Assessment Fee program was renewed for another two years on March 21 by the federal Centers for Medicare & Medicaid Services.
The Indiana Hospital Association pointed out that the assessment fee program replaced a previous program that generated additional federal money for some hospitals with high numbers of Medicaid patients. They also noted that it came after a cut to Medicaid reimbursement enacted in 2009 during the depths of the recession.
So the net gain hospitals have seen from the assessment fee is closer to $200 million per year.
Still, it was critical for some hospitals, particularly those in rural areas, said Leonard, the hospital association president.

Leonard
"I hear from those [rural] hospitals all the time that if it weren't for this program, they wouldn't have a bottom line at all," Leonard said, although he added that hospitals still lose money on every Medicaid patient they serve. "This increase still leaves us far short of what it costs us to serve Medicaid patients."
The shortfall in Medicaid reimbursement is one reason Pence doesn't want to expand the traditional Medicaid program, as Obamacare called for.
The Indiana Medicaid program currently provides various kinds of health care coverage to more than 1.2 million Hoosiers, costing state taxpayers nearly $3 billion per year.
But Pence has been negotiating with the Obama administration for permission to use the Healthy Indiana Plan—or something like it—to expand coverage. He argues the HIP program, as it's known, does a better job giving patients access to care, promoting healthy behaviors and saving the state money.
HIP pays hospitals and doctors at rates the federal Medicare program for seniors pays. According to 2010 data, Medicare paid 30 percent to 40 percent more than Medicaid and, as a result, far more doctors accept Medicare patients than will see Medicaid patients.
Using the Hospital Assessment Fee to fund those higher reimbursement rates is one option being discussed by the Pence team and the hospital association, said Tim Kennedy, an Indianapolis health care attorney who lobbies for the Indiana Hospital Association.
Kennedy said that, by extending the Hospital Assessment Fee from only Medicaid patients now to all HIP participants, it would generate additional money for both hospitals and the state.
Streeter, however, said he could not say definitely that the Pence plan would generate new revenue because there are so many options being discussed.
Sen. Luke Kenley, R-Noblesville, chairman of the Senate Appropriations Committee, said he was aware of the Hospital Assessment Fee discussions and was open to the idea as a way to minimize the state's financial exposure from an expansion.
Kenley is fearful that the federal government's promise to always fund at least 90 percent of the cost of the coverage expansion will not be honored—given the budget problems the federal government faces.
His biggest question about using the Hospital Assessment Fee to offset those costs is that the federal government might kill that program, too. Many states have used similar programs for many more years than Indiana has.
Leonard, the hospital association president, also said that's a concern for him, although he noted that some states are so reliant on it to fund their Medicaid programs that he thinks Congress would find it hard to kill.
Streeter, who served a stint working on domestic policy for President George W. Bush, said he's not concerned about the Hospital Assessment Fee being killed by Congress.
"Anything with Washington, D.C., is possible," he said, "but I don't have any concerns at this time about the future of the program."
Pence also wants to use the Healthy Indiana Plan because he favors its "consumer-driven" elements. All of the roughly 40,000 participants in the program have an account they use to pay medical bills. Those accounts are similar to health savings accounts. Most participants are required to pay 2 percent to 5 percent of their income to fund the accounts, with the state covering the rest up to $1,100.
However, about 30 percent of HIP participants pay nothing into their accounts, said Rep. Ed Clere, R-New Albany, based on data he requested from the Indiana Family and Social Services Administration, the state agency that runs the HIP program.
"I'm glad to hear that the governor is looking for a way forward because it would be a shame to continue to pass on federal money that could be supporting improving health and supporting jobs in Indiana," said Clere, who is chairman of the House Public Health Committee. The federal money he referenced has been estimated to total $1.2 billion a year by 2020.
Separately from the discussion about the hospital assessment fee, the Pence administration is working to prepare its application to the Obama administration for permission to extend the HIP program beyond its expiration date at the end of this year and expand it. That application is due this summer.
Kathleen Sebelius, Obama's secretary of health and human services, has been cool to the idea of using HIP to expand Medicaid coverage—especially to the idea of requiring Hoosiers with incomes below the federal poverty line to contribute to their coverage—and possibly kicking them out of the HIP program if they missed payments.
But after a conversation with Sebelius on Feb. 21, Pence declared that there was progress, although disclosed few specifics.
"Our administration remains committed to using the Healthy Indiana Plan's consumer-driven design," Pence said in a statement after his meeting in Sebelius' office, "and appreciates the secretary's willingness to identify areas of common ground that will allow us to use an Indiana solution to meet our shared goal of providing more health care options to Hoosiers in a fiscally responsible manner."•
Please enable JavaScript to view this content.