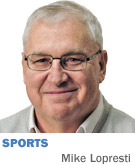 ARLINGTON, Texas—Indianapolis, you're on the clock.
The Final Four is coming back to town again next spring like the swallows return to Capistrano. And to commemorate the fact that the Road to the Final Four will once again be on Capitol Avenue, here's a slide show from last week's Connecticut coronation. We can see how the North Texans did, graded against Indianapolis.
(Click). That's AT&T Stadium. I don't want to say it's gargantuan, but they're starting up a petition to declare it the 51st state. So one point for Texas, if size matters.
(Click) That's two guys exchanging high-fives. Since their faces aren't painted blue, they can't be Connecticut fans. They must be NCAA accountants, who just found out a record 79,444 paying customers showed up to see the two semifinal games. Of course, some of the seats were in a different ZIP code, but the money is in the bank. Another point for Texas.
(Click). Here's the stadium video board. During the off season, they could loan it out to Las Vegas. It's 66 feet longer than the basketball court and probably uses more Texas electricity than Waco. A close-up of John Calipari made him look larger than a brontosaurus. Point to Texas.
(Click). This is Dealey Plaza, site of the Kennedy assassination. Notice all the basketball fans hanging around, including the guys in the Florida shirts standing in the middle of Elm Street, holding up traffic to take pictures. That's not as bad as the Super Bowl, where Packer cheese-heads were cavorting on the grassy knoll. Anyway, it's a popular stop for visitors. Indianapolis has no site of national tragedy turned into a tourist attraction. Point to Texas.
(Click) This is Arlington, home of AT&T Stadium. I know what you're thinking. Where's Arlington? See those tiny buildings way off in the distance? That's the Dallas skyline, 20 miles east. Turn the other direction, and Fort Worth is 16 miles west. It's a luxurious and grand stadium for games, but then everyone goes their separate ways. There is no concentrated buzz, when the masses and their passion take over a downtown—lock, stock and St. Elmo shrimp. Very, very big point for Indianapolis.
The NCAA can have its occasional flings with the Texas-size facilities in Houston and Arlington, but there is not a host city out there that has matched the pulsating Indianapolis ambience during a Final Four, except San Antonio. And the Alamodome is no longer to NCAA taste.
A woman sitting in the Omni hotel lobby in downtown Dallas put it well.
"I always feel like, when the Final Four comes back to Indianapolis on rotation, it's coming home," she said. "Like it's supposed to be there."
OK, she's a tad biased. That would be Susan Baughman, senior vice president for strategy and operations for Indiana Sports Corp. She came here with a platoon to take a look around and start the planning for next April.
That will be Final Four VII for the city, the other six playing to rave reviews, be they in the parking lot formerly known as Market Square Arena, or the Convention Center addition formerly known as the RCA Dome. Or Lucas Oil Stadium. The good news is that Indianapolis has set a high bar for itself. The challenge, always, is reaching it.
"I would say it's a total point of emphasis," Baughman said. "First and foremost, I think it's not what anybody brings to us in expectations, it's what our city and our people want, and how much pride they have. Every time, we want to prove ourselves and need to prove ourselves. I definitely think there's a feeling of, what do you do next? What do you do better? What changes are you going to make? It's a pleasant kind of pressure.
"That's a fun event to plan, because you don't start out wondering if anybody's going to care."
Baughman and her colleagues looked at everything North Texas was up to, from transportation to security to activities for the public and athletes' families. The NCAA will do its own review, then issue any changes it wants.
"In May, we'll get going on what our directives are, and we'll get creative with it, hopefully," she said. "I would assume you would see something new.
"It's not taken for granted, that we get the opportunity to host."
You might recall the last Indianapolis Final Four in 2010. Duke won. More memorable, Butler almost won.
It'd be asking a lot to have a home state team again next April. First, someone from Indiana has to actually get into the tournament. But Baughman noted the heavy troop presence of Big Blue Nation in Indianapolis for the Midwest Regional.
"It seemed like Kentucky was the home team," she said.
Well, almost.
(Click). Those are the Connecticut Huskies, cutting down the nets. Next year, the confetti will fall on someone in Lucas Oil Stadium.
The video board is smaller, but the Final Four will own downtown. You'll know it on every block.•
__________
Lopresti is a lifelong resident of Richmond and a graduate of Ball State University. He was a columnist for USA Today and Gannett newspapers for 31 years; he covered 34 Final Fours, 30 Super Bowls, 32 World Series and 16 Olympics. His column appears weekly. He can be reached at [email protected]
Please enable JavaScript to view this content.