It's tricky to find a well-rounded person of the cloth on stage. They're often portrayed as either saintly (see "Les Miserables") or suspect (see "Doubt").
But complexity is a big part of the appeal of "The Mountaintop," Katori Hall's Twilight Zone-ish play about Dr. Martin Luther King Jr. at the Indiana Repertory Theatre (through April 27) and Lucas Hnath's "The Christians," which recently concluded a run at the Actors Theatre of Louisville's Humana Festival of New American Plays. Throw in some preaching from Reno Sweeney and priests both fake and real in Beef & Boards' "Anything Goes" (through May 11) and you have the makings of an unconventional religious convention in area theaters of late.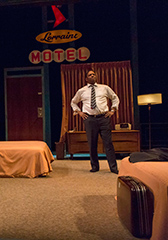 David Alan Anderson plays Dr. Martin Luther King Jr. in Katori Hall's fantasy "The Mountaintop." (Photo courtesy of Zach Rosing)
Let's start with "The Mountaintop," one of the most produced plays in the country this season. Those expecting standard docu-drama may be shocked not just by the language and overt flirtation contained therein, but also at the fantastical twist the story takes.
The play is set in a nondescript room at the Lorraine Hotel the night before King's assassination—and if that's a spoiler, then you need to brush up on your history. David Alan Anderson plays King as a man weary but not beaten. Coffee and cigarettes are an ineffective balm against a bad cough and, with the visit of an attractive maid, Camae (Tracey N. Bonner), King seems on the brink of sadly proving that he's "just a man."
But Hall is interested in more than just an up-close-and-personal look at the last night of a martyr. Revealing how the play manifests that "more" would be spoiling things. Suffice it to say that I didn't completely buy the gimmick—and some of the cutesy dialogue—but it does lead to a stirring conclusion. And scenic designer Robert M. Koharchik's wise methods of adapting the thrust stage to the non-realistic final moments help considerably.
My one wish is that patrons could see the show, as I did, with a student audience. Watching the show connect with—and feeling the impact of the final moments on—a generation it seems written for added considerably to its appeal.
__________
The location for "The Christians" is a megachurch whose pastor (Andrew Garman) has two pieces of news for his congregation. One is that the building itself has, thanks to their generosity, been paid off. The other is that his reading of the Bible has led him to conclude that it does not exist. He still believes in Jesus. But not in the idea of eternal punishment for those who don't.
A pastor (Andrew Garman) delivers divisive news to his flock in Lucas Hnath's "The Christians." (Photo courtesy of Michael Brosilow)
"The Christians," in which both sermon and searching one-on-one conversations are treated with the same microphone-in-hand amplification, speaks in a unique style but never, pardon the expression, preaches.
There is no bad guy here—not the assistant pastor whose faith leads him to guide many of the flock away, not the layperson whose job it is to make sure there's a roof over the congregants' heads, not the pastor's wife—who is holding in anger for not being clued into her husband's conversion—and not a choir member who honestly and painfully questions the implications of her spiritual leader's revelations.
I have faith that productions of this terrific new play will be fruitful and multiply.
__________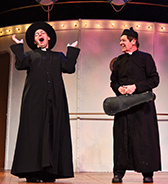 Ian Frazier, left, ministers to shipboard heathens in "Anything Goes" at Beef & Boards. (Photo courtesy of Beef & Boards)
In "Anything Goes," we get Public Enemy #13 Moonface Martin (Jack Milo) disguising as a priest. We get Reno Sweeney (Deb Wims) testifying to the powers of the Biblical trumpet in the song "Blow, Gabriel, Blow," and we get a seemingly devil-may-care set of characters who, ultimately and willingly, pair off in holy matrimony.
While the Beef & Boards production never comes too close to its potential, this shipboard musical comedy classic provides earnest renditions of a raft of now-familiar Cole Porter songs, some eager performances (Whitney Meyer stands out in the relatively thankless role of Hope Harcourt), and some old-school Asian stereotyping that could ignite the #cancelcolbert crowd.•
__________
This column appears weekly. Send information on upcoming arts and entertainment events to lharry@ibj.com.
Please enable JavaScript to view this content.