A grass-roots effort to salvage daily train service from Indianapolis to Chicago is solidifying into year-round advocacy for passenger rail in Indiana.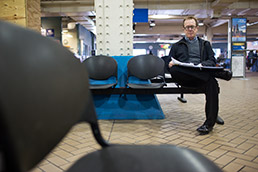 Indiana Passenger Rail Alliance member Bill Malcolm waits for a bus inside Union Station. He wants the city to make the bus and rail terminal more welcoming. (IBJ photo/Aaron P. Bernstein)
Members of the recently renamed Indiana Passenger Rail Alliance who lobbied the Indiana Department of Transportation to support Amtrak's Hoosier State line continue to push for improvement of the state's rail network, which they believe will boost ridership and in turn make trains a reliable means of transportation.

"We're very much a group of concerned citizens," alliance President Steve Coxhead of Hammond said. "An important aspect of transportation technology in our country is falling behind."

The group is pushing for better service on the Amtrak line from Indy to Chicago; to expand the Chicago commuter-rail network to new areas of Lake County; and to connect Chicago, Fort Wayne and Columbus, Ohio.

Central Indiana members have been meeting with city officials, asking for a cleaner, more welcoming terminal at downtown's Union Station and better connectivity with IndyGo buses.

"The more we do, the more issues we stumble on," said Bill Malcolm, an alliance board member who lives in Broad Ripple.

The shortcomings that rail advocates find boil down to a lack of money, and Coxhead said that will likely lead the group to the Statehouse. As a not-for-profit 501(c)3 organization, the alliance can't get involved in campaign finance, but it can educate lawmakers and Indiana Department of Transportation personnel, he said.

"We're talking about spending $300 million to $500 million to build a dozen lanes of expressway up here," Coxhead said of the Illiana Corridor toll road that would link Interstate 55 and Interstate 65, which is projected to cost $1.5 billion. "Probably half that would let you put world-class service on the Hoosier State corridor. It basically comes down to chump change if you look at the whole state budget."

The alliance is small, counting 302 dues-paying members, but it has deep experience with train travel. Malcolm has never enjoyed driving, and since the 1970s oil crisis, he's made a point of using mass transportation or bicycling whenever possible.

Now semi-retired, Malcolm goes out of his way to use the train for business and leisure trips. On April 16, he boarded a Trailways bus to Bloomington-Normal, Ill., to connect with Amtrak so he could attend a conference in Springfield, Ill., with plans to travel on to Chicago.

Malcolm thinks the shabby condition of the bus and train terminal at Union Station has been overlooked for too long. The city owns the historic building, so he and alliance board member Doug Yerkeson, an Indianapolis patent attorney, met recently with a Department of Metropolitan Development official to raise complaints about cleanliness and people sleeping on the floor.

DMD spokesman John Bartholomew said the city is looking into maintenance issues. At the same time, officials are awaiting a report on potential structural repairs by Browning Day Mullins Dierdorf Architects.

For more than two decades, alliance members, most of whom were in northern Indiana, focused on bringing high-speed rail to the state as the Indiana High Speed Rail Association.

"There were a lot of seminars held," Coxhead said. "Admittedly, that was not getting anywhere."

Then the rail advocates realized last summer that Amtrak was close to canceling the Hoosier State line, which has trouble maintaining the 79 mph at which it's designed to travel. Suddenly, upgrading the rail corridors to handle bullet trains traveling at 220 mph seemed less important.

"That sort of got everyone's attention," Coxhead said.

The Hoosier State's future had been in doubt since 2008, when Congress voted to cut off federal funds for passenger rail lines under 750 miles. The Hoosier State runs four days a week, and Amtrak's Cardinal route, which originates in New York, runs three days a week. So losing the shorter route would have meant the end of daily service.

Under pressure from the rail advocates and officials from communities on the route, especially Lafayette, the Indiana Department of Transportation struck an agreement with Amtrak in mid-October to continue the Hoosier State for another year. The local communities ended up providing half of a $2.7 million subsidy.

Yerkeson
"I'm hoping the service will be given a fair opportunity to basically show its potential," Yerkeson said.

He worked as a sleeping-car attendant during law school, and he still uses Amtrak for trips to Chicago and long-distance family vacations.

Despite the pre-dawn departure time, the train to Chicago is often full, Yerkeson said. "For a five-hour train ride with no food service and no Wi-Fi, it's amazing it sells out."

Tom Hoback, CEO of the Indiana Rail Road Co., thinks there is latent demand for a reliable train to Chicago. The train currently leaves Indianapolis at 6 a.m. and returns around midnight, but it's notorious for delays, which make trip planning difficult.

Perhaps because he's in the freight-railroad business, Hoback said people often talk to him about how they'd like to see better passenger rail service to Chicago.

"These aren't misty-eyed railroad buffs," he said. "These are usually businesspeople."

Hoback said part of the problem is that freight rail is so successful, there's not much capacity left for passenger trains. Adding trains or having trains run faster would require adding side tracks so trains can pass each other and upgrading signals so they can run on closer timetables.

It's all expensive, but less so than paving a new lane of highway, Hoback said. Illinois and Missouri are upgrading the route between St. Louis and Chicago, which eventually will have trains running at up to 110 mph, but he noted that ridership already has increased because of other improvements.

For now, Indiana's solution is to open the Hoosier State line to competition, which is permitted under the agreement with Amtrak. INDOT issued a request for proposals, which may cover all or part of the service.

The rail alliance is monitoring the process, and members think it might result in better service.•