My fit friends insist exercise can be fun—uplifting, even. But after searching in vain for that "runner's high" everyone keeps talking about, I've begun to suspect it's more myth than reality.
I have slogged my way through almost three dozen 5K races in the past two years and haven't felt anything other than relief when crossing the finish line (and mild soreness the next day).
I've spent hours at the gym and found pleasure only when I lucked into a front-row parking spot.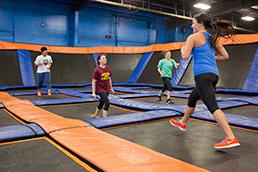 Try your jumping skills at the indoor trampoline park. (IBJ Photo/ Aaron P. Bernstein)
I rode my bicycle for miles through the Hamilton County countryside, and my clearest thought was about the birds of prey I noticed perched on treetops along my route: Would they wait for me to die before swooping down to pick my bones clean?
Then my quest took me to Sky Zone, an indoor trampoline park overlooking Interstate 69 in Fishers. (The national franchise also has a location in Plainfield.) The draw: Skyrobics, an hour-long exercise class conducted on trampolines.
A child of the '70s, I grew up in the bounce-house era, before backyard trampolines dotted suburban neighborhoods and inflatable playgrounds filled strip
malls. We called them moon walks, and they were the highlight of every fair and festival of my youth. I would have gladly traded all my toys—and my younger brother—for year-round access to the fun.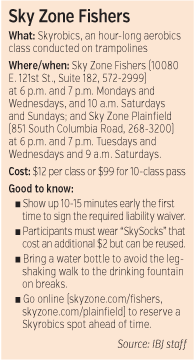 So I figured if anything could take the "work" out of working out, it would be a trampoline. I was mostly right.
First off, Sky Zone doesn't just have one big trampoline, or even several of them. Rather, its patent-protected walled playing courts are a network of dozens of individual trampolines with padded connections. Brave the youthful masses during open jump time, and you'll also find a foam pit, basketball hoops and probably a pickup game of dodgeball or two.
Skyrobics attracts a more mature (and mostly female) audience. A rotating cast of instructors leads the classes, offering variety for even regular attendees. They also were very patient with newbies like me, encouraging us to follow along at our own pace.
That was good news for me, since I was gasping for breath before the end of the 10-minute warm-up. Turns out jumping—even on a trampoline—is harder than it looks for an out-of-shape adult.
Still, I couldn't help but grin as I bounced, my anxiety melting away with every millimeter of air beneath my feet. Eventually, I worked up the courage to try more than a simple jump, doing knee lifts or butt kicks on the way up, for example.
Others in the class were more advanced, jumping higher and with significantly more control, but I only had to sit out one activity: a series of trampoline-to-trampoline jumps that I just didn't have the altitude to do without tripping over the padding in between.
Thanks to frequent water breaks and occasional pauses for non-jumping exercises like push-ups and planks, I made it through the hour sweat-soaked but otherwise unscathed. It was challenging, yes, but also exhilarating. I don't think I ever stopped smiling—a first for me during an exercise session and enough of a myth-buster to make me want to try it again.
I also learned a lesson that will carry me through future Skyrobics classes and so much more: Success isn't measured by how high you jump, but by how well you land.•
__________
Have a seemingly fun activity you'd like an IBJ writer to try? Email lharry@ibj.com.
Please enable JavaScript to view this content.