A wave of bank branch closures following the financial crisis appears to have accelerated nationally and in the metro area.
Since January 2013, banks have closed 35 branches in Marion County and surrounding counties but have opened only six new ones, according to SNL Financial data. For all of Indiana, 91 branches were closed and just 20 opened.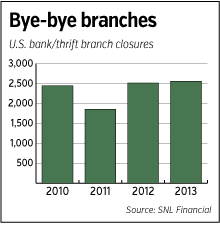 Experts say metro-area closures have often been the result of mergers that left overlapping branches. For example, 14 of the area branch closings were by Old National Bank, which acquired several banks in recent years, including Charter One in 2009.
While Old National picked up valuable business from 65 Charter branches, there was overlap in cities such as Carmel, where three Charter One branches inside grocery stores and a free-standing Old National branch sat within a mile radiating from 116th Street and Rangeline Road.
It made sense to close some Charter branches as Charter One leases expired at in-store locations, said Randy Reichmann, president of Old National's Indianapolis region.
Meanwhile, Cincinnati-based First Financial Bank closed five local former Flagstar in-store locations that it acquired years earlier. And PNC Bank closed six branches. Many were stand-alone locations in close proximity, noted Mike Renninger, of Carmel-based financial consultantcy Renninger & Associates.
In addition to geographic proximity, banks often look at paring branches with less than $10 million in deposits—a threshold below which a branch is often not cost-effective.
Many banks need to rebuild equity after suffering loan losses during the downturn, said Renninger, who also noted rising regulatory costs and declining net interest margins.
Regardless of a branch's location, "if it is unprofitable on a stand-alone basis, bank management is actively evaluating the alternatives," said Thomas C. Fite, deputy director of the Indiana Department of Financial Institutions, which regulates state-chartered banks.
Curiously, Indiana's state-charted banks have seen a roughly equal number of branch closings and openings compared with their national bank competitors: 21 closings and 22 openings last year, Fite said.
Closing a branch doesn't drive away as many customers as one might expect: Around 75 percent of accounts are generally retained, according to a report by the Conference of State Bank Supervisors.

Reichmann
"I hear bankers say that customers will drive to the next town five miles down the road for their next closest branch. These customers are not happy about it, but they are not so upset as to consider leaving for a competitor's account," Fite said.
Economics plays a role in branch closures, but so does a changing customer demographic, said Jim Badger, senior vice president of marketing at Indianapolis-based Salin Bank.
Many customers don't need to speak to someone at a branch in person, as evidenced by the growth of online and mobile banking. Salin is about to roll out smart phone mobile apps.
Last year, Salin closed a branch in Walton and donated the property to the local school district. In some cases, it has eliminated the branch, per se, but kept the drive-through lanes. It's also installed remote video tellers—essentially super-cable ATM machines that allow the customer to speak via a video screen with Salin customer service reps in Tippecanoe County.
Salin and other banks also have reduced the need for branches by sending their reps to customers' homes or businesses to discuss loans and other products.
Other banks such as Fifth Third have had a fairly steady branch count (46 in central Indiana) in recent years, and still find them valuable marketing tools.
"The branch is still a big avenue for us to be in front of our customers," said Shawn Niehaus, senior vice president at Fifth Third. "The majority of customers still say they want a face-to face relationship."
Fifth Third within weeks will open a branch at the new Eskenazi Hospital. The branch will feature electronic gadgetry including an automatic teller machine in the hospital's cafeteria.
Fite sees some strategies at play among banks. Some, such as Converse-based First Farmers Bank & Trust, have taken advantage of difficulties of other banks. It picked up four former branches of Indianapolis-based Bank of Indiana, including one in nearby Bargersville.•
__________
Greg Andrews' Behind the News column will return next week.
 
Please enable JavaScript to view this content.