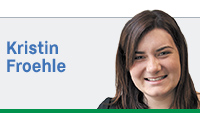 After the educational community waited months for results to be released, the Department of Education made public its grades on teacher effectiveness in the 2012-2013 school year. Only 2 percent were rated "needs improvement" and even fewer—less than half of 1 percent—were "ineffective."
Some argued that, with the rest of educators falling in "effective" and "highly effective" categories, school evaluators haven't left much room for differentiating performance.
These scores should not come as a surprise. Should there be any doubt that administrators rate highly the educators they hired? Given the high-supply, low-demand nature of the teaching industry, it should not be a surprise that, if hired, a teacher was most likely effective, if not highly effective.
Additionally, what incentive is there for an administrator to give an educator and colleague a low grade? The thousands of managerial studies that applaud positive affirmation suggest that an evaluator would be better served by providing that individual with a mediocre score and having a conversation about improvements.
The best part about this process is that teachers were given opportunity to have those candid conversations with their evaluators. For the first time, the process of evaluating teachers was standardized across the state, requiring administrators to spend more time in classrooms, assessing and providing feedback on curriculum and instruction, having candid conversations about improvement with their colleagues.
This process should be about more than the grade, and who better than teachers to understand that? These are the individuals who give essays back to students and ask them to look at the comments before they look at the grade. These individuals benefited greatly from the hundreds of comments required in the teacher evaluations this year.
If an effective teacher had opportunity to sit down and discuss with his principal how he can become highly effective, what one comment on an evaluation meant, and what his areas for improvement are, shouldn't that process be worth praising?
Understandably, receiving the scores can be especially discouraging given the large amounts of time and effort spent by teachers, school administrators and the Department of Education generating the scores. The new requirements for teacher evaluation are a big drain on human and capital resources.
It is worth mentioning, though, that the process demonstrated the assessments have increased dialogue between teachers and administrators about best practices, what makes a good teacher, and continual improvement on an individual level. That seems like a worthwhile distribution of our resources.
Some argue that the performance stipends given to effective teachers are a financial drain, but the bonuses might not be necessary in the future. In an industry that certainly doesn't do the job for the pay, it's a safe bet that many educators would have welcomed this dialogue and evaluation even if it didn't come with a small bonus.
Given that the performance bonuses this year were less than $1,000, and are more likely to be $300 to $600, teachers and administrators did not go through this process for the money. Some teachers spend that much on classroom materials their school district is unable to provide.
So while some might view this process as wasteful or unnecessary, the journey to get to these scores should be examined as much as the end product. And this process certainly has had its advantages.
Because what we have done with our resources and time is about more than the letter grade. It's about the critiques, comments and conversation behind those grades.•
__________
Froehle is a senior and Wells Scholar at Indiana University majoring in business, and a former White House intern. Send comments to ibjedit@ibj.com.
Please enable JavaScript to view this content.