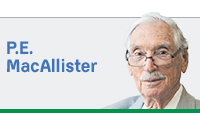 Mitch Daniels made an almost iconoclastic observation about evaluating the value of a college (or university) education. He implied that the arbiter of its value is not reflected necessarily in grade point average or the number of Ph.D's matriculating but in the degree of success students achieve as they find a career and then how quickly they advance in their chosen vocation.
Knowledge is not an accumulation of data but rather the productive deployment of same. How is it used?
A college president I knew some years back was clever, even gifted, and brimming with ideas, yet running into more snarls than was healthy. So to help him out, a general "performance" appraisal was made including interviews of each of his five top staffers.
The one who best hit the nail on the head said to me: "Dr. Johnson is one of the smartest men I ever met. But he doesn't have a lick of common sense."
Knowledge includes assessing its impact on the people who must employ it and the feasibility of its acceptance.
An element stressed in a liberal arts education is critical thinking. Which genuflects to IQ but mostly deals with, "What is wrong? Here's how I'd fix it." Who is going to take the lead?
A professional education specialist once pointed out to our college board that a goodly number of America's most successful managers had been mediocre students—but they never stopped learning. They were merely slower to develop than others but innately pragmatic, durable and confident.
Daniels seems to be saying that, to prove success, the institutions count the men and women they graduated 10, 15, 20 years ago who are now congressmen, presidents, CEOs, millionaires. Successful lives and careers are better criteria than grade point average, and should take into account after hours at work in the arts, education and politics.
Kipling has a bit of poetry in a piece called "If" that comes to mind:
"If you can dream—and not make dreams your master;
If you can think—and not make thoughts your aim;
If you can meet with Triumph and Disaster
And treat those two imposters just the same"
… you get the brass ring.
It tells us what we already know—that thoughts, dreams, may be the precursor to actions but are usually insufficient in themselves. What constitutes success is obviously execution, deliberate effort, not simply preparing to do … or to be … something.
We have no idea how Daniels' appraisal of success is viewed on or off the campus. If accepted, how will the school respond? Will it re-examine its "success" criteria? Will it adopt the business model where "looks good" is tested by the ultimate measure—performance?
We interview to assess potential; we train to assure a measure of teamwork; we define the task to direct the effort.
But how do we pay bonuses and promote? On the basis of results.•
__________
MacAllister is chairman of MacAllister Machinery Co. Inc. and a longtime leader in Indianapolis Republican politics. Send comments to ibjedit@ibj.com.
Please enable JavaScript to view this content.