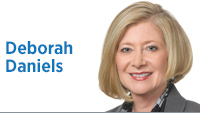 Something extraordinary happened in this year's legislative session. But it might not be what you think.
Gov. Pence and courageous legislators, in a non-budget year, passed some very significant bills.
In one instance, the governor, with quiet and optimistic persistence, persuaded legislators that his $400 million infrastructure funding plan was critical to Indiana's future. They passed it, after some initial resistance, despite its obvious fiscal impact.
But two other accomplishments that have enjoyed less attention might do even more to secure Indiana's future.
Research clearly demonstrates that early, high-quality childhood education is crucial to a child's development. But even full-day kindergarten was a hard sell for many years.
Forty-one other states provide broad public funding for pre-kindergarten education. But in Indiana, there hasn't been an appetite for it—partially because of the cost, but also because some question its usefulness, saying they don't want the state assuming the parents' role, or that we should "let kids be kids."
And a historically influential lobby has opposed attempts to impose state control over the safety and quality of religiously affiliated child care provider environments, leaving a huge number of children literally in physical danger.
There is no question that young minds are formed in the earliest years. Quality pre-K teaches young children important skills they'll need: social and emotional development, communication, teamwork. And it goes without saying that their physical safety should be paramount.
Pence, in partnership with committed legislative leaders, achieved two important steps toward quality pre-K.
One bill created a pilot program to serve 4-year-olds in families at or below 127 percent of poverty.
This is a significant accomplishment. Scientific research shows that children who receive quality pre-K education are less likely to fail on multiple levels than those who do not.
Children who receive quality preschool are significantly more likely to graduate from high school—and more likely to hold a job, earn more and commit fewer crimes. They are less likely to depend on welfare and more likely to marry. This leads to fewer out-of-wedlock births—one of the surest predictors of poverty.
The return on investment of quality pre-K is as much as 12-fold, in social program and criminal justice cost avoidance as well as taxes paid by successful adults—not to mention the obvious benefit to society of high-achieving, employed adults.
The governor was told his bill wouldn't pass. But he doubled down, testifying in committee about the need for pre-K and using his bully pulpit to rally support. To the surprise of the doubters, it passed.
And in the face of forceful opposition, the General Assembly passed and the governor enthusiastically signed a bill conditioning the receipt of federal child care dollars on minimum safety standards, supervision ratios and quality of supervision—by both secular and religious providers. This means some 1,200 unlicensed providers will be bound by the same basic standards of care as the licensed providers—and children will be safer.
It is impossible to overstate the pressure brought to bear on legislators and the governor to defeat this bill.
But the General Assembly courageously passed it, and the governor without hesitation signed it, saying publicly, "I don't think we have any higher obligation … than to our little ones."
Both bills are now the law of the land, and Hoosier children are the big winners.•
__________
Daniels, a partner at Krieg DeVault LLP, is a former U.S. attorney, assistant U.S. attorney general, and president of the Sagamore Institute. Send comments to ibjedit@ibj.com.
Please enable JavaScript to view this content.