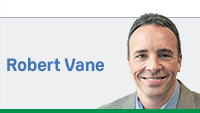 My mother was a diehard Democrat. She's been gone for more than five years now, but I can still hear her telling me to be quiet when Ann DeLaney started to speak on "Indiana Week in Review."
And while she didn't exactly mention Sen. Birch Bayh's name when praying the Rosary, she came close.
But nobody brought my mother to her pinnacle of Democratic pride faster than congressman Andy Jacobs Jr.
Jacobs, who passed away a few months ago, was my mother's beau ideal of a public servant.
Was it because my mother, like Jacobs, was a proud Marine? Of that I have no doubt.
It was my great fortune to forge a friendship with Jacobs. At the instigation of the generous and brilliant professor Bill Blomquist, we had several lunches together. We shared a love of history and politics. Jacobs had the best stories of anyone I've met. He was our city's eyewitness to history and nobody testified to that history with greater humor and a heartier laugh.
He even attended a speech I gave to the Indianapolis Civil War Roundtable about the relationship between Lincoln and Grant. When I introduced him to the crowd, he received a thunderous ovation—as much for his standing as a Lincoln scholar as for his reputation as a statesman, I believe.
In fact, despite our political disparity, the only real tussle we ever engaged in was over the guilt or innocence of Mary Surratt. She was executed as one of the conspirators in the Lincoln assassination. Jacobs thought she was wronged. My belief was less charitable.
The congressman was nice enough not to accuse me of waging a war on women.
Jacobs was also a fan of fellow Marine Mayor Greg Ballard, and often asked me to pass along his regards with a hearty "Semper Fi."
Much of the talk about politics these days is just that—talk about politics and how things are more polarized, more hateful and more partisan than ever.
Which is why public officials who are able and willing to work with the other side and who take public stances that are both true to their politics yet true to the spirit of cordial public discourse become legends.
On my side of the aisle, Richard Lugar is the paramount example. His defeat in the 2012 primary is a complete embarrassment for the Republican Party—in Indiana and beyond.
As for the Democrats, Jacobs stands above all. In kindness, compassion, courage and caring for his hometown of Indianapolis.
Sometime before the Republican primary in 2012, I was at his home talking history and politics as always. He was bedridden, but his mind was still razor sharp.
After a while, I told him I had to leave to attend a Lugar fundraiser. Jacobs, whose affection and respect for Lugar were considerable, reached into his bedside table and presented me with a $20 bill to give to the senator at the event.
At the end of Lugar's remarks, I asked if I might make a short presentation. When, in front of the senator and the assembled Republicans, I presented Jacobs' contribution, the look on Lugar's face was one I will never forget. He was deeply touched.
My mother was a sharp judge of people. Her veneration of Jacobs was passed to her son. It remains an honor to call him my friend. I miss him, his stories and the era of politics he represented with honor.•
__________
Vane, a U.S. Army veteran, has worked for elected Republican officials including Indianapolis Mayor Greg Ballard, and currently owns the public relations firm Veteran Strategies. Send comments to ibjedit@ibj.com.
Please enable JavaScript to view this content.