What's in a name? Not much—if you happen to be a delivery-only, signage-resistant, keep-pricing-simple pizzeria hidden in the back kitchen of a yogurt shop.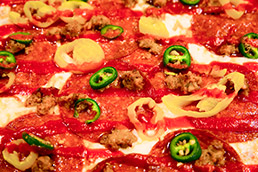 The Gates of Hell pie at Nameless Pizza includes jalapeño and banana peppers, spicy sausage and hot sauce. (IBJ Photo/ Aaron P. Bernstein)
That's the unusual business model for Nameless Pizza (306 Prospect St., 333-6777), where every pizza is $15 (that includes a bag of bread sticks), two-liter drinks are $3.50, and extra dipping sauces set you back 50 cents. Want anything else? Then you'll have to go somewhere else.
In the spirit of the restaurant's name, I opted to invite some to-remain-nameless IBJ staffers to join me for a pair of pies from Nameless. Here's what they said:
"The Gates of Hell pie (where hot sauce is mixed into the traditional pizza sauce and further kicked by spicy sausage, pepperoni, jalapeno and banana peppers) put out a nice heat without being painful. And it actually has a nice aftertaste."
"I appreciate that it doesn't taste like the chains. It's somewhere in the zone between made-from-scratch and store-bought. The big, thin-sliced pepperoni was an interesting touch."
"It's a step above most of the mainstream franchise pizza places in taste, but the crust was soggy in the middle of the pizza. I had to fold it over to eat it because of the serious droop. I assume this isn't a problem when the pizza is fresh out of the oven but, come on, this is a carryout joint."
"I'm a fan of cheese on garlic bread, but these bread sticks were a disappointment, especially in the texture department. They were kind of a mushy, congealed mess. I don't know if this is possible, but the bread sticks are too bready. The marinara that came with them, though, was quite good."
"It's decent, but there's no way I'd pay $15 for a whole pie of this. You need to be something special—like a featured pie at Napolese or Bazbeaux—at that price point. I'd rather drive to Blaze and get a better thin-crust pizza for half the price."•
—Lou Harry and nameless reviewers
 
Please enable JavaScript to view this content.