Eli Lilly and Co. thinks it has a secret weapon to return to growth.
No, it's not a new blockbuster drug—although Lilly will most likely have several new products hit the market this year and next.

Rather, it's an unorthodox, softer approach put into play by its U.S. sales force.
Lilly's executives say the new approach has proven so successful in recent years that it can help Lilly recoup an estimated $4.6 billion that has vanished from the company's annual revenue since 2011.
And Lilly executives think the new approach—which reduces the number of sales reps flooding physician offices—can save money, too, allowing Lilly to grow its profits even faster than sales.
"It's a bet we're making," said Alex Azar, president of Lilly's U.S. business. "It's actually a critical element of our success."
Lilly has dropped the traditional "hard sell" model, in which it sent armies of the most charming people it could find into physician offices to hammer the details of Lilly's drugs into doctors' heads—with generous luncheon spreads to help the medicine go down.
"Why don't you make your next five prescriptions a Lilly product?" was a common refrain from drug reps.
Now Lilly instructs its more than 2,000 U.S. sales reps to ask physicians what issues their patients are having and then to act as "brokers" for all the ways in which Lilly's massive organization can solve those problems. Sometimes, that even means helping them find a competitor's medicine that would work better for a patient.
The idea is to make the experience for doctors markedly better than they experience with other drug companies—much like Disney World, Ritz-Carlton and Starbucks try to boost their businesses by wowing customers with superior experiences. It's known in business circles as the service-profit chain.
"The better experience your customer has, the more likely they are to recommend your drug to the patient," Azar said.
Physicians deny such a link, and many outside Lilly doubt the new approach will result in significantly better sales.
"Most companies are taking this approach," wrote Mark Schoenebaum, a pharmaceutical analyst at ISI Group, in an email. But he doesn't include it as a factor—positive or negative—in his revenue forecasts for pharma companies. "Success has been mixed. But since you can't do controlled experiments in real life, it's not clear that the reason for poor sales is necessarily this new sales model."
But Lilly claims it has already seen the new approach pay off. Since Lilly started experimenting with the softer approach four years ago, its U.S. sales of older products such as Cymbalta, Cialis and Evista have shown marked improvement, Lilly executives contend.
Lilly provided internal data based on three of its drugs (whose identities it did not disclose) that showed doctors who rated their experience with Lilly as significantly better than with other companies wrote about 13 percent more prescriptions than those who rated Lilly just slightly better than other companies. The doctors who rated Lilly as significantly better prescribed 30 percent more than doctors who rated Lilly as significantly worse than other companies.
That's why Lilly is making "customer experience" a linchpin of its business strategy, even using its new approach as a kind of litmus test last year for deciding which sales professionals to retain and promote.
"Not every pharma company is making it with the vigor that we are," Azar said.
Fresh approach, fewer people
Pharmaceutical companies have been forced to try new sales techniques in recent years.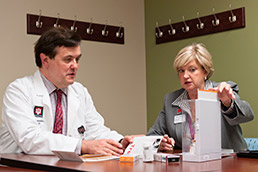 Dr. Paul Skierczynski listens to Teri Lambert, an Eli Lilly and Co. sales representative, describe a Lilly insulin. Lilly sales calls now last about three minutes. (IBJ photo/Eric Learned)
Fewer physicians will see drug reps anymore—only about 75 percent of all office-based physicians. On top of that, the Sunshine Act of 2010 now requires physicians to disclose all "transfers of value"—such as lunches—which most do not want to do. On top of that, patient choices are determined more than ever by increasingly restrictive health insurance formulas as well as by purchasing committees in health systems.
All those factors make it more difficult and expensive for drug companies to simply overwhelm physicians with large numbers of sales reps.
In response to the trends, Lilly started rolling out the service-profit chain concept in 2010. It even held its annual sales force meeting at Disney World, so reps could watch how that company works to give customers a great experience.
Then last year, it slashed the size of its U.S. sales force nearly 40 percent—and used the upheaval of those cuts to reorient its entire organization to support sales reps' trying to solve doctors' and patients' problems.
Some things reps can solve by themselves, like providing free samples and discount coupons to help patients try a new medicine or stay on it if their insurance or financial situation changes.
Other times, Lilly reps help make sure Lilly medicines are in stock at the pharmacy a particular patient is using. Or they connect doctors with Lilly's scientists, who can check for drug data in unusual patient circumstances and, in some cases, recommend a competitor's drug.
In practice, Lilly's focus leaves plenty of opportunities to tell doctors about its medicines.
When Dr. Paul Skierczynski opened the door of the lunch room in his Carmel Physician office, Lilly sales rep Teri Lambert was ready for him.
"Hi, Ski!" she called out, referring to Skierczynski by his nickname. Skierczynski is an endocrinologist who specializes in treating diabetics.
Lambert had scheduled this brief lunchtime meeting (without any lunch) to show Skierczynski some new patient education materials Lilly had produced about U500, a highly potent insulin it sells.
"I'll give them to the [diabetes] coordinators [in your office], if you think that would be helpful," Lambert said of the fliers.
"Yes," Skierczynski said. "And we get some coupons, too, right?" Lambert promptly fished in her black Lilly satchel for coupons for the drug. Her hands first landed on some coupons for Cialis, a pill to treat impotence, which is a common side effect for diabetic men.
"Those are Cialis coupons. You don't want those," Lambert said.
"Well, we could probably find a use for them," Skierczynski said.
Before letting Skierczynski go, Lambert slid her iPad in front of him. It displayed all the brand names of Lilly's diabetes drugs, and she made sure to highlight Lilly's more recent oral medications, called Tradjenta and Jentadueto.
"Is there anything I can do for you?" Lambert asked—a question that led Skierczynski to ask about some of the diabetes drugs Lilly is trying to bring to market soon.
Lambert isn't allowed to talk about those drugs until they are approved by regulators, so she noted that other Lilly staff members can discuss the clinical trial results of the drugs.
In between these once-a-month visits with a physician—which typically last no more than three minutes—Lambert stays in touch with Skierczynski's practice manager, nurses and patient educators, via cell phone calls and text messages.
"Every person in the office can have an impact with the patient," Lambert said.
Tenuous link?
Not everyone shared the reps' enthusiasm for Lilly's new sales approach.
Among the 1,000 sales reps Lilly let go last year, the service-profit chain concept is widely viewed with disdain.
"It really kind of devalued the ability of the sales forces to really sell the product line," said a Lilly sales manager who was not offered a new manager position after 17 years at the company.
IBJ obtained internal 2012 Lilly data that show a tenuous link between how physicians rate their experience and the prescription volumes of Lilly's products.
Within Lilly's neuroscience sales team, the Great Lakes region ranked highest among Lilly's 10 sales regions that year on customer-experience surveys done with physicians. But at the end of the year, the Great Lakes region ranked only No. 6 in terms of market share claimed by Lilly's drugs versus competing drugs in the same therapeutic category.
Also, two regions that tied for third in market share—the North Atlantic and South Atlantic—ranked No. 2 and No. 7, respectively, in customer-experience surveys.
"I think the actual prescribing decision is more nuanced and complicated than just the relationship" with the sales rep, said Dr. Frank David, a former executive at drug giant AstraZeneca plc, who now runs a pharmaceutical consulting firm in Boston called Pharmagellan LLC. "I'm not sure in most cases these things are going to dramatically influence prescribing."
Skierczynski, the IU Health physician, said he might give a slight edge to Lilly—but only a slight one—compared with its main rival in diabetes, Novo Nordisk A/S.
"Lilly stands out," Skierczynski said. "But I think Novo also tries hard. They want to be up there on par with Lilly."
The 2012 internal Lilly data do show some regions where the sales performance and customer experience were more in line. The region that ranked first in market share—the Northeast region—ranked third in customer experience, and the region that was second in sales ranked fourth in customer experience.
And the customer experience data from 2012 did show that Lilly ranked higher than five competing drug companies.

Azar
Lilly's Azar acknowledged that, when viewed across entire sales territories, Lilly has yet to broadly distinguish itself from its competitors.
"We are beating the competition on every significant area when it comes to how we are perceived," Azar said. "But we have not achieved a genuinely different experience."
But he said its internal research confirms that whenever it does distinguish itself in a physician's mind, that physician's prescriptions with Lilly go up markedly. In marketing terms, Lilly is trying to turn physicians into "net promoters" of its products.
And the progress Lilly has made in turning physicians into net promoters has been a big factor, Azar contends, in the sales growth of some of its most mature products.
For example, Cymbalta sales grew 55 percent from 2010 until the end of 2013, when its U.S. patent expired. Cymbalta added 1 million net new patients in the last three years of its patent life.
During the same period, Cialis sales grew 51 percent and, just this year, overtook Viagra in the United States for the first time as the most-prescribed anti-impotence pill.
"Something's working," Azar said.•
Please enable JavaScript to view this content.