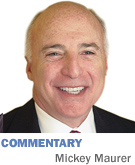 Any guess who will be named a Living Legend this year by the Indiana Historical Society? Haven't got a clue?
Why, it's that clue master himself, Will Shortz, crossword puzzle editor at The New York Times and riddle maven of "Sunday Morning" on NPR.
He will join luminaries of years gone by including Kurt Vonnegut Jr., Richard Lugar, Gene Glick and Dr. Lawrence Einhorn.
Shortz, a Crawfordsville native from the banks of Sugar Creek, graduated from Indiana University with a degree in enigmatology—the only one of its kind. He and his advisers conceived of this course of study through the university's individualized major program. They established a rigorous curriculum, including consternating puzzles and lots of math. Three years later, with a law degree in hand from the University of Virginia, Shortz exhibited phenomenal intelligence: He declined to practice law even a single day. (We lawyers can kid our own.)
It has been my pleasure to work with Shortz for more than a decade as a Times puzzle contributor, but it has not been easy. For every one of my submissions that he finds acceptable, he rejects at least two. It's painful but all the better is the feeling when he says yes—which he does enthusiastically.
And his rejections are so nice. Compare a typical Shortz "no thanks" with the one I received from his predecessor, Eugene Maleska.
Maleska:
Your puzzle is a hopeless case.
… the entries contain a plethora of esoterica. Frankly,
I doubt that any crossword puzzle editor would accept
such an amateurish creation.
I don't remember whether I was more devastated by Maleska's blunt rejection or the fact that I had to look up the words "plethora" and "esoterica."
On the other hand, there's Shortz:
Mickey, I'm really sorry to say that your theme doesn't
excite me much although it is a well-crafted puzzle.
If you want to try a variation I'm all ears. My best to Janie.
In the early days of puzzle construction—defined as pre-computer—we used graph paper and a pencil with a large eraser. Maleska often said that less than 100 constructors could create a New York Times-quality puzzle (he was a snob). He may have been correct then, but today software programs with thousands of words in the lexicon and powerful matching and sorting functions enable a mass of cruciverbalists to vie for a spot in Will Shortz' hallowed domain (OK, so as an old-timer maybe I'm a bit of a crossword puzzle snob, too).
Now, with the exception of Friday and Saturday challenges, which are themeless and diabolically and deliciously difficult, the emphasis is on fresh and entertaining themes.
Shortz disdains crossword puzzlese, e.g. esne (Anglo-Saxon laborer), proa (Malayan boat) and anoa (Celebes ox) in favor of modern coinage, including emag and selfie and word combinations most of which are beyond the scope of off-the-shelf software. Did I mention Shortz is hard to please?
Clever clues have always been the hallmark of The New York Times, and Shortz revels in this word play. Can you solve some of my favorite mis-directs of the Shortz era: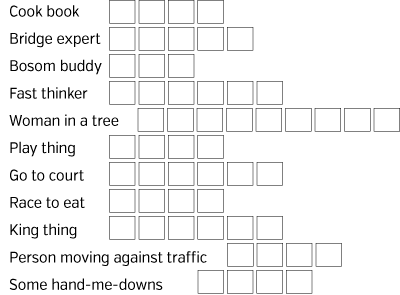 Shortz will be in the company of other high achievers at his induction on July 25. Business and civic leader Donald C. "Danny" Danielson, arts patrons Jane Fortune and Robert Hesse and Indiana Sports Corp. President Allison Melangton also will be honored. Join me at the gala that evening. I'll be privileged to introduce you to fellow Hoosier Will Shortz, a "Living Legend."•
__________
Maurer is a shareholder in IBJ Corp., which owns Indianapolis Business Journal.  His column appears every other week. To comment on this column, send e-mail to mmaurer@ibj.com.
Please enable JavaScript to view this content.