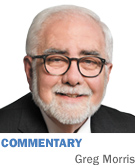 We recently celebrated another Memorial Day. I hope all of us stopped our festivities long enough to appreciate its true meaning. With the current national Veterans Administration health system disgrace playing out on our daily news, was your awareness of veterans' issues heightened this Memorial Day?
I recently had the honor of meeting and spending some time with a truly inspirational veteran who lives right here in central Indiana. Below, you'll find a letter from him that sums up our conversation about local issues in Indiana that go well beyond the national VA scandal.
My name is Jim Bauerle. I am a retired Brigadier General in the United States Army, with over 32 years of military service. I am a Vietnam Veteran and a Desert Storm Veteran. I have commanded troops in combat, and saw death up close and personal.
Today I speak for the 40,000+ Hoosiers serving on active duty or in our reserve components. I also speak for the 490,380 Hoosier Veterans. I represent The Military/Veterans Coalition of Indiana a group of groups that advocate, celebrate and educate on behalf of these Hoosiers and their families.
So many of our Hoosiers patriotically and dutifully took their oath believing they are serving their country. They swore to defend the Constitution of the United States of America and Indiana.
They valiantly served. How we respond to their needs shows our commitment. It sends a reinforcing message as to our recognition of their valor, and their decision to serve was a noble and right decision.
The Military/Veterans Coalition of Indiana has developed a legislative agenda to address these needs and help move Indiana from being a Patriotic State to a Military and Veteran friendly state.
Yes Indiana is NOT a military and veteran friendly state. Recently, while visiting Crane NAVSEA Warfare Center, Colonel Alan M. Pratt, USMC, installation Commander, told me Indiana is not a military friendly state. He is planning to move to North Carolina later this year when he retires. Indiana lost 8,564 veterans between September 30, 2012, and September 30, 2013. Most range in age between 30 and 50. I contend they left Indiana with their families to more friendly states.
Our agenda identifies proposed legislation to help disabled veterans, survivors of veterans, veterans who suffer from TBI (Traumatic Brain Injury) and PTSD (Post-Traumatic Stress Disorder), unemployed veterans and reservists, those serving on active duty, Reserve and Guardsmen, retirees and their families.
The list includes fixing our grossly understaffed IDVA (Indiana Department of Veterans Affairs), income tax relief, medical treatment for TBI-PTSD, education assistance for Reservists and Guardsmen, property tax relief for disabled and surviving spouses, job training, family hardship, as well as reward for service in the form of license fees, state park fees, and a long overdue Gulf War bonus as was given for Vietnam Veterans.
Future generations contemplating as to whether or not they will serve in the armed forces may largely depend on how they perceive how we currently treat, and truly take care of, our own. They may ask a legitimate question; "Is it worth it to serve my country, my Indiana, if when it's all said and done, they will leave me in the haunting and suffering shadows after I step down injured while performing my solemn duty?"
We must keep in view the horrors of daily life for those suffering from TBI/PTSD. We must also keep in mind those who died of "natural causes" who carried the Signature Wound, or Agent Orange, or Desert Storm Illness to their untimely graves. We must keep in mind those who gave their life so we could enjoy Indiana and our Republic.
When disasters occur—they show up and perform. When bad things happen in the world that threaten our way of life—they show up and perform. As citizens of the state of Indiana we should show up and perform by making Indiana a veteran and military friendly state.
Oklahoma, Ohio, Kentucky, Michigan and Illinois are far more friendly. Nebraska and Iowa are acting now. We have much catching up to do.
BG James L. Bauerle USA Ret.
Here is information about a fundraising effort by the Military/Veterans Coalition of Indiana to place a life-size bronze statue of Col. Weir Cook in the Weir Cook Terminal at Indianapolis International Airport. Here's a video on a similar effort in Ohio that resulted in an aviation pioneer there getting a statue at Columbus Regional Airport.
Other links of interest:
– Indiana Department of Veterans Affairs
– 2013 Final Report of the Commission Military and Veterans Affairs
– Nebraska lawmakers expand veterans benefits
– Iowa lawmakers OK bill to support veterans
– Wallet Hub's best and worst states for military retirees (Indiana ranks 49th)
Please call your state legislators and ask them to make the welfare of our Indiana veterans one of their top priorities. Thank you.•
__________
Morris is publisher of IBJ. His column appears every other week. To comment on this column, send e-mail to gmorris@ibj.com.
Please enable JavaScript to view this content.