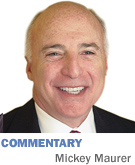 Many of you read my columns touting Endocyte and purchased that stock within the range of $4 to $8 per share. If you liquidated your holdings on March 21 when the price reached its high of $33 per share, congratulations, you got out in time. I did not.
I left too many chips on the table when the roll crapped out.
Endocyte is an Indiana biopharmaceutical company that develops drugs and imaging diagnostics to identify and treat cancer and other serious diseases. Cancer cells replicate wildly and, like neonatal cells, greedily consume the vitamin folate, a requirement for cell division.
Because they need so much folate, some cancers absorb it using special receptors. Endocyte's drug vintafolide and some of its earlier-stage candidates target those receptors with folate that has been laced with cancer-fighting drugs many times more potent than tolerated under customary delivery systems—and administer the therapy more frequently over longer periods of time. That knocks off the cancer without poisoning the normal cells—or so we hoped.
Endocyte stock recently plummeted to little more than $6 per share. The guillotine dropped with the announced withdrawal of vintafolide and companion imaging components in Europe as treatment for patients with folate-receptor-positive, advanced-stage, platinum-resistant ovarian cancer in combination with the cancer-fighting drug referred to as PLD. Studies were suspended and then cancelled on the determination that the drug cocktail did not meet the pre-specified criteria for progression-free survival. In other words, the stuff didn't work.
What now?
The company has more cash than Dr. Dre. On April 2, while Endocyte was thought by many analysts to be worth much more, it added to its considerable stores with a $100 million stock offering at $21 per share. During its earnings call on May 2, President and CEO Ron Ellis said Endocyte is pursuing lots of opportunities, including clinical programs employing potent drugs that target various cancers, including prostate cancer and lung cancer. Many of these initiatives could take a year or more to become commercially viable, but assuming a reasonable burn rate, Endocyte has the cash resources to get those weapons to the battlefront.
What about those weapons? I am reminded of the remarkable work of Dr. Larry Einhorn, whose discoveries of the innovative use of the drug Cisplatin in combination with other drugs increased the one-year survival rate of men with metastatic testicular cancer from 5 percent to more than 90 percent. The wonder drug that Einhorn resurrected was about to be discarded as useless because of its severe toxicity and lack of clinical success when commandeered to fight other cancers.
It is possible that the Endocyte therapies are useless against all kinds of cancer. It also is possible that the company's scientists will discover the right cocktail and a cancer that will respond. Success likely would catapult Endocyte back into the lofty post-$30-per-share valuation.
In 2012, global drugmaker Merck entered into an exclusive agreement with Endocyte to develop and commercialize vintafolide for six cancer indications. Endocyte received a $120 million upfront payment and became eligible for milestone payments up to $880 million. Merck might cancel this marketing and support arrangement. That would be disappointing, but it would put Endocyte in play as a takeover target with an existing pipeline and a safe busting with cash—an interesting possibility for other pharmas looking to bolster their cancer arsenal.
The market price of Endocyte at $6 gives no consideration to the value of Endocyte's initiatives. Given cash on hand, the potential of current trials and the relationship with Merck, the reasonable downside risk at this price seems negligible whereas the upside potential in the short term could benefit markedly by the least bit of good news.
I don't predict the return to $33 a share in the near future, but at a fairly low risk one could pick up a 50-percent reward.•
__________
Maurer is a shareholder in IBJ Corp., which owns Indianapolis Business Journal. His column appears every other week. To comment on this column, send e-mail to mmaurer@ibj.com.
 
Please enable JavaScript to view this content.