Peter George—once one of the city's most prominent restaurateurs—is returning to the local culinary scene following a roughly 10-year absence.
Peter George, left, and business partner Thomas Main are renovating a building on East 16th Street for their new restaurant, which should open in August. (IBJ photo/Eric Learned)
This time, it's on a smaller scale than when he operated a trio of eateries that slipped into bankruptcy and closed in 2003.
George, 60, is targeting an August opening for Tinker Street, a chef-driven and plant-based concept he's launching with business partner Thomas Main, 56, who also has a restaurant background.
Tinker Street, a nod to the original name of 16th Street, will serve its meals from a 900-square-foot building at 402 E. 16th St. between New Jersey Street and Central Avenue that George and Main have purchased.
"It's a shoebox," George said of the building's diminutive size. "Most people want really big restaurants. We don't."
Tinker Street, a nod to the original name of 16th Street, will serve its meals from a 900-square-foot building at 402 E. 16th St. between New Jersey Street and Central Avenue. (IBJ photo/Eric Learned)
That's quite a deviation from George's heyday as a restaurateur, when he operated Peter's A Restaurant and Wine Bar at Keystone at the Crossing; Bistro 936 near Fountain Square; and Chops An American Steakhouse, which opened beside Peter's in 2001.
George, a South Bend native, moved to Indianapolis in 1985 to open his first restaurant, Peter's, at 936 Virginia Ave. in Fountain Square, before moving it north, and quickly established himself as one of the city's top restaurant owners.
With chef Tony Hanslits, now executive chef at The Chef's Academy, George blazed a culinary trail by focusing on "farm-to-table" dinners before they became trendy.
"He was just ahead of his time," said Steve Delaney, a restaurant broker at Sitehawk Retail Real Estate. "Those chef-driven restaurants are proliferating today, but he was on it 20 years ago."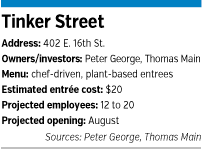 Tinker Street's chef will be Braedon Kellner. He is the sous chef at Oakley's Bistro on West 86th Street and before that, was at CityWay's Alexander Hotel.
George's return has been a long time coming. He disappeared from the local restaurant landscape in 2003 after his three eateries jointly filed for Chapter 11 bankruptcy protection.
When Peter's moved north to Keystone at the Crossing in 2000, he opened Bistro 936 in its stead in Fountain Square.
The economic carnage from the September 2001 terrorist attacks and the loss of a corporate client that hosted several private events at Peter's proved too much for George to overcome.
"It took a lot out of me, physically and mentally," he said. "The wounds were too fresh to get into another [restaurant]."
So George, who had bought and sold a few homes in South Bend, became a real estate agent and has been working from the Century 21 Scheetz office the past 10 years.
Once Tinker Street is open, George plans to continue working with real estate clients on a limited referral basis.
'We're doing it'
Upon his arrival in Indianapolis, it didn't take long for George to meet Main, his business partner in Tinker Street.
Main became a regular customer at Peter's Fountain Square location and the two "just hit it off," Main said.
In the meantime, Main launched Italian eatery Puccini's Smiling Teeth in 1991 with his brother, Don, the bassist and lead vocalist for the band The Late Show, and Brooks Powers.
Puccini's since has expanded from its original location at West 86th Street and Ditch Road to 14 total, including four in Indianapolis and one each in Carmel and Fishers.
Main left Puccini's about six years ago and since has dabbled in a restaurant consultancy, technology business and publishing company.
But this past New Year's Eve, the two men—both coincidentally divorced three times—had a revelation over dinner. Why not go into business together?
"We just looked at each other and said, 'We're doing it,'" Main recalled.
The two declined to divulge how much they're investing in Tinker Street but described it as "substantial."
The restaurant will seat a total of 76, 34 indoors and 42 on an outdoor patio. Dishes will top out at less than $20 and will be complemented by a revolving wine list.
"We don't have a lot of space, so the key is to change them out often," George said. "The wine list will change more than our menu."
16th Street rejuvenation
George and Main chose the location along East 16th Street because of the resurgence of the corridor and the strength of the surrounding Herron-Morton Place and Old Northside neighborhoods.
The city helped spur the revitalization by repaving 16th Street from Illinois Street to Central Avenue and repairing sidewalks and curbs, adding crosswalks and planting trees.
A few blocks to the west of the Tinker Street building, the Foundry Provisions café opened in April 2013 at the northwest corner of East 16th and Alabama streets. Farther west, The Thirsty Scholar, a coffee, beer and wine bar, opened in July at the corner of 16th and Pennsylvania streets in the Penn Arts building owned by developer Christopher Piazza.
To the east of Tinker Street, another similarly named venture, Tinker Flats, is set to open later this summer in an abandoned warehouse at 1101 E. 16th St. along the Monon Trail. Indianapolis-based Slane Capital is redeveloping the 30,000-square-foot building into an incubator for artisan food businesses.
Dan McMichael, who owns the downtown Rathskeller restaurant, has witnessed the rejuvenation of East 16th Street firsthand. He bought the former Ashanti Ballroom at the southeast corner of East 16th and Alabama in 2005 and converted it into 11 luxury condominiums known as Old Northside Lofts.
He knows both George and Main and thinks they'll contribute to the street's revitalization.
"Peter's a well-known commodity, and I know that Tom has quite a background," McMichael said. "You bring two very solid players to the table."
George and Main, though, are not finished investing in the neighborhood. They have agreed to purchase the dilapidated one-story building across from Tinker Street to convert into another restaurant.
They have yet to agree on a concept, but they hope to have the restaurant open by this time next year. For now, they're concentrating on Tinker Street.
"It's blood, sweat and tears with both feet in," George said. "We're just not putting our toes in the water."•
Please enable JavaScript to view this content.