When the next enrollment season opens for the Obamacare exchange in Indiana, more than half the "health insurers" will actually be doctors and hospitals.

It's part of a national trend in which doctors and hospitals think they can do a better job of controlling costs and keeping patients healthy by cutting out the insurance middleman.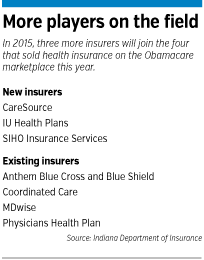 Four insurance entities sponsored by doctors and hospitals will compete on the Obamacare exchange in 2015, according to May filings with the Indiana Department of Insurance. Enrollment for that business will begin Nov. 15.

New to the market next year will be Indianapolis-based Indiana University Health Plans, the insurance arm of the IU Health hospital system, and Columbus-based SIHO Insurance Services Inc., an insurance plan started by Columbus Regional Hospital.

They will join MDwise Inc. and Physicians Health Plan of Northern Indiana Inc., both of which also sold plans on the exchange this year.

Indianapolis-based MDwise is co-owned by two hospital systems, Eskenazi Health and IU Health, the latter of which will have a stake in two competing insurers in the exchanges. Fort Wayne-based PHP was founded 30 years ago by physicians in the Fort Wayne area and operates independently of them.

"There is a blurring of the lines between providers and the insurance companies," said Ken Weixel, a health care consultant for Deloitte. "It may be the right thing to do, but it's not the right thing to do for every hospital system and, literally, every hospital system is trying to build a risk-bearing entity."

The three other health insurers selling on the Obamacare exchange in 2015 will be Indianapolis-based Anthem Blue Cross and Blue Shield; St. Louis-based Coordinated Care; and Dayton, Ohio-based CareSource Inc. Anthem and Coordinated Care both participated in the exchange in 2014 as well.

More than 132,000 Hoosiers signed up for 2014 coverage on the Obamacare exchange, formally known as the Affordable Care Act Marketplace, although insurers estimate that only about 85 percent of them have paid their premiums. That would mean insurers gained about 112,000 customers through the exchanges.

That number is projected to double in 2015.

Exchange coverage is heavily subsidized by taxpayers. For 2014, 89 percent of exchange enrollees qualified for tax subsidies.

"I view it as a nice, solid addition to a book of business that we've had for 30 years," Rick Cochran, CEO of Physicians Health Plan, said of the 7,000 customers PHP signed up via the Obamacare exchange this year.
Parker
Jim Parker, CEO of IU Health Plans, wrote in an email that his organization is trying out the Obamacare exchange to further develop its capabilities in figuring out how to make money by keeping patients healthier and out of the hospital.

The concept, called population health, is almost exactly the opposite of hospitals' past strategy, which was to perform as many procedures and services as possible. IU Health Plans thinks it can use population health to keep its prices competitive even with much larger insurers, like Anthem.

"We know that the most affordable care a member can receive is the care that was made unnecessary through effective approaches that improve health," Parker wrote. "IU Health Plans chose to enter the ACA Marketplace in a measured way in 2015 to further develop its abilities with a segment of the market that would benefit greatly from the model of care we are designing."

So far, however, it appears that the health insurers that have no connection to doctors and hospitals have been best at doing the basic blocking and tackling of health insurance: pooling and pricing risk.

In their Insurance Department filings, Anthem asked for a 9.7-percent average premium increase for 2015 and Coordinated Care asked for an average premium cut of 8.8 percent.

But PHP filed for a 46-percent rate increase. And MDwise asked for a 35-percent hike.

Executives from both PHP and MDwise hinted those rates would be adjusted—most likely downward—as they get more data about the people in their plans and how much care they are using, as well as about how government programs may cover some of their 2014 losses.

"It takes a lot of different kinds of talent and a lot of different kinds of core competencies to run an insurance company than it takes to run a hospital system," said Weixel, the Deloitte consultant.•