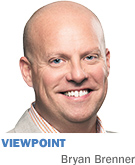 A couple of weeks ago, as my 14-year-old daughter, Caroline, prepared for her final days as an Oaks Academy student, she wrote, "The Oaks Academy has taught me to work hard, not because you have to but because you want to."
Of course, I was proud of my daughter's insight into her education and grateful to the teachers and administrators at the Oaks for teaching her such lessons. But I was also impressed by the bigger lesson in her words: We make the most progress when our work is driven by passion.
That message struck a chord with me because I've recently become aware of that kind of dynamic at work in the Brookside neighborhood a few minutes east of downtown. As a result, I've begun to believe that Brookside is positioned to be Indy's "next big thing," as residents, community groups and the city come together to breathe new life into a neighborhood that has fallen on difficult times.
Today, I want to challenge the entire community to get behind this effort, not just for the sake of Brookside, but so we can learn from this example and apply it to other neighborhoods.
I became more aware of Brookside through the Oaks Academy, which I serve as board chairman and which opened a school there two years ago. The Oaks opened its first location, at 23rd Street and Park Avenue in the near-north-side Mapleton Fall Creek area, in 1998. This past year, that original location taught nearly 400 students in kindergarten through eighth grade. It has a waiting list for students, and a nearly perfect record when it comes to eighth-graders passing ISTEP.
Still, when it opened, Mapleton Fall Creek was as troubled—if not more so—as Brookside is now. The Fall Creek Place revitalization that would transform the area was still a few years away, and people wondered why on earth anyone would locate a new private school there.
My point is not to suggest that the Oaks drove the transformation in Mapleton Fall Creek. On the contrary: My point is that it took time, and a number of factors, individuals and groups working in concert to make a difference. Change came as part of a process—a process I think we see taking shape in Brookside.
I admit that, at this point, this is not a defined process. It's seen more in anecdotes than data: anecdotes about young professionals buying homes in the neighborhood … and then, when they marry and have kids, staying in the neighborhood; about homes approaching market rate in an area where prices have been relentlessly depressed; about churches and community groups establishing operations; about a city hall that's paying more attention. And, yes, about a school that has opened its doors to offer a top-notch academic experience to kids from all walks of life.
When you combine these factors with Brookside's other assets—picturesque and curving avenues lined with wonderful old homes, a beautiful tree-filled park with distinctive architecture, dedicated residents, and proximity to downtown—you have the makings of a great turnaround story.
But this turnaround story won't just happen. It's going to take work. The good news is that the people of this city have proven they can handle a big job—especially, as my daughter might tell us, if we attack that job with the passion of someone who truly wants to succeed.•
__________
Brenner is CEO of FirstPerson and chairman of The Oaks Academy. Send comments on this column to ibjedit@ibj.com.
Please enable JavaScript to view this content.