A 30-minute wait at a hotel front desk didn't leave a great impression with phone app developer Ben Robertson.
The experiences prompted the idea for Yikes, an app that handles check-ins, unlocks doors, adjusts thermostats, and automatically processes an array of other functions at hotels.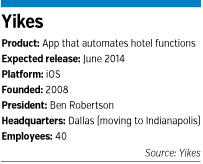 The company has approached top hoteliers—Marriott, Hyatt, Hilton, ISG and Starwood—about using the app, Robertson said.
The program wasn't available in app stores as of IBJ's deadline. Yikes pulled down a previous version and plans to release a next-generation version for iOS this month, Robertson said.
Yikes in coming weeks also expects to announce a contract with a major hotel chain, he said.
The app continuously runs in the background of phones to handle hotel guests' needs when possible.
For example, people with the app can walk into a hotel and the program will automatically check them in. Or the phone will send alerts when their rooms are ready. Walk up to the room door, and it automatically unlocks without a key card. Walk inside, and the thermostat adjusts to pre-set temperatures.
Robertson was an "avid techster" working for college planning service CollegePlus! when he started Yikes LLC in 2008. The Monticello native launched development just as smartphones were entering the market.
"We saw the tsunami coming," he said about the now-ubiquitous devices.
Robertson declined to reveal his company's revenue or the number of hotels he has worked with, acknowledging only that Yikes is in a "handful." The firm plans to announce a major customer later this month.
A "very large ramp-up" will also happen later this year, including securing some international customers, Robertson said.
A big piece of the ramp-up will involve moving the main office from Dallas—where Robertson now lives—to Indianapolis, where Robertson said he plans to relocate.
The company is hunting for an office downtown, which will house about 10 employees already working in the state, including executives. About 30 more employees will remain in Dallas and Miami.
Yikes is seeking $10 million in debt and equity investments to fuel its growth, according to a January filing with the U.S. Securities and Exchange Commission.
The company has raised "a very substantial amount of money," the exact amount of which Robertson would not specify.
Travelers download the app and set up their preferences, based on what services hotels want to automatically enable.
On the business side, the program lets hotels improve their customer service as well as efficiency, Robertson said. Functions like the thermostat controls can reduce energy costs.
Yikes isn't alone in what it offers.
A bevy of hotel apps let guests order room service, provide entertainment suggestions, or book spa visits—At Your Service, Guest Valet and Virtual Hotel, to name a few.
Hotels themselves have developed similar technology in-house. Starwood and Marriott both have apps that automatically check guests in and out, noted David Bakke, a contributor to financial website Money Crashers who follows the travel app market.
"More and more hotels are developing their own app, with good reason," Bakke said in an email. "Expedia did a study which said that, of travelers booking hotels last minute, 65 percent make their reservation through a mobile device."
But Yikes sets itself apart from competing apps, Robertson said, by offering a much wider range of services than just check-ins or door locks.•
Please enable JavaScript to view this content.