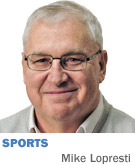 Ah, what a spring in central Indiana.

We re-upped for the Big Ten football championship game, but we lost the cricket national championship. So it's yes to screen passes, but no to googlies.

The Big Ten football championship will be at Lucas Oil Stadium through 2021, and by then, maybe Indiana or Purdue can actually play in it. But don't hold your breath.

As for the cricketers, they have taken their wickets and gone to Florida, saying, among other things, Indianapolis is too hard of a place to get to. Apparently, those 250,000 people at the Indianapolis 500 were simply beamed to the Speedway. We're not accustomed to being dissed by a sports organization, but you've never really been ripped until you've been ripped by the United States of America Cricket Association.

We also lost the Super Bowl. Those slick hucksters in Minnesota swayed the election by campaigning on a new stadium, knowing that nothing makes NFL owners smile faster than the thought of the next generation of luxury boxes. Come to think of it, that's how Indianapolis landed Super Bowl XLVI, but never mind.

It'll probably be well into the 2020s before the Super Bowl comes back here, but look at the bright side. By then, global warming should guarantee a comfortable February; we won't need to depend on dumb luck like last time.

We lost a chance to host the NBA Finals when the Indiana Pacers' psychological thrill ride finally ended against the Miami Heat. Given some of the criticism of Frank Vogel, I am surprised more has not been made of how he failed to make the one strategic move that might have stopped LeBron James. Which, of course, was to blow the fuses to the Bankers Life Fieldhouse air-conditioning system.

Also, while the state of Indiana has no team in the Finals, it certainly has a native son. Merrillville's own Gregg Popovich is seeking a fifth championship with the San Antonio Spurs. And while it has been several decades since Popovich was a Pirate, he hasn't forgotten his roots. Merrillville High School has a photo from a Popovich visit a few years ago, and there he is, wearing his letter jacket.

We still get the Big Ten men's basketball tournament, but it is starting to be passed around the table like shrimp cocktail at St. Elmo. Washington, D.C., has joined Chicago as co-host. Never mind the Verizon Center is 418 driving miles from Ohio State, the closest of the original Big Ten schools. With Rutgers joining, can a Madison Square Garden Big Ten tournament be far behind?

The Big Ten folks say it is important that the conference spread into its new territory, and what better way to do that than with the basketball tournament?

Using the same rationale, can someone please ask Butler University when the Big East conference basketball tournament will be played at Bankers Life?

We just hosted the NCAA rowing championship, and Ohio State was champion. So a team from the middle of Ohio won at a water sport in the middle of Indiana. The Buckeyes are not on the banks of the Olentangy for nothing.

But we lost our chance for a representative in the College World Series when Stanford rallied not once, but twice, against Indiana. The Hoosiers gave up only nine home runs in their first 56 games, but six in three days against Stanford. They found out in Bloomington that baseball can hurt just as much as basketball.

We hosted the first Indy Car Grand Prix of Indianapolis, and there was a huge crash in the first 30 seconds, which spread enough debris to send the mayor to the medical center.

Two weeks later, we hosted the 98th Indy 500 and there wasn't a yellow flag for the first 149 laps.

The NFL draft went the entire first round without any choice by the Indianapolis Colts. Barring a late trade, the NBA draft will go the entire first round without any choice by the Pacers.

We do have a first-place baseball team in the Indianapolis Indians, who have challenged for at least one record so far. It came in the category of ejection, quickest. This past week, Manager Dean Treanor was thrown out while exchanging lineup cards at home plate before the game. He barely outlasted the national anthem singer.

And finally, the NCAA front office is up to its tie knots in legalities, what with the Ed O'Bannon trial now in session. It's been a stormy time on West Washington Street, but if the NCAAers want to escape awhile, they can always go next door to see the new orangutan exhibit at the Indianapolis Zoo. The zoo, by the way, just announced it is hiking prices on high-demand days, which, if you think about it, comes awfully close to the concept of ticket scalping.

What a spring.•

__________

Lopresti is a lifelong resident of Richmond and a graduate of Ball State University. He was a columnist for USA Today and Gannett newspapers for 31 years; he covered 34 Final Fours, 30 Super Bowls, 32 World Series and 16 Olympics. His column appears weekly. He can be reached at mlopresti@ibj.com.