Katharine Hepburn, after a series of box-office failures, was considered box-office poison … until she made "The Philadelphia Story." The 2004 Red Sox broke an 86-year drought to win the 2004 World Series.
So there's no reason to get overly ominous about the prospects for Plow & Anchor (43 E. Ninth St., 964-0538), which recently opened in the dining black hole that has swallowed three other restaurants since 2010 (four if you count Bar Yats, which was planned for the site but never opened).
The reality is, sometimes it just takes the right approach. Claddagh, for instance, moved into a troubled spot downtown and quickly wiped out memories of the many failures that came before it. I have that same hope for Plow & Anchor. It helps that the owners have attracted Executive Chef John Adams, who comes via Bluebeard. He offers an ever-changing menu that, on our visit, won us over.
That victory started with Salt Cod Croquettes ($8). Forget your fear of frying, this attractive arrangement let the fish do the talking, with just a taste of saffron aioli and mustard greens but without unnecessary embellishment. Asparagus and Potato Soup ($8) featured morels and crème fraiche. The soup itself was delicious, but the kitchen might want to rethink the battered and fried mushrooms that took on a spongy texture unless eaten immediately.
Once you get north of a 10 spot, a burger really has to earn its high price point. Unfortunately, the Plancha Burger ($14), described as a "kitchen sink patty" with drunken goat cheese, onion jam, rouille (an olive oil/garlic/chili pepper sauce), spicy ketchup and other fixings, doesn't. It was a messy mix of flavors without a focus. Light-years better was the Roasted Halibut ($18), creatively complemented with butter-poached radishes, ramp greens and spring pea nage. Not only was the presentation beautiful (we eat with our eyes first, right?), but the combination of flavors and textures was inspired.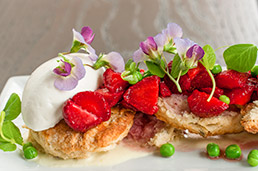 Peas are among the seemingly disconnected ingredients that make the Lavender Biscuit work. (IBJ Photo/ Eric Learned)
Desserts are made in-house, so we went with the simple—Beignets ($7) upgraded with caramelized banana, Nutella and crushed peanuts—and the unexpected—Lavender Biscuit ($8), with the title pastry graced with strawberries, rhubarb, pea anglaise and pea shoots. Yes, peas in a dessert. And it works.
Here's hoping the Ambassador building finally has the anchor it deserves. I look forward to plowing through many a meal here.•
—Lou Harry
 
Please enable JavaScript to view this content.