Where there's smoke, there's fire, and where there's scorching email, there's Christine Scales.

In her second term on the Indianapolis City-County Council, Scales is testing the limits of political independence and the patience of her colleagues. A Republican, she was barred from the minority party's caucus meetings in September, and in May she was stripped of two committee assignments and seated with the Democrats. She continues to serve on the Public Safety Committee by the grace of Democratic Council President Maggie Lewis.

Scales
Yet that didn't stop Scales, who represents District 4 on the north side, from going full tilt in opposition to a proposal on smoke detectors that was co-sponsored by Republican Ben Hunter and Democrat Mary Moriarty Adams, the committee chairwoman.

Scales, who was concerned that the effort to amend the code on smoke detectors was being driven by a manufacturer's lobbyists, threatened in an email to bring an ethics complaint against Hunter and Adams if they didn't scrap their proposal, Adams said. She was taken aback.

"I've never met a councilor like Christine Scales," said Adams, who is in her 27th year on the council.

Scales has a track record of breaking ranks with her votes, and because the Democrats hold their majority on the 29-member council by one seat, she sometimes ends up being a swing vote if members are absent or not voting in lockstep. While she's by no means the first or only council member with an independent streak, she shows an unprecedented willingness to challenge the party line.

Her colleagues call it burning bridges. She calls it integrity.

"I think it's important there are independents who are in the political realm, who are willing to stand up for what they believe and are willing to take the punishments," she said.

Scales said much of what drives her is faith. She's a longtime member of Tabernacle Presbyterian Church and an avid follower of conservative evangelist and author Tim Keller.

"I've always had a really strong sense of justice and serving people whose voices aren't heard," she said.

She decided to run in 2007 because she realized that her district, which covers the area between Keystone Avenue and Graham Road from 96th to 38th streets, includes part of the impoverished Meadows neighborhood.

"I told myself I will never sell my soul, or compromise what's right for the people I'm serving," she said.

Beholden to no one

At age 59 with three sons grown, Scales has plenty of time to invest in council work, and she feels beholden to no one. She's married to a radiologist and, before her election to the council, she did volunteer work.

"I don't need the money. I don't need the business contacts," she said.

As she plans to run for a third term in 2015, Scales acknowledged that she could accomplish more for her constituents if she could make amends with fellow Republicans.

"Maybe I won't be so strident," she said. "Maybe I won't be so publicly critical. There are ways we can work better together."

Republicans barred Scales from their meetings because she leaked party secrets.

"There's a lot of concerns on trust issues, where people felt like they couldn't talk openly," Minority Leader Michael McQuillen said.

Scales admitted that she leaked emails from caucus colleagues but says she wanted to prove that other Republicans—before falling in line with the party—shared her stance against a 2013 law that eliminated the council's four at-large seats, effectively taking away the Democrats' majority.

She was finally voted off the island, so to speak, after she tipped Democrats to the fact that Republicans were trying to line up the votes needed to oust Lewis from her post. The August coup attempt failed.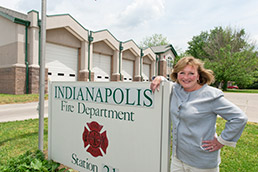 Republican City-County Councilor Christine Scales fought a losing battle against Republican Mayor Greg Ballard's administration to keep a ladder truck in her district. (IBJ photo/Eric Learned)
"I thought it was wrong," Scales said. "I thought it was the wrong thing to do."

More recently, McQuillen stripped two of Scales' three committee assignments because he heard a broadcast interview in which she came across as dismissive.

"She laughed like they were ridiculous places to serve, like they were unimportant assignments," he said.

Scales is a social and fiscal conservative who can be counted on to oppose almost any tax increase. In fact, she first emerged as a renegade in 2009, when the Republican-led council approved a hike in the innkeepers' tax in order to shore up the Capital Improvement Board's finances.

Scales was not convinced of the need for a tax hike and wanted to talk to then-Gov. Mitch Daniels about an alternative to the bailout package, which included a loan from the state. She was granted a last-minute meeting, where she said Daniels made a strong case for the bailout.

Scales refused to change her mind, however, because she didn't have time to consider what she'd learned.

The hike in hotel taxes passed with a "yes" vote from Democrat Jackie Nytes.

"It just kind of went downhill from there," Scales said of her relationship with Republicans.

Going along with partisan politics over very local issues is difficult, said Nytes, who broke ranks with the Democrats several times in her final term and is now CEO of the Indianapolis-Marion County Library.

"There's no partisan way to fill a pothole," she said.

Nytes, who has known Scales since their sons were in elementary school together, said she's passionate, committed and caring.

"If you could add a little bit of flexibility, you could accomplish a lot more," she said.

No issue too small

Constituents like that Scales is a fighter.

She's notorious among Republicans for the battle she waged over an Indianapolis Fire Department decision in 2011 to move the ladder truck from Firehouse 21 near 71st Street and Allisonville Road. Residents feared other trucks on the north side wouldn't respond in time to a fire in a multi-story commercial building.

Scales drove the area to check IFD's claim that response times would remain adequate, said Connie Jones, president of the College Commons Neighborhood Association. "She spoke out very passionately. She did a lot of the groundwork."

After a brief reprieve, the ladder truck was moved to another station. Jones said she still appreciates that Scales refused to fall in line with Republican Mayor Greg Ballard's administration.

"She's someone I would easily vote for, and I want to see her back," Jones said.

Steve Ferguson, president of the Greater Allisonville Community Council, said he's aware that Republicans—and he's conservative himself—aren't happy with Scales.

"I don't care," he said.

Scales attends all the GACC meetings, Ferguson said.

"She is probably the hardest-working politician I've ever met," he said. "She doesn't care which side of the aisle you're on. She cares about her constituents."

Conflicts with colleagues

With her neat linen suits and blonde, coiffed hair, Scales looks the part of a doctor's wife living in a gated community. Her friendly smile belies the hot-headedness that's created enemies on both sides of the aisle.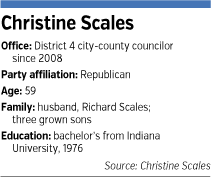 In 2012, she and Democrat Steve Talley, whose district also covers the Meadows, co-sponsored a proposal that would make the area eligible for tax-increment financing—a tool that could be used to lure a grocery to the neighborhood. (A study of health problems in the neighborhood found a direct link between the lack of access to groceries and chronic disease, Scales noted.)

The proposal died amid Democratic feuding over the use of TIFs. Then after that debate was settled, and the proposal was revived, Scales found she couldn't get Democratic support.

In an interview, Scales burst into tears as she described how she pleaded with and cajoled council Democrats and African-American community leaders to bring the Meadows proposal back to life.

"It grieved my soul" to see the proposal languish, she said.

Last year, at-large Councilor Pam Hickman, one of the four at-large Democrats who will lose their seats after 2015, took an interest in the Meadows TIF proposal, and Talley said it's due for a committee hearing this month.

Scales is convinced that Hickman, who lives in District 4, is building her record for a run at her district seat. She worked with Hickman last year but eventually washed her hands of the project.

"I knew what was going on … and kept telling her, 'Just pass the damn TIF, put your name on it, get the credit, but do it so the people might be able to get a grocery store,'" Scales said.

Hickman said she hasn't decided yet whether to run in the district. Talley said the lack of action around the TIF proposal had "absolutely nothing to do with politics at all." He said the council is taking more time to create a committee of neighborhood representatives who will have input on economic-development projects in the area.

Talley didn't take offense at Scales' accusation of politicking.

"I know where her heart is," he said. "She's a wonderful person with a great heart."

After communicating with Scales about the smoke-detector proposal, Adams said, she's starting to understand why Republicans booted her from their meetings. At one point, Adams said, Scales was sending emails that accused IFD Chief Brian Sanford of lying.

"It was like nothing I've been through as a councilor," Adams said of working on the proposal. Passed easily in May, the proposal revised the existing smoke-detector ordinance to require all dwellings to use detectors with non-removable, non-replaceable batteries.

Scales is unapologetic. She said she tried to work out her differences behind the scenes, but Adams wouldn't meet with her. Even after the proposal passed, Scales unearthed evidence that one of Adams' experts, Underwriters Laboratories, accepts fees from manufacturers for its testing services, contrary to testimony before the Public Safety Committee.

"It was clearly not the truth," Scales said.

Scales dug in against Adams' effort after doing her homework, as usual. She learned that smoke detectors with ionization sensors are slow to pick up on smoldering, smoky fires, the kind that most often lead to fatalities. And she realized that the new battery requirement, being promoted by manufacturers, wouldn't address that potentially life-threatening issue around sensor technology.

Since it was a bipartisan effort, she realized she was fighting an uphill battle. "It was important to me on this one, on a public safety issue, to go to the end, to go to the mat."•