Casey McGaughey can envision a day when people arrive at his family's restaurant, MCL Restaurant & Bakery, by jet packs and hovercrafts.
"Like the Jetsons," said the 33-year-old MCL vice president with a smile.
And why not?
After all, the company McGaughey's grandfather started in 1950 has outlived thousands of Indiana restaurants—chains and mom-and-pops alike—and remained profitable through the changing tastes and trends of seven decades.
At a time many restaurant experts are sounding the death knell for cafeterias, as several in Indiana either bit the dust or downsized, MCL has found new growth sectors and overhauled several of its restaurant buildings and opened new ones, including its newest, a 9,000-square-foot facility in Avon last month.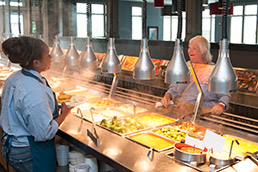 MCL server De'Nicole Gibson serves up one of the daily specials at MCL's new Avon location. (IBJ photo/Eric Learned)
But one thing won't change—the menu. Not much, anyway.
Sure, there have been tweaks. For instance, your grandparents wouldn't have found Cajun grilled tilapia, cedar-plank salmon or Gouda macaroni and cheese on the serving line during their salad days. But many of the dishes that made MCL popular when Charles O. McGaughey and his partner, George Laughner, opened the first MCL at East 38th Street and Sherman Drive are still there.
"We're always going to have things like fried chicken and pecan pie," Casey McGaughey said. "We're banking on good homemade food not going out of fashion anytime soon."
But MCL officials, including McGaughey, and his father, CEO and Chairman Craig McGaughey, realize they can't stand pat. While Casey McGaughey said the restaurant's revenue has been increasing recently, MCL isn't the giant it once was.
Twenty-five years ago, MCL operated 31 eateries. Today, there are 19 (14 in Indiana, four in Ohio and one in Illinois). MCL's employee count is down from about 2,000 less than a decade ago to 1,162 today.
"The cafeteria sector has always appealed to the older demographic," said Steve Delaney, a partner and restaurant specialist with Carmel-based Sitehawk Retail Real Estate. "They've suffered a bit from having an institutional feeling and, as more options for dining out have cropped up, that has hurt cafeterias in recent years."
The younger McGaughey has been working to change the company's image. In 2007, he spearheaded a year-long market research initiative that led the company to drop "cafeteria" from its moniker.
"When people think of 'cafeteria,' they think of high school or a hospital," McGaughey said. "We have to show people we stand for fresh, affordable and family-friendly."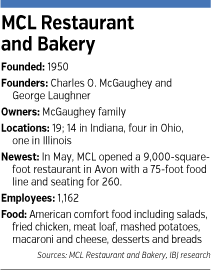 Despite MCL's deep roots, executives haven't been afraid to prune the company where necessary and seek new, more fertile soil. As traffic declined at brick-and-mortar retail stores, MCL has pulled out of shopping malls in favor of more high-profile stand-alone—and often larger—buildings with street exposure.
MCL, too, has redesigned the interior of its restaurants to feature an open layout with more natural lighting and a view from the dining room of the serving line and kitchen area. Some restaurant experts say MCL's new design is a nod to the concept pioneered by restaurants in the red-hot fast casual sector, like Qdoba Mexican Grill and McAlister's Deli.
Attracting children
McGaughey hopes to hook kids to pull in the entire family. Last year, MCL redesigned and broadened its children's menu and specials and launched Casey's Features, with a daily rotation of some of the restaurant's favorite adult entrees, for $3.99.
"We have to appeal to kids and families," said McGaughey, a Tulane University graduate who grew up working at MCL. "We have to appeal to a younger audience to survive. And we have to do that while not alienating our loyal customer base."
Last year, when MCL launched its new kids' menu, the restaurant offered a kids-12-and-under-eat-free special for two months.
The special proved so popular that MCL executives decided to continue it Mondays through Wednesdays. And despite all those free meals, McGaughey said, MCL has seen a significant revenue increase on the three weekdays.
The kids' meal redesign and campaign in 2013 drove a 120-percent increase in kids' meal sales on average in October, November and December and, through 2014, a 60-percent increase.
"That special draws in the parents, the grandparents and the entire family," he said.
Chasing corporate customers
Younger families aren't the only new audience McGaughey and his staff are chasing. MCL also has made a serious run at corporate customers with its catering business. Eighteen months ago, the company hired a sales director for its catering segment and in the last year has added two more catering sales associates.
MCL's catering business has grown 443 percent since 2008, McGaughey said, and by year's end he projects that line of business will account for 7.5 percent of revenue. McGaughey would not disclose MCL's annual revenue, but in late 2007, Craig McGaughey told IBJ the restaurant's annual revenue was $45 million.
"For us, catering is a very new part of our business," Casey McGaughey said. "And while going off site can be a bit more challenging and we've had to invest in things like vehicles and staffing, we think it's a natural outgrowth of our business."
MCL can offer catering for as little as $8 to $10 per person and McGaughey said "it has tremendous potential as a growth segment for us." Currently, 65 percent of the restaurant's catering business is corporate, with the other 35 percent for events like weddings and family reunions.
The increase in revenue driven through the kids' meal specials and catering are the biggest factors in driving up overall sales 5 percent this year, McGaughey said.
Bill Church, executive director of food service and retail development for Indianapolis-based restaurant consulting firm Z Marketing Partners, said MCL's ability to alter its business model while remaining faithful to its core mission has been key to its survival.
"MCL [officials] have tweaked their menu, they've shifted their business strategy where they've needed to, all the while staying true to what their brand stands for," said Church, who worked in several restaurants before joining Z Marketing Partners. "That's an incredibly difficult thing to do. There have been well-established restaurant chains with very deep-pocketed owners who couldn't manage to do what MCL has done—survive in a low-margin business affected by an unending wave of social and cultural shifts."
Farm to table

Casey McGaughey
Typically, restaurants survive on margins of 3 percent to 5 percent, and the same is true for MCL, McGaughey said.
Despite the tight margins, MCL has continued to eschew the practice of buying prepared food, opting instead to make most items in-house. MCL also has used two suppliers—Indianapolis-based Piazza Produce and McFarling Foods Inc.—to get much of its food from the Midwest: items like sweet corn, strawberries and asparagus from Indiana and blueberries from Michigan.
"Despite the margins, we won't sacrifice quality," McGaughey said. "People are too smart for that. Quality is our cornerstone, and the day we start sacrificing that is the day we start to die."
Instead, McGaughey is eyeing growth.
MCL is seriously considering expanding in the Indianapolis market and possibly Noblesville. McGaughey hopes to have a new restaurant open in the next 18 to 24 months. And that's not a stopping point.
"We're looking at larger markets with housing and business density," McGaughey said. "We need locations where we can do a good lunch and dinner business and one that drives a lot of traffic by."
Even if that traffic comes by hovercraft.
"We plan on being here," he said, "for years and years to come."•
Please enable JavaScript to view this content.