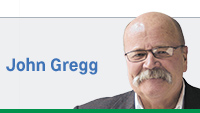 Recently, House Speaker Brian Bosma and Senate President Pro Tem David Long announced their support for having Indiana join the ranks of states calling for a constitutional convention.
Why?
They say it's because the United States needs a balanced-budget amendment added to the Constitution. But in reality their call is more about politics than sound public policy.
Since the end of World War II, too many politicians (mostly Republicans) have played Chicken Little by announcing the sky falling over issue after issue. This much-repeated ploy is designed to scare the public, rather than allowing for an adult conversation or making the hard decisions. After all, scaring people is far easier than educating them.
From 1945 until the early 1990s, it was the dreaded world domination of the communists. If the economy was good, unemployment low or the world was relatively peaceful during a Democratic presidency or Democrat-controlled Congress, Republicans would raise the banter of communism. Why, when I was a young boy, some folks believed the "commies" would come right up the Wabash River to Sandborn and take over!
As the "red scare" subsided and people realized a takeover wasn't going to happen, the Chicken Little tactics focused on the social issues: abortion, gay marriage, prayer in schools, immigration, and on and on.
People aren't so scared of those issues anymore, either.
So now Bosma and Long are arguing for a national constitutional convention to open up the U.S. Constitution. They'd like to see the Indiana General Assembly send delegates to Washington, D.C., to draft an amendment to tell Congress it has to balance the budget and who knows what else.
Look, I'm all for balanced budgets—it's something I insisted on as speaker of the Indiana House. And count me in on just about anything to make Congress do a better job. However, this isn't a solution—it's another scare tactic to get people worked up about an issue our nation should be having an adult conversation about.
If you study history, you know the last time we tried a constitutional convention was in the late 1700s, and the delegates came back with a whole new system. It was revolutionary—and it's the system we use today. So I want to ask you two questions:
• Why not just elect people who spend no more than we take in?
• Do you really want Tea Partiers, extreme left-wingers from Berkeley, and right-wingers funded by the Koch brothers to be allowed to tinker or open up the U.S. Constitution?
I don't think so.
I hope Hoosier voters see that Bosma's and Long's call for a national constitutional convention is another Chicken Little stunt that is really nothing more than chicken.•
__________
Gregg, an attorney, has been a speaker of the Indiana House of Representatives, a Democratic nominee for governor, and president of Vincennes University. Send comments to ibjedit@ibj.com.
Please enable JavaScript to view this content.