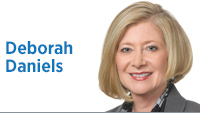 Want more police officers? Want those winter-battered streets repaired? Want more sidewalks and street lights? Better parks and green spaces?

We all want these things, but it is becoming more difficult for city government to provide them.

First, property taxes are declining. In 2015, Indianapolis expects to raise only $232 million in property taxes—the traditional means of paying for these services— as compared to $268 million in 2010. Property tax caps adopted in the last decade require Indiana cities to grow revenue through other means, such as income taxes. But we are losing high-wage earners to surrounding counties. The 200,000 or so who work here but live elsewhere enjoy the benefits we provide but don't pay for them.

What can we do? The answer obviously is not to shrink the police force and let our infrastructure crumble. If we want to be a livable, attractive, first-class city, we have to take some significant steps.

Mayor Ballard's long-term strategy for Indianapolis embraces the need for aggressive efforts to improve schools, public safety and neighborhood amenities that will attract people to our community. He knows that, to accomplish this, we need to convince job-creating companies to locate or expand in the city, with the goal not only to increase property tax revenue for the future but also to attract highly paid workers who will grow our income tax revenue.

Roche Diagnostics was seriously considering, just a few years ago, whether to consolidate U.S. operations in New Jersey or expand in Indianapolis. Rolls-Royce built a brand-new facility in Virginia and faced the same decision.

Instead, Rolls-Royce moved hundreds of engineering jobs into the heart of downtown. Roche is investing $300 million in improvements here, adding jobs and making Indianapolis its national headquarters. Dow AgroSciences will add $340 million in capital investment over seven years, adding nearly 700 jobs. AES, parent company of IPL, decided to move its corporate headquarters here rather than Houston or Dayton, adding 100 high-paying jobs.

These things happened because city officials worked closely with the companies, offering incentives such as temporary tax abatement to enable investments that will benefit the city's economy and the entire state.

But some people still criticize the use of incentives. Critics suggest that abatements are just giveaways to big companies and that we should unilaterally cease to offer incentives in today's globally competitive economy.

In truth, the incentives offered for new jobs in Indianapolis are critical to our economic well-being.

A TIF district facilitated the development of CityWay, the now-booming area already driving growth in the southeast quadrant of downtown. No one can doubt the future impact of the Market Square development, starting with the commitment of Flaherty & Collins to build an $81 million retail and residential tower on the former arena site.

Both these initiatives helped attract Cummins Engine to commit to a $30 million development on the Market Square site, bringing hundreds of high-paying jobs to downtown. All of this will encourage more highly compensated workers to live downtown, paying income taxes that will go far to replace declining property tax revenue.

Companies that don't live up to their obligations don't get off the hook, either. When Navistar closed the bulk of its facility in 2009, it was required to repay $5 million in incentives. When Gilchrist & Soames and Wayne Taylor Racing moved out of Marion County, each had to repay 100 percent of its savings.

Ask Thomas Friedman, author of "The World is Flat"; we live in a global economy, and the companies we must attract can go anywhere. Now is no time for unilateral disarmament.•

__________

Daniels, a partner at Krieg DeVault LLP, is a former U.S. attorney, assistant U.S. attorney general, and president of the Sagamore Institute. Send comments to ibjedit@ibj.com.