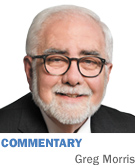 It's hard to believe, but we're halfway through the year already. It's halftime, and the upcoming Fourth of July holiday offers us the opportunity to kick back with family and friends and enjoy some of the fruits of our labor thus far this year. Then it's time to fine-tune our playbooks to ensure a successful finish.
I'm excited for what's to come in the second half of the year. I say, bring it on. My optimistic attitude is a result of a couple of things. First, using a sports analogy, you've got to put yourself in a position to win the game at the end. And I feel like, at this time, our team is in a position to win the game. It's going to take focus, the proper playbook and performing at a high level through the remaining two quarters, but I can visualize crossing the finish line with a win. That's a good feeling.
The second reason I can't wait for the second half of the year is, I just received an infusion of extreme motivation from super sales and management trainer Jack Daly at a business conference in Baltimore. A short hour-and-a-half session with Jack makes you feel like you've just finished the most intense aerobic workout of your life. This guy swears he doesn't drink coffee and, if that's truly the case, you certainly wouldn't want to give him any caffeine. Daly is off-the-charts full of energy and purpose.
If you have a company to grow, you might want to check him out. He's a terrific speaker and writer on sales, sales management, customer loyalty and personal motivation. He brings 30-plus years of field experience from a starting base with CPA Arthur Anderson to serving as CEO of several companies. Daly's a serial entrepreneur and has built six companies into national firms.
And here's something that says a lot about his drive—he's completed 12 Ironman competitions in eight countries. He's about to complete another at age 65. I love being around people like that. They make you feel like you can accomplish anything you set out to do. And if you pay attention, they'll show you how to do just that.
Here are a few random thoughts from my notes.
• We need to work from two basic foundations. The first is leverage and the second is systems and processes. Under leverage, find the clusters of influence that can send you business instead of you having to find the individual who writes the check. If you can accomplish this, it's game, set and match.
• Regarding systems and processes, it's essential that you develop a written playbook for everything in your company—especially for your sales organization. If you hired Daly to evaluate your company, the first thing he would ask to see is your sales organization playbook. Micro-manage your business like a sports organization manages its team—with purpose. Have a playbook for everything.
• Salespeople should know their hourly pay rate and invest time only in high-payoff activities. As a salesperson, if you don't have an assistant, you are the assistant. Daly added that he's not advocating going to your company and asking for a lot of assistants. You won't get them. Hire your own assistants. Can you hire somebody to enter information into your CRM system for $10 an hour? If you know your hourly rate, you'll find that to be an attractive option as you won't waste time performing low-value, albeit necessary, activities.
• To CEOs and managers: Operate your company with entrepreneurial insight. Have vision, put key people in key spots, and develop a winning culture in your company. Do you have culture by design or culture by default? Do your employees want to come to work or do they feel they have to come to work? Have you won over the hearts of the people working for you? Do you show you genuinely care about your people? Daly lists four companies with cultures worth studying: Zappos, Netflix, Southwest Airlines and Richard Branson's Virgin, made up of 300 different companies.
I recommend you pick up Daly's newest book "Hyper Sales Growth." It's full of street-proven systems and processes and shows you how to grow your business quickly and profitably. More business tips and offerings are also available on jackdaly.net.
It's halftime for 2014. Have you got your playbook ready to go for the second half of the year?•
__________
Morris is publisher of IBJ. His column appears every other week. To comment on this column, send e-mail to gmorris@ibj.com.
Please enable JavaScript to view this content.