I can write all I want about the latest fine dining establishments in central Indiana. The truth is, though, none is likely to have as much of an impact on the dining habits of local residents and workers as the new downtown Marsh Café (227 W. Michigan St., 262-5215). With construction workers, office drones and their supervisors, squatting work-at-homers, and baby-carriage pushers sharing the aisles, it's one of the most egalitarian eateries in town.

It's also one of the cheapest. Where else can you get a substantial pork loin with two sides and a drink and get change back from a $10 bill (without the need to tip)?

But how you land that loin might be a little confusing to those entering for the first time.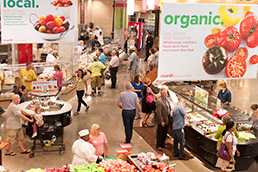 Marsh's new café features a sizable salad bar, hot food, and more. (IBJ Photos/ Eric Learned)
If you head to the mezzanine dining area first, you may be tempted to use the video kiosk for ordering. While this does allow you time to be indecisive without annoying anyone behind you, the system still needs some work.

For instance, on my first visit, the easy-to-use machine didn't reveal what the vegetable of the day was … and if I were a vegetarian or kosher, I wouldn't have been happy when it turned out to be green beans speckled with chunks of ham. And announcing my order on the loudspeaker along with my number when it was ready seemed a bit of a privacy invasion.

There's confusion at the counter as well. The drink station comes first, but you might not realize that until you've gotten to the front of the line with your food. The grill comes after the register, which might cause you to rethink what you've already claimed earlier in the line. With a pre-order or a salad, there's ambiguity about the ethics of jumping the line ahead of those claiming hot food.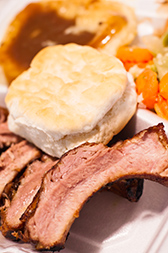 As for the food itself, Marsh offers pizza, ribs, sushi (often with samples offered), sandwiches—grilled and otherwise—and a sizable olive and salad bar outpost. As someone who believes in a sprinkling of cranberries and almonds to liven up a salad, I appreciate the variety. The aforementioned Rotisserie Pork Loin ($5.99) benefited from the gravy spillover from my mashed potatoes that I sided it with (along with those green beans).

On another visit, the Fried Chicken ($4.49 for a breast/wing pairing) was what you'd expect from Marsh—which is on par with or better than your average cafeteria. Breakfast proved the least satisfying. The problem with the Biscuits and Gravy ($1.99) was the gravy, which completely overwhelmed the biscuits. And there is no reason for my side of bacon ($1.99) to leave a puddle in the Styrofoam container it was served in.

Of course, the biggest advantage to lunching at the Marsh Café is that you can pick up some groceries before, during or after your meal. And parking is free (make sure to pick up a validation slip).•

—Lou Harry