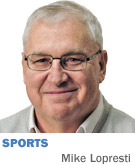 Reminder: Brandon Miller's first anniversary as Butler University basketball coach is next weekend. Send a card.

Better yet, send a recruit.

Yes, it was July 6, 2013, that Miller was named to replace—a sonata from the chorus, please—Brad Stevens. How could Miller know all the foul fate to come: the Roosevelt Jones injury, the overtimes that turned sour, the 17 defeats, the moments Butler lost its Way?

"I haven't even thought about the full year or anything of that nature," Miller said over the phone. Nope, too busy this summer—and not working on his golf handicap.

"You watch the games. You watch every one of your players' shots that are coming back," Miller said of his summer activities. "You analyze how you can get individuals better. You take a look at the X's and O's and how you can get better. You talk to different coaches within the game and pick their brains about what the situation is. You do all the above."

In the first year of his life as a head coach, Miller was hit by a perfect storm: a tougher league, a costly injury, a heaping pile of frustrating losses that could get inside a team's head.

"When you go through tough times, I think it reveals character. I think it reveals who you are," he said. "There's a lot of things that, until you go through a season as a head coach, you don't actually wrap your arms around. I think that's true with almost any profession."

Miller looks all around him this summer and sees reconstruction. Sees dust and debris and empty spaces and things that must be fixed.

Wait a minute. That's not his program, that's Hinkle Fieldhouse. I dropped in to see the old girl the other day, and she obviously wasn't expecting visitors. There are wooden boards on the court, and the scoreboard is missing, and the courtside bleachers are gone. There are fences at the gate and the sun shining through the roof falls upon construction doodads in every corner. Even the ghosts are wearing hard hats.

"We always say with a smile on our face, 'It's a sign of progress,'" Miller said. "When you walk in, you know they're working on it; let's put it that way. But it's going to be beautiful."

So Miller is trying to make a program that the new chairback seats will be proud of. The Bulldogs work out next door while their home gets a makeover.

"There were a number of new things that were happening last year, but that's not how you look at it and that's not your mind-set as you're preparing for the next game," he said. "I do look back on it now; we learned some things about our team. We learned a way to do things and sometimes we learned what not to do."

When he ponders his second team from the safety of summer, he sees four returning starters, led by Kellen Dunham, who might turn into one of the Big East's premier weapons.

"He's on a whole new level in terms of his work ethic," Miller said, "and that's hard to say about a guy who always really worked on his game."

He sees a healthy Jones. Not a day went by last season the Bulldogs did not miss him.

"He brings so much to the team, so much to the basketball floor, so much to practice," Miller said. "Saying that having Roosevelt back is a good thing is probably the biggest understatement we could have on this phone conversation."

Not named coach until July, Miller was in constant catch-up mode in 2013. This off-season comes with more planning, starting with putting more steel in the defense. A few more stops could have made the record so much shinier. Maybe this summer, while the dust settles next door, is when the Bulldogs can close the gap. They look back, they look ahead, they worry about the present.

"You have that feeling in your gut that you want to get back out there and you want to compete," Miller said of last year. "In saying that, we are trying to take every moment that we can to make that day count."

Plus, there has been a camp to run and now recruiting to do. A vacation?

"I tell my wife if we can get away, we'll get away," Miller said. "It's usually a last-minute decision."

Speaking of last-minute decisions, the Bulldogs had an awful lot of those. Here in July, Miller envisions a winter with different endings.

"The toughest part is when you prepare and put in the time and you do all this work, and then you don't get the results at the end of the day in terms of wins and losses in the Big East," he said. "That's tough. But after going through one year, I'd like to say I'm a better coach today than I was going in the year before."

So happy anniversary. And watch out for the scaffolding.•

__________

Lopresti is a lifelong resident of Richmond and a graduate of Ball State University. He was a columnist for USA Today and Gannett newspapers for 31 years; he covered 34 Final Fours, 30 Super Bowls, 32 World Series and 16 Olympics. His column appears weekly. He can be reached at mlopresti@ibj.com.