The Indy Chamber's balance sheet looks strong, but the bottom line belies an eroding membership base.

Cotterill
The chamber has lost 19 percent of its members since the start of 2011, even while other chambers of commerce around the country see renewal rates recovering along with the economy. Chief Operating Officer Melissa Cotterill said the slow but steady decline reflects the hit that very small companies took with the recession.
More recently, the chamber lost one of its top lures for small-business members. Because of the Affordable Care Act, or Obamacare, the chamber no longer offers members with 50 or fewer employees a 5-percent discount on health insurance from Anthem.
Cotterill said the chamber's leaders expect the decline to continue to a degree, and they're prepared to manage it by targeting a more engaged membership, which will buy in at a higher price point and gain access to more exclusive events.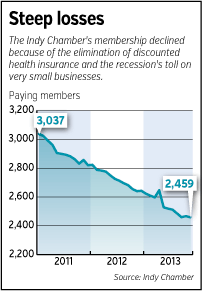 "We're not in panic mode by any stretch of the imagination," Cotterill said. "It's one of the reasons we're working so hard to make sure what we are offering right now is a value and a benefit to our members."
The chamber ended 2013 with 2,459 members, down 19 percent from 3,037 at the start of 2011.
Membership revenue isn't falling to the same degree. The chamber took in $3.6 million from dues last year, according to its recently released annual report. In a February report to its board, the chamber reported about 3 percent less membership income than the prior year.
The chamber has plenty of money in the bank, thanks to a 2012 merger with the city's quasi-governmental economic development organization, Develop Indy, which reduced overhead. Revenue last year was $9.7 million, and the chamber ended in the black by nearly $700,000.
Other major sources of revenue are sponsorships and services, including the economic development work, for which the city of Indianapolis pays $250,000.
Assets grew $2 million, to $12.4 million.
In general, chambers across the country are seeing renewal rates recover to pre-recession levels, said Mick Fleming, president of the American Chamber of Commerce Executives.
Where membership is declining, that does not necessarily affect revenue, Fleming said. "They find the people who care about their work and are willing to pay more."
That's often the case for large metro-area chambers such as the Indy Chamber, Fleming said. The kind of issues that big-city chambers address, such as economic development and place-making, are not necessarily a top priority for very small businesses, like pizza restaurants, he said.
The Indy Chamber's market penetration was 6 percent in 2013, but chambers of the same size average 8 percent, according to the ACCE's 2012 operations data, cited by the chamber in its February report to the board.
The Indy Chamber's largest category of members is companies with 50 or fewer employees, Cotterill said, and a large percentage of those are under 25 employees. Those firms were hard hit by the recession and haven't returned, she said.
Another blow to the chamber's base comes from changes under Obamacare that effectively made it impossible for insurers to offer discounts to very small firms.
The law says insurance companies can no longer price plans for firms 50 employees and under based on claims history. Instead, they have to use "community" rating, factors such as geographic location and smoking status. That leaves no margin for insurers to offer discounts through chambers of commerce.
The Obamacare effect hit chambers in several states that did not already require community rating for very small firms, and Cotterill said the Indy Chamber knew it was coming. She said the chamber could lose more members at the end of this year, when small firms won't be able to renew their ChamberCare plans with a 5-percent discount.
The discount will continue for members with more than 50 employees, and ChamberCare will still be offered to the smallest members. Cotterill said it's still crafted exclusively for chamber members and includes more benefits than in the past, including a wellness plan.
The chamber hasn't changed its dues structure and doesn't plan to soon, Cotterill said. Instead, the chamber is focused on letting members and prospects know about the additional services available as a result of the 2012 merger.
The dues vary, based on a member's level of access and size of company. The cheapest dues are $479, but they can go as high as $50,000 for elite-level members.
Daniel Herndon, CEO of the marketing firm Redwall Live, sees a lot of value in his membership, for which he donates $10,000 a year in services. That grants him and his associates access to invitation-only events, which is a higher level of access than he could otherwise afford.
"We have deep business relationships with several chamber members just because we are in the same room together for roundtable discussions, for VIP dinner events," Herndon said.
The merger included the regional economic-development group Indy Partnership and the Business Ownership Initiative.
As a result of bringing the Business Ownership Initiative into the fold, the chamber is offering micro-lending, plus other entrepreneurial services, Cotterill said. The chamber also has a staff member who can help guide companies through city permitting and zoning, a service that was previously offered through Develop Indy.
"This is going to take a little bit of time to communicate effectively all the things we have to offer companies," Cotterill said.
Members also rate advocacy as a high priority, she said.
Since hiring former mayor's deputy Michael Huber as CEO in August, the chamber has taken a stronger stance on political issues. Last fall, it came out against a proposed constitutional amendment banning same-sex marriage. Cotterill said the chamber received a lot of positive feedback for that stance, as well as its advocacy of mass transit, but she's not sure how it translated to sales.•
Please enable JavaScript to view this content.