The neighboring Lockerbie and Chatham Arch neighborhoods downtown could see four multi-family projects built south of Massachusetts Avenue along or near College Avenue.

The developments, one of them condominiums and the other three market-rate apartments, received consideration July 2 from the Indianapolis Historic Preservation Commission.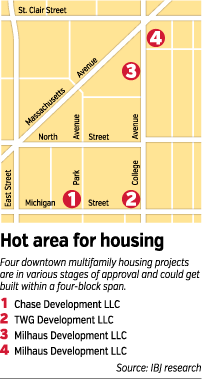 All told, the four projects, two of which would be built by Milhaus Development LLC, would add nearly 280 units within about a four-block stretch from East Michigan Street north to Mass Ave., not counting the 265 apartments in Milhaus' Circa complex under construction. The first phase of that five-building, $26 million development is set to open next month.

"What people are realizing, and it speaks to the success of the historic districts and saving these neighborhoods, is that it has created an environment where lots of people want to live in now," Bill Browne, IHPC's chairman and Ratio Architects' founder, told IBJ.

Here's a rundown of the four projects and where they stand n the approval process.

Lockerbie North

TWG Development LLC's $28 million Lockerbie North is by far the largest of the four projects, as measured by its 215 units, and is the only one that has received IHPC approval.

The commission gave its blessing July 2 , contingent on removing two fourth-floor connectors. The modification will change the design from two L-shaped buildings to four separate structures at the northwest corner of East Michigan Street and North College Avenue.

Traffic in and out of the building is also a concern. The main entrance and exit is on Michigan Avenue with another exit onto Park Avenue, but that could change.


The development includes 5,000 square feet of commercial space, likely for office use, and 247 underground parking spaces.

"It's going to be the biggest project in the 200-and-some-odd-year history of this neighborhood, and that's significant," Lockerbie resident Keith Mundrick said in expressing his support of the development to IHPC members.

Construction is set to start in September.

500 Park Residences

Chase Development LLC's four-story 500 Park Residences will feature 12 condominiums with 21 ground-level parking spaces. Five of the units will be rooftop townhomes, or two stories, while the remaining seven will be flats.

The 12-unit condo building would be constructed at the northwest corner of East Michigan and Park Avenue and just to the west of TWG's Lockerbie North project.

To make way for the condos, Chase Development would buy and demolish the building at 534 E. Michigan St. The structure made of concrete block houses a mechanical contractor's business and was built in three phases around an 1860s-era two-story home.

"It is one of the oddest reuses of a historic building that staff has ever seen," IHPC staff wrote in a report.

Only the second floor of the historic house remains and sits above the flat roof of the concrete-block building.

The IHPC continued until Aug. 6 Chase Development's request to demolish the structure and construct the four-story condo building. In the meantime, the developer will tweak the building's design.

IHPC recommended that the building's façade along Michigan Street feel more "approachable" to pedestrians since the entrance will be on Park Avenue and not on Michigan Street.

500 Park Residences is part of the first phase of Chase Development's plans. That phase also include constructing four townhomes along Leon Street and two single-family homes on Park Avenue. The second phase, at the southwest corner of Park and North Street, will contain some type of residential.

720 and 747 N. College

IHPC granted both Milhaus projects at the two addresses on College Avenue continuances and is set to again consider them Aug. 6.

At 720 N. College, where a vacant building sits, Milhaus has scaled back its plans from 32 to 10 units and from five to four stories with 16 covered parking spaces. The developer hopes to improve its chances of approval after neighbors expressed concerns about the project's density.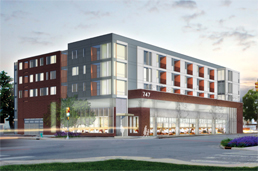 The project at 747 N. College Ave. will have 42 apartments and 8,500 square feet of retail space. (Image courtesy Milhaus Development LLC)
But the bigger sticking point seems to be the vacant building sitting on the property. Milhaus wants to tear most of the building down, to the chagrin of IHPC members, who want the developer to instead incorporate as much of the structure into its design as possible.

The two-story brick building dates to the 1890s, although several additions were made up until the 1930s. Milhaus' latest design for the property is an improvement from what it first proposed, Browne said, but the existing building "has a lot of character in its own right."

"If the need is to keep everything, it makes the site very difficult to redevelop," said Jeremy Stephenson, Milhaus' executive vice president of development, while noting that the developer continues to evaluate its options for the site.

At 747 N. College, plans call for 42 apartments, 8,500 square feet of retail and 55 parking spaces on what's now a parking lot at the southeast corner of College Avenue and East St. Clair Street, where Massachusetts Avenue intersects the streets.

IHPC members are seeking a standout design, or what they're calling "gateway architecture," for the high-profile intersection in the Chatham Arch neighborhood.

At their suggestion, Milhaus has added more brick to the design. But IHPC members still want Milhaus to change certain elements of the design, such as making the residential entrance at East St. Clair Street more pronounced.

"We want to make sure the architecture is at a high standard because of the importance of the intersection," Browne told IBJ. "I think this project is really coming along quite well. It's a very handsome design."