Under Ron Spencer's guidance as executive artistic director, Theatre on the Square has presented more than 250 productions, many of which Spencer either acted in or directed. Just days after "Superior Donuts" closes on Aug. 2, its director and star will fly to Puerto Vallarta, Mexico, which has become his new home.
IBJ: What were you doing before TOTS was founded?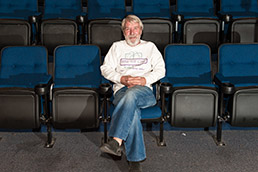 Ron Spencer (IBJ Photo/ Eric Learned)
SPENCER: I worked for RCI arranging vacations. And I was doing shows around town. I talked Buck Creek Players into letting me do "Nine," and a friend who was in the real estate business said he wished people would do more of this kind of theater. He asked if I ever thought about opening my own place. I said no, but then, in talking about it, people said they would help.
IBJ: What was the concept behind Theatre on the Square?
SPENCER: We started with the notion of an off-Broadway kind of playhouse [in Fountain Square] and we deliberately decided to do a mix. We opened with "A Chorus Line" and we were the first local theater to do it. We wanted to avoid culture shock for audiences.
It's difficult to attract an audience that isn't aware of the name of what you are doing. If you do "My Fair Lady," there's an audience for that. But when you are doing "The Great American Trailer Park Musical" and "Das Barbecu"—two of my personal favorites—it's a tougher sell. The crowd has to spread the word. That's exciting and rewarding but fiscally a little dangerous.
IBJ: Why the move to Mass Ave?
SPENCER: Even after repairs, the building in Fountain Square needed a lot of work. [A board member] was part owner of a complex on Mass Ave and he said, "I think there's a building coming available across the street." It had been a plumbing outlet and the owner was getting ready to retire. We looked around at the work that needed to be done and said, "Wow, can we go through this again?" But we did it.
IBJ: Were there times you didn't think the theater would survive?
SPENCER: Absolutely. But that can be any time for any theater. Yet we always managed to hang in there. On our lowest day, we had $12.53 in the checking account—a day I'll never forget.
There was a point where TOTS desperately needed a business manager, and the board's choice was not the right choice. It was at the end of that individual's reign of terror that we had that $12.53 in the account. We had bought and paid for our building, but a loan was taken out against it that we are still repaying. That individual resigned.
We survived through the incredible support of our true stalwart friends—the Christel DeHaan Family Foundation, the Sunrise Foundation and CICF. Those people believed in this scrappy little playhouse.
IBJ: I'm guessing TOTS' most controversial production was Terrence McNally's "Corpus Christi."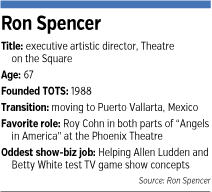 SPENCER: Undoubtedly. It's certainly interesting when you have 500 people outside the theater, half carrying signs saying "God Hates Fags" and children carrying crosses and the other half being the artistic community defending our rights. We made the headlines on the news every night. We even were mentioned on CNN and by David Letterman.
In every interview with the press, I said that it's critical that people realize that there is no suggestion that Jesus Christ of the Bible was gay. But that would be left out of every interview.
After a few phone lines were cut and some arrests made, it calmed down. "Corpus Christi" ran for three months and the only reason it stopped is because some of the actors had other commitments. It was a huge hit.
IBJ: And your board supported you?
SPENCER: They knew I wouldn't be doing something just for the sake of having picketers in the street or making national press. We certainly didn't back down from doing controversial shows, though.
IBJ: What has TOTS' influence been on Mass Ave?
SPENCER: I don't think any one organization can take credit for turning a neighborhood around. But TOTS was certainly a small anchor. There were diehards like The Chatterbox and Stout's Shoes, but after we got here, more and more traffic started showing up. The Murat got its revitalization and the American Cabaret Theatre was going and the combination of all of those did help turn the avenue around.
Some feel the focus on the avenue should be live entertainment. Now we have enough bars and restaurants. Visual art can only do so much over a period of time. But theaters offer something continuously changing and always evolving, and so it's like the cultural lifeblood of the avenue.
IBJ: You've relied heavily on volunteer actors.
SPENCER: We began paying everyone about two years before the bottom fell out on the economy. It was a sad day when I came to the realization that we were no longer able to continue paying. We didn't have the financial chops to do that. I agreed to go to half salary. And I started putting together the season out of projects that people came to me with—projects they were on fire about.
IBJ: So are you considering this a retirement?
SPENCER: I'm not silly enough to say that. That would be like saying I'm giving up my gray hair. It just wouldn't work. It's not over for me yet. I'll do perhaps two shows a year in Puerto Vallarta.
Last year, I directed "The Ritz." This year, I'm slated to direct "Assorted Fruits and Vegetables" and will be playing Dr. Dysart in "Equus." And it's not the kind of thing you just say "good night" to. I have a local phone number. Laura and Lori [TOTS staff members] can call me anytime. And I can give them a call.
IBJ: Any words of wisdom for the many small theater companies percolating in Indy today?
SPENCER: Be true to yourself. That's your saving grace. That's your battle cry. That's what will make Indianapolis a great theater town rather than a large Midwestern city with a few theaters.•
__________
Lou's Views returns next week.
Please enable JavaScript to view this content.