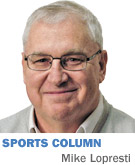 ANDERSON—OK, maybe the Indianapolis Colts' summer camp is not nestled in Napa Valley wine country, like the Oakland Raiders'.

Maybe the players don't train at a resort in the mountains of West Virginia like the New Orleans Saints, or jet to the West Coast like the Dallas Cowboys.

Maybe they don't have their names splattered on the town water tower, like the Chicago Bears in Bourbonnais, Ill. Or train at their owner's alma mater like the Carolina Panthers at Wofford.

And they haven't been coming back to the same place for 57 years, like the Green Bay Packers. The Packers returning to St. Norbert College, 6.6 miles from Lambeau Field, is like the swallows returning to San Juan Capistrano.

But Anderson University has been good for the Colts, and vice versa. The team bonds and prepares, while the school gets its name mentioned a lot and earns the right to say Andrew Luck slept in its women's dorm. Everybody's happy.

"You can't buy the publicity we get," Dave Edwards was saying. "Our city has been going through a lot of depressed times. According to the city, it means $5.5 million, maybe $6 million, to the community for the Colts being here."

Dave Edwards? Former high school athletic director, radio broadcaster for Anderson sports events, brother of university President James Edwards, and driver of one of the busiest golf carts in Indiana. He is Anderson's liaison with the Colts, helping make sure everything is up and working, NFL teams being a finicky bunch. Any issue, and he's off in his cart.

"Our job is to basically get it ready, and then stand back and let them have their camp," Edwards said. When he says "our," he means gobs of Anderson University staff members and more than 130 volunteers.

Most NFL teams now prefer to use their own facilities. Only nine will be at colleges this summer. Bah, humbug. What gets lost in the private camps is the charm, the easy and close connection with fans, the sequestered bonding of players, the quaint interlude of a sport that spends the rest of the year in glitter and glamour.

Where else do pro football millionaires lunch in the same place freshman English majors will dine in a few weeks (though the Colts bring their own food and cooks)? Where else does the offense meet in a science lecture hall? Today's subject: how to win the AFC South. In September: microbiology.

Where else does a Super Bowl hopeful bunk a block down the street from the university president's home? Not to worry about how the 340-pound tackles sleep, by the way. Anderson puts one player in each dorm room usually meant for two students, lashes the twin beds together and—voila—a double bed.

Where else could you find Cory Redding riding by on a bicycle, or Reggie Wayne showing up for the first day of work in Ed Carpenter's Indy race car?

Where else is $5 parking the only charge to watch an NFL team? And the autographs are easy. Except for the workers, since it is very bad form to ask. "I've never had an autograph. Never. Won't," Edwards said.

Anderson takes all this very seriously, from security to the grounds. Every person on campus—even the Cathedral High School trombone players here for band camp—must wear a special pass. The Bermuda grass practice field gets cut once, maybe twice a day. The turf field gets sprayed regularly to combat MRSA infection. Parking and traffic are carefully controlled. The campus currently has more golf carts than Crooked Stick Golf Club, since that is how everyone gets around—staff, players, coaches, Edwards.

The fans come in waves. More than 9,000 showed up one night during the Peyton Manning era.

"We thought when he left, we were going to be in trouble," Edwards said. "But people love Andrew. And the punter [Pat McAfee]. It's like a cult for him. He's the last one to leave. He signs every autograph that he can."

The Colts used Anderson their first 15 years in Indianapolis, switched to Terre Haute, then moved back in 2010. In the early years, the Colts had to use a makeshift weight room beneath a tent. Fans could get close enough to watch Barry Krauss do his bench presses. Now Anderson has a nifty fitness center.

Edwards spends these days worrying that no guest gets hurt. That the weather doesn't get mean. That glitches are few. He will not exhale until Aug. 13, when the Colts break camp.

"It takes two weeks to set up," he said. "On the 13th, when they leave at noon, in six, seven hours tops, we turn the campus back over. Our athletes are coming in. By 8'clock that night, this campus is ready."

By then, Anderson has done its part. The Colts are on their own from there.•

__________

Lopresti is a lifelong resident of Richmond and a graduate of Ball State University. He was a columnist for USA Today and Gannett newspapers for 31 years; he covered 34 Final Fours, 30 Super Bowls, 32 World Series and 16 Olympics. His column appears weekly. He can be reached at mlopresti@ibj.com.