Musical theater is a gamble even under the best of circumstances. Just look at Broadway, now littered with the programs of such closing-at-a-loss productions as "Bullets over Broadway," "Rocky" and "The Bridges of Madison County."
When even some of the top talents in the business can't make hits out of such familiar titles, what are the chances of unknown theater artists getting their voices heard, especially with untested stories?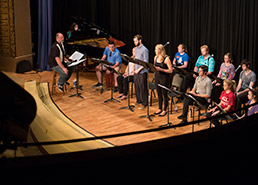 In only six days, Ball State theater students prepared three new musicals for public performance. (Photo courtesy of Ball State University)
Well, thanks to Ball State University's Discovery New Musical Theatre Festival, that uphill climb has gotten just a little bit easier. Not easy, mind you, just easier.
Before I get to the festival itself, here's some background.
In 2010, BSU students collaborated as part of the school's Immersive Learning program, taking it upon themselves to create a musical. Far beyond a simple class project, that show, "The Circus in Winter," has since gone on to win national awards and is on the brink of a major professional production this fall at Connecticut's Goodspeed Opera House (the place that launched "Annie").
Ball State built on the relationships that show helped create but, rather than simply try to birth another show, it opted to turn the university into a hub for development of new musicals from the outside world. In 2013, it put out a call for in-the-works shows. Expecting a few dozen submissions, it was slammed with 139.
Students, acting as de facto producers, culled through the applications and pitched the most promising for three slots in a summer festival. The creative teams of the top three were then invited to Ball State, where, over the course of six days, their full-length shows were rehearsed by students and faculty for script-in-hand, costume-and-set-free performances at the inaugural festival, which happened over the July 18-19 weekend at Cornerstone Center for the Arts and Muncie Civic Theatre.
Dangled as a grand prize for one of the works was a full production as part of next season at Ball State and support, a la "The Circus in Winter," with entries in the Kennedy Center's American College Theatre Festival and the National Alliance for Musical Theatre's Festival of New Musicals.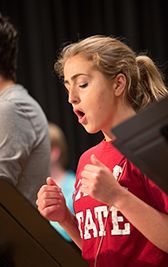 Students not only performed, but also screened applications for the first-time Discovery festival. (Photo courtesy of Ball State University)
I saw two of the three presentations, each of which was followed by comments from a panel of adjudicators, including an active Broadway producer and a vice president at play publisher Samuel French.
What did we see?
There was "Madworld," about Charles Dodgson, Alice Liddell, and the creation of "Alice in Wonderland"; "The Toymaker," about a woman whose quest for a missing toy leads her on a journey of discovery; and "The White City" (which I didn't see) about a serial killer at the 1893 World's Columbia Exhibition in Chicago.
It is, of course, unfair to review such presentations as if they were completed projects. At this incubational stage, it would be cruel to stigmatize them with Google-able reviews citing what's missing in the work. Suffice it to say that both the shows I saw demonstrated solid musical chops, both should have a fair amount of nipping and tucking ahead of them, and neither offered the material that Broadway shows are usually made of (no dancing, no showy star-inducing parts, no big laughs, no easily sold concept).
But—as the Samuel French executive pointed out—a commercially viable New York hit isn't the only path a musical can take these days. And he's right. One of the finest pieces of musical theater I've seen in recent years, "Eastland" at Chicago's Lookingglass Theatre, clearly wasn't on the Broadway track. Neither was the fluffy, fun "The Zippers of Zoomerville" here at the Phoenix Theatre.
With proper care, either of the Discovery finalists I saw could yield a very moving, engaging, satisfying show. As it stands, they made for an exciting day that only increased my respect for the talent being nurtured at Ball State by theater and dance professor Beth Turcotte and her colleagues.
Immersing in this world for a day, surrounded by knowledgeable, empowering, thoughtful and critical theater artists, made me look forward to the next Discovery Festival in 2016. And to mark September 2015 on my calendar for a trip up Interstate 69 for Ball State's full production of this year's winner, "Madworld."•
__________
This column appears weekly. Send information on upcoming arts and entertainment events to [email protected]
Please enable JavaScript to view this content.