It's always casual Friday at Krazy Klothes, where owner Dan Murphy routinely wears company-made boxers (if it's warm) or pajama pants (if it's not). But the laid-back dress code doesn't mean his business is low-pressure.

His more than two-decades-old, Indianapolis-based company is something of an anachronism—a small-scale domestic clothing manufacturer doing business in a field dominated by Asian-based titans.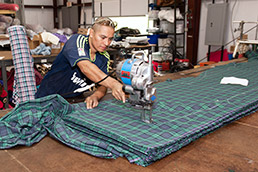 Alberto Nunez cuts into a bolt of Campbell plaid flannel, one of about 250 rolls of fabric stored at the Krazy Klothes factory at any one time. (IBJ photo/Eric Learned)
The arc of his career is a good gauge of just how rapidly the U.S.-based clothing industry went south. Or rather, east. When he graduated with a marketing degree from Indiana University in the late 1980s, the Illinois native began selling party favors to a handful of university campuses. He wanted to offer some novelty boxer shorts, so he hooked up with the owner of a Veedersburg, Indiana, sewing factory.

This was back in the days when such operations were still common in the United States. Though it's hard to believe now, domestic apparel manufacturing was until recently a huge industry employing tens of thousands.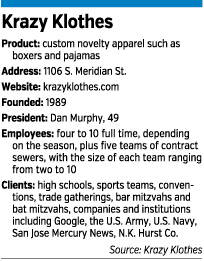 "You had major sewing factories down in the Carolinas," Murphy said. "Huge towns. Now they're all gone. Those places literally disappeared."

According to the American Apparel & Footwear Association, during the 1960s, about 95 percent of clothing purchased by Americans was also made by Americans. But these days, 97 percent is manufactured overseas. Mostly in China.

In just a few short years, the idea of an American apparel maker went from sound concept to oddity. Which makes Murphy's 1989 decision to buy that Veedersburg sewing factory and start producing custom novelty boxers, pajamas, lounge pants and other items seem like a masterpiece of bad timing.

"Everyone said I was crazy," Murphy recalled. "They still say I'm crazy."

He does have one important advantage—almost-exclusive ownership of a substantial niche market that's impervious to foreign competition.

Krazy Klothes provides relatively minuscule quantities of custom-designed novelty and logoed clothing to hundreds of customers. This sort of thing appeals both to small groups that want only a few items, and to larger groups that need their work done yesterday, if not sooner.

"We'll take an order for 24 pieces up to 10,000," Murphy said.

His client list runs the gamut, from numberless high schools to approximately 800 bar and bat mitzvahs per year to Hollywood movie studios, Google and the U.S. Army. Years ago, he even got a cryptic call asking if he could knock out 100 pairs of silk pajamas. When he said yes, he was sent a pair to use as a template.

"It was a full set of silk pajamas with no label," he recalled. "I called about it and they said they were Hugh Hefner's pajamas. I made 100 pairs for Playboy for a Las Vegas trade show."

Much closer to home, he's produced novelty aprons and tablecloths for the dried-bean soup maker N.K Hurst Co., located within walking distance of Krazy Klothes' two-building South Meridian Street campus. Most of his clients find the company through third-party brokers or the Internet, but in this case Hurst President Rick Hurst got wind of the outfit via his friendship with Murphy's older sister.

"We like to stay local with all that kind of stuff," Hurst said. "He's here and he does a great job, so I'm happy."

He particularly likes the tablecloths, cut from an extremely bean-intensive custom fabric.

"They're great because, if you spill something on it, you don't see it," Hurst said. "It just disappears into the bean pattern."

Small-batch formula

That small-batch work and rapid turnaround comes at a premium. The rule of thumb is that, the more of something you want and the longer your deadline, the less competitive Krazy Klothes becomes. Murphy estimates that producing a shipping container's worth of product costs him 40 percent to 50 percent more than it would an overseas factory. As illustrated by the attitude of a big-box buyer who deigned to peruse one of his trade-show booths.

Murphy
"He walked past and said, 'How much for the boxer?'" Murphy recalled. "I said they were $5.75. He said, 'Per dozen?' I said to get the hell out of here."

The math makes more sense with smaller runs. Murphy figures that if he does a gross of boxers, his price is pretty competitive when you factor in the tariffs and shipping costs associated with hauling such a tiny load across the Pacific. Plus, one avoids the pitfalls of placing small-potatoes order at the mercy of a producer who has far bigger fish to fry.

He refers to China as if it were a person, a somewhat scatterbrained, occasionally patronizing person. One of the reasons he's stayed with domestic production is because he's been burned a couple of times by overseas suppliers.

"You order a certain weight of flannel, and China promises it and they deliver it, but the color spec isn't the right spec," he said. "You call them up and they say, 'Eh, we'll make it up to you the next time.' Well, one bad container of goods can cripple you. You tie up $200,000 in funds that you can't get back because you're late or the quality is inferior."

Of course, this sort of thing doesn't happen (or happen often) to the big boys, such as Apple. They've got people on-site to crack the whip and watch for trouble. Little guys take what they get.

Not that he's entirely exempt from foreign-production problems. Most of the fabrics he needs are made and shipped from overseas, meaning that, to stay current, he must divine which patterns, colors and clothing styles will be popular 12 months from now. To cover his bases, he keeps some 250 rolls of fabric tucked in every nook and corner of his buildings. Right now, something called Campbell plaid is big. Brightly colored tie dye could be the next hot trend. Paisley is on the skids, yet Murphy still keeps a particularly loathsome-looking roll in his stock.

"I use it for rags," he said.

The company recently created pajama pants for the San Jose Mercury News that are covered with recent headlines from the newspaper.

"The owner was so happy he sent a picture of him and his wife in bed with the pajamas," Murphy said.

Such small to middling projects have fueled steady growth. The salad days were back before the dot-com bubble burst, when lots of nascent tech firms demanded custom clothing.

Conservative approach

The last few years, things have been fairly flat, but profitable. The Great Recession, Murphy said, didn't knock the wind out of him. Mostly because he's careful not to overextend himself. Not that he doesn't think there's room to expand.

"I could hire more independent reps," he said. "I've got to make my website more user-friendly. I could do more trade shows. But that's the problem. If you get too big, all of a sudden I have half a million dollars in inventory and something happens and the bottom drops out."

There's been talk about a comeback for domestic apparel manufacturing. Mainly because of the same factors that keep Krazy Klothes in business—an annoyance with the long lead times for overseas work, quality-control problems, and a simple desire to make stuff closer to home.

"We are seeing a reconsideration of U.S. production of apparel on several fronts," said Mary Embry, senior lecturer in the Apparel Merchandising and Interior Design Department at Indiana University. "Fashion retailers and brands are looking for options for rapid product innovation and are considering U.S. production as part of a rethinking of supply-chain risk and strategy."

There are even a few breathless murmurings about a small, nascent reshoring movement. Recently, CNBC even named Fort Wayne, of all places, as a burgeoning apparel "manufacturing hub," based on the fact that small startups such as OFabz Swimwear and high-end men's shirt maker Anton Alexander have set up shop there.

Murphy takes it with a grain of salt. In his view, overseas operations have achieved a critical mass of scale and expertise that's tough for anyone, anywhere, to match. Consider, for instance, the stuff Krazy Klothes won't—indeed, can't—do for its customers, no matter the price.

"If they want things like trim or pleated pants or ties, I just say I'm not set up for that," Murphy said. "Because no one in the U.S. does that anymore. All of the actual sewing machines are made overseas now, too. It's not coming back. There might be some startups, but see where they are in 10 years. Are they still in business, or are they overseas?"

As for Murphy, he'd like to retire in a decade. He figures he'll eventually sell the company to someone else. Perhaps they'll stick with the made-in-America plan that's served him so well.•