Mark Branch is a successful real estate agent. At age 32, he's also part of the millennial generation that every industry—especially banks—is trying to woo.

Most bankers already know that this generation, born between roughly 1980 and 2000, is tech-savvy. Thus, banks have spent billions on online banking products, and millennials like Branch have noticed.

"The ease of doing my day-to-day banking via the [bank's] app on my iPhone is very pleasing to me," said Branch, of Scheetz Century 21.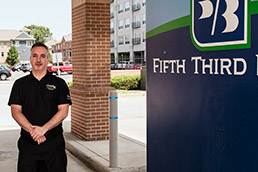 Mark Branch is like many his age who demand the best technology and personal service from their banks. Yet, many of his generation are loathe to set foot in a bank. (IBJ Photo/Eric Learned)
But it's not as simple as just rolling out new technology.

Various studies and surveys show millennials often distrust banks and represent a higher portion of the unbanked population.

The creative agency Scratch, a unit of Viacom, found in a survey of 10,000 members of the generation that 71 percent would rather go to a dentist than listen to what a banker had to say. As many said they'd be more interested in a new financial offering from a tech company than from their bank. And a third said they didn't need a bank at all.



A Brookings Institution report, "Millennials and the Future of Corporate America," discovered that the brands least liked by millennials were big banks: JP Morgan Chase, Bank of America, Wells Fargo and Citigroup.

Millennials are more likely to use non-traditional banking products such as preloaded debit cards issued by retailers, and they often research financial products more intensively than older consumers.

And while millennials don't hang out in branches, as did their elders, and may even open accounts online, they still expect a good experience when they do have face-to-face encounters at the branch.

Veteran banker Tim Tierney, retail executive at Fifth Third Bank, has worked through the changing generations over the years. "This, I think, is one of the biggest challenges an industry has … . This group, especially—and I've been doing this for a while—they are all over the board" in their expectations.

It might be tempting for banks to just ignore millennials at the moment. After all, that bigger generation known as the baby boomers is at its peak earnings potential and ripe for buying lucrative wealth-management products and services.

Boomers earn trillions of dollars annually. Adolescents and young adults earn an estimated $214 billion annually, according to the Center for Financial Services Innovation.

But by 2018, millennials' annual earnings could soar to $3.4 trillion and eclipse the $2.8 trillion in anticipated boomer earnings, according to Javelin Strategy & Research.

"It means that the banks need to be more innovative to attract customers," said Jeff Leising, vice president and retail market manager for BMO Harris Bank in Indiana.

"The millennial generation is an interesting one. They actually are creating the trends, in a sense, that businesses are trying to follow."

Device obsession

And one trend popularized and demanded by the generation is an obsession with connectivity.

Some 96 percent of 18- to 24-year-olds polled this year for Bank of America viewed mobile phones as the most important thing in their daily lives.

That's a greater percentage than those who considered a toothbrush indispensable (93 percent) and—hold your nose—more than those who considered deodorant important (90 percent).

So it follows that this attachment to mobile devices has raised millennials' expectations from their banks. That ranges from online banking to depositing checks via the cell phone to text-based alerts about fund balances.

The BOA study also found four in five millennials use mobile banking apps to access their accounts at least once a week. Most times (81 percent) they did so to check balances, followed by transferring money (49 percent) and to pay bills (48 percent).

"They leverage the technology better. They also demand it," said Kevin Langford, Indiana president of First Financial Bank.

Enabling entrepreneurs

But as 20-year-old IUPUI student Dalton McMullen will tell you, a bank needs also to be able to meet the needs of millennials' entrepreneurial aspirations.

About 10 months ago, the computer sciences major formed a business that buys and refurbishes broken mobile phones. McMullen also buys popular electronic products from Asia and resells them for a profit on eBay and Amazon.com.

"My previous bank was not very helpful when I started to get into international trade," said McMullen, who recently hit $200,000 in sales.

McMullen said he transferred his account to Fifth Third, where a banker took him seriously enough to show him how to make direct international wire transfers. The bank also had an app robust enough to let him handle his key transactions via the smartphone.



"When I need to stock units for my eBay and Amazon store, I contact my suppliers in Shenzhen [China], create my order, and pay my bill immediately at Fifth Third. It's really simple and makes my business run more efficiently."

Prone to research

Financial institutions need more than electronic capabilities and products aimed at millennials, said Andy Mattingly, chief operating officer of Forum Credit Union.

"We have found that, even though they are very much a connected generation, specifically those under age 27, just having advanced technology offerings doesn't guarantee success in attracting them. An unusual characteristic is that, when first opening an account, millennials are more likely to research online and open [the account] in person."

As such, "it's important to have useful information on your website so that the research is meaningful to them. The decision on where to open might be made online first, even if the account is opened face-to-face," Mattingly said.

And follow it through by establishing a relationship with the young customer, said Fifth Third's Tierney. "Remember, they're getting information all the time, what with Twitter [and such]. Most of it is negative."

Information is important because many millennials aren't as familiar with banks as their parents. And some research has shown millennials don't trust bankers.

Chicago-based Center for Financial Innovation conducted a survey that found only 17 percent of 18- to 24-year-olds turn first to a bank for a loan of $1,000 or less—compared with 39 percent of their elders.

The Great Recession and financial crisis is one reason for the distrust. But, according to the CFI, many young consumers just aren't that familiar with the workings of a bank. One reason: Their parents were less likely to step inside a bank in an era of Web banking and ATMs.

So it shouldn't be a surprise that some millennials are bypassing banks altogether.

A number of big-box retailers, such as Walmart, now offer a form of reloadable debit card. Some of these allow the card holder to pay bills and manage the account online—and some even allow users to reload the cards via payroll deduction.

Some of the younger generation got their first taste for these non-bank products when they went away to college.

Many universities now offer a student ID card that incorporates a debit card feature. At Indiana University, for example, the CampusAccess card allows students to pay for things on-campus such as laundry in residence halls, as well as at select off-campus locations such as restaurants and gas stations.

It's no wonder many studies show that millennials make up a larger portion of the so-called unbanked population. First Data Corp., in "Nine Ways Community Financial Institutions Can Use Technology to Capture Young Customers," cited research showing that only a third of 18- to 24-year-olds have a checking account versus more than half of those 25 and older.

"There's no doubt. … Millennials don't trust necessarily traditional ways of doing business," said BMO's Leising. "There's a lot of competition there [for millennials] in traditional and non-traditional banking."

Banks adapt

So some banks are now even offering their own pre-paid cards. First Financial Bank, for example, is rolling out a card known as BackPocket. Customers can load it with practically any amount of cash and use the card to pay bills, shop and withdraw funds.

For those who do open a traditional banking account, First Financial also recently started offering instant-issue debit cards, given that some customers don't like waiting a week or so for their cards to arrive by mail. One can also open an account online, rather than stepping into a branch.

Other recent offerings aimed particularly at millennials include slick online dashboards that allow customers to track not only their accounts within the bank but virtually any other account, including student loan balances and airline miles.

"It's this type of evolution that millennials are demanding," said Langford of First Financial. "That generation being more electronically and technically inclined, we find they're drawn with less inertia to going with a [traditional] bank."

Other appeals

Banks need also to stay attuned to other things in addition to technology. Studies show millennials expect more transparency and authenticity—everything from greater disclosure of loan terms to how the bank interacts with the community.

Fifth Third's Tierney said millennials are often sensitive to community causes. One of Fifth Third's outreaches in that regard is its offer to donate money on behalf of customers through the Stand up To Cancer initiative. "That resonates with the millennials."

It also turns out that old-fashioned customer service appeals to the generation.

Branch said one reason he's stayed at Fifth Third the last 11 years is that he can walk into a bank office "that really makes you feel as though they are connected to you. And that takes away some of my trepidations about banking. They always remember who I am and they seem very genuine."•