A subsidiary of Simon Property Group Inc. is suing the world's largest retail traffic counter, claiming it's unjustly profiting from cameras installed in stores at Castleton Square Mall.
Castleton Square LLC filed the suit against Chicago-based ShopperTrak RCT Corp. and is seeking a permanent injunction to bar the company from what Simon considers its unauthorized use of the cameras at the mall.
Built in 1972, Castleton Square remains the city's largest shopping center, based on its nearly 1.4 million square feet of space.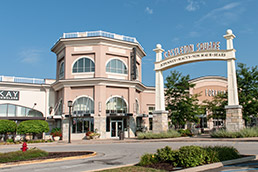 The mall owner alleges that the retail traffic counter is profiting from the camera use without Simon's permission.(IBJ photo/Eric Learned)
Simon charges in the complaint that ShopperTrak is trespassing and unjustly enriching itself by using the cameras for purposes to which Simon has not consented, and wants ShopperTrak to "disgorge its ill-gotten gains."
Neither Simon nor ShopperTrak is talking. A lawyer representing the Indianapolis-based mall owner, and a spokeswoman for the store data tracker both declined to discuss the suit.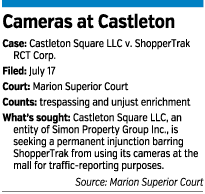 The dispute presents an interesting debate about the use of cameras at a time video surveillance is mushrooming, particularly for the purposes of tracking consumer behavior.
"I've never heard of this particular kind of lawsuit," said Richard Feinberg, a Purdue University professor of consumer sciences and retailing. "Consumers are increasingly becoming concerned about their privacy rights, and there have been a couple of lawsuits about information collected and sold. But those are consumers."
Simon asserts in its lawsuit that the data ShopperTrak gleans from the cameras is meant to be used for tenant purposes only and not for producing reports on overall traffic at the mall.
ShopperTrak has cameras installed in 19 of Castleton Square's roughly 140 tenants, according to the suit.
"By virtue of its distribution and sale of these reports and other documents to third parties, ShopperTrak is engaging in its proprietary traffic reporting without required authorization," Simon said.
That's because Castleton Square's leases with its tenants limit uses of the spaces and prohibit any uses for purposes not directly related to a tenant's primary business activities, the suit said.
ShopperTrak, Simon alleges, is taking data collected from mall tenants to create consumer traffic reports and selling them to third parties, such as investment analysts, without paying it for the rights to sell the data.
"From Simon's point of view, they want to protect their right to make money off the information," Feinberg said. "The Simon organization considers itself omnipotent. It's like the Sopranos. It's OK as long as you give them a piece of the action. And I say that in a nice way."
In some of its traffic reports, Simon says in the suit, ShopperTrak has claimed consumer traffic in malls across the United States is decreasing, implying that numerous shopping centers, including Castleton Square, can expect financial difficulties.

Feinberg
Simon is represented by Richard A. Smikle and Brian J. Paul at Ice Miller LLP and is asking a jury to award damages.
ShopperTrak is represented locally by David E. Wright at Kroger Gardis & Regas LLP.
Simon originally filed the suit June 25 in Marion Superior Court. It was moved July 17 to federal court in Indianapolis.
Chicagoan Bill Martin founded ShopperTrak in 1995. Its latest device, called the Orbit, can detect shoppers who enter a store side-by-side or in groups, and distinguishes children from adults without capturing faces.
The company says it has contracts with 750 retailers in 60,000 locations worldwide. Clients include Crate & Barrel, Crocs and Godiva, according to its website.
But another company, Mondelez International Inc., which owns such brands as Kraft, Nabisco and Ritz, may take retail surveillance to another level.
It's working on a project to put cameras on store shelves and use the information to create a database about consumer behavior in hopes of learning how to better market their products.•
__________
Greg Andrews' Behind the News column will return next week.
Please enable JavaScript to view this content.