It began as a family project for the peanut-butter-loving Weed family of Zionsville.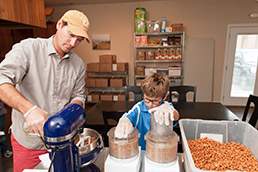 The Weed family concoction is on target to reach $100,000 in sales this year. Jon, left, and Sawyer work on grinding the honey-roasted peanuts. (IBJ photo/Eric Learned)
Dad Jon thought starting a "little family business" would provide valuable lessons for children Jackson, Julia and Sawyer, and mom Kathy gave him free rein to run with the brainstorm with only minimal eye-rolling.

The goal: create a product they could sell at the Zionsville Farmers Market every other week. And the natural choice, given their penchant for the sweet-and-salty pantry staple, was small-batch, gourmet peanut butter.

A year and a half later, B. Happy Peanut Butter is a hit at the summer market—and then some. Available at more than a dozen retail outlets in central Indiana, its seven varieties of hand-packed PB could produce sales of $100,000 this year, Jon Weed said.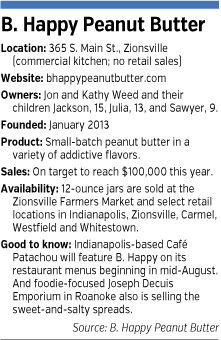 Business is brisk enough that family members just rented commercial kitchen space off Zionsville's brick Main Street to increase production, and they're planning to rework B. Happy's simple website to allow for online sales.

"I thought it would be a little summer project for the kids, like a glorified lemonade stand," said Kathy Weed, 43.

Instead, the trio of children reports for duty at the Saturday market and most Sunday nights and Tuesday evenings, when they help prepare about 400 jars to fill retailers' weekly orders.

Jon, 45, usually grinds the honey-roasted peanuts, purchased in 40-pound increments from a supplier in Highland, Indiana, while Julia, 13, gathers the ingredients that make up each signature flavor. (Her favorite, dubbed Go Lucky, includes bits of milk chocolate, toffee and Rice Crispies cereal.)

After the peanuts and add-ins are mixed—with just enough peanut oil to keep everything together—15-year-old Jackson oversees the time-consuming jarring operation, filling 12-ounce plastic tubs with the concoctions.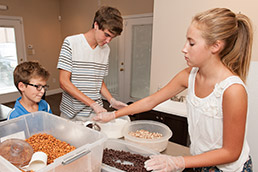 Sawyer, left, Jackson, and Julia Weed each have a role in preparing their peanut butter products, one of which will now be used in Patachou's Full Bellied Pig Sandwich. (IBJ photo/Eric Learned)
Nine-year-old Sawyer wipes down the jars, which Kathy delivers to local shops on Thursdays and Fridays. When the kids aren't busy with school or sports, they often join her.

"Making deliveries is my favorite part," Kathy said, given the enthusiastic greetings she has come to expect as "the peanut butter lady." "I feel like a rock star. … It's very fun."

Imaginative flavors

Jon, who also works full time as a financial adviser in Indianapolis, is the creative force behind the business, coming up with the flavor combinations and names.

His go-to variety is Dream Big, which adds white chocolate chips and pretzel pieces to the basic B. Happy blend—not quite smooth, not quite crunchy (which explains the name of the plain version: Keep Smunchy).

The B. Happy moniker is borrowed from the "Weed Family Rules" sign hanging in their home. "Be Happy" is one of the edicts in the middle of the list, and it struck Jon as a fitting name for the family enterprise.

Renting the cheerful yellow building at 165 S. Main allows the Weeds to get B. Happy settled after months of "schlepping" equipment and ingredients to borrowed space in other commercial kitchens, Kathy Weed said.

Starting small

They started out in the back of nearby Inga's Popcorn, trading peanut butter for the chance to use the kitchen when owner Inga Smith had some downtime.

"That was huge," Jon Weed said. "If we hadn't had someone that close—if we'd had to drive to Indianapolis—it would have been too much work."

They gradually worked their way up to making about 125 jars a week. Then a friend asked staff at Goose the Market if the specialty food shop could carry the craft peanut butter. It could and did, and before long, the calls started coming from other retailers interested in getting B. Happy on their shelves, too.

When the holiday shopping season arrived last year, sales took off.

The Weeds credit B. Happy's price point—about $7 to $9 per jar, depending on the store—and the growing eat-local trend. They even came up with a holiday flavor: Joy to the World, with dried cranberries and white and dark chocolate. (It was so popular that it's now available year-round.)

But they weren't ready for the sudden success.

"We were woefully unprepared," Jon said.

They tried in vain to keep up with demand, working into the wee hours—when they could find kitchen space—to churn out more of the treat.

Finally, less than a week before Christmas, "I had to put the hammer down on Mr. Peanut Butter," Kathy said.

Production stopped for the year, and the Weed family took a well-earned vacation. Of course, that didn't stop neighbors and friends from calling on Dec. 24 looking for a spare jar or two to give as gifts.

B. Happy's growth spurt has continued this year despite the family's decision to forgo formal marketing until they had their own space. (Regulators' final approvals for the commercial kitchen came this month.) Instead, they've relied on word-of-mouth to build the business.

So far, so good. Joe Lazzara, owner of Joe's Butcher Shop & Fish Market in Carmel, approached B. Happy after some of his customers inquired about the peanut butter. The upscale market works with local producers whenever possible, he said, carrying dozens of craft items like Best Boy sauces and Fermenti Artisan kraut.

Such specialty products have to be well-made and fairly unique, Lazzara said, to stand out from the array of mass-produced "me too" merchandise on most grocery shelves. But not all of them succeed the way B. Happy has, he said.

Keeping retail clients happy requires some effort, Lazzara said. Tasting events, for example, can help move products, and savvy suppliers—like the Weeds—know to touch base regularly to get a feel for how things are going.

"It's a step above selling out of the back of a station wagon," Lazzara said. "Not everyone realizes that."

Fit for a spoon

B. Happy's peanut butters are selling well, he said, but as a treat, not a brown-bag staple. Indeed, the distinctive combinations and unusual consistency seem out of place on workaday white bread.

Lazzara prefers to eat his with a spoon or on a cracker. Lately, he's also been pairing Keep Smunchy with celery spears for a more traditional bite.

"It's definitely indulgent," he said.

How much so remains to be seen. Because of its relatively small production volume, B. Happy is not required to print nutritional information on its labels. It does include a list of ingredients, though—and many jars have a tongue-in-cheek disclaimer advising consumers that B. Happy is not responsible for over-indulgence.

Although the peanut butter has no preservatives, the Weeds say it has a three-month shelf life. It's not clear, though, if anyone has had the willpower to test that claim.

"We didn't make this to be a health food," Jon Weed said. "This is a treat."

B. Happy also won the attention of noted Indianapolis restaurateur Martha Hoover, who has been working on a new menu for her Café Patachou eateries for about four months. Among the new offerings expected to be introduced in mid-August: the Full Bellied Pig sandwich, featuring B. Happy Peanut Butter.

Hoover called it a "riff" on the traditional PB&J, with the addition of bacon and fresh, sliced jalapenos. All proceeds from the $8.95 sandwich go to the Patachou Foundation, which serves after-school meals to at-risk and food-insecure children.

(Previously made with a mass-produced peanut butter, the Full Bellied Pig has been available as a special item since late last year.)

"We used what was available," Hoover said, but she and her staff have been looking for a higher-quality spread for about a year.

She thinks the budding relationship with B. Happy will be mutually beneficial. Café Patachou gets an upscale, "tasty" product, and B. Happy gets more exposure.

"We really appreciate what they're trying to do," she said.

The Weeds, who have been fans of Hoover's breakfast-and-lunch joint for decades, couldn't be, well, happier.

"We're really excited to see what happens," Jon said.•