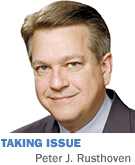 Former President Jimmy Carter recently volunteered his wisdom on the conflict between Israel and Hamas. In Carter's view, hostilities were not sparked by Hamas' firing rockets at Israeli citizens, nor tunneling from Gaza into Israel to kill and kidnap civilians.
No, the problem was Israel's "deliberate obstruction of a promising move toward peace in the region, when a reconciliation agreement among the Palestinian factions was announced in April." But "Israel rejected this opportunity for peace," and is now engaged in "war crimes."
How surprising, then, that Egypt, Saudi Arabia and the Palestinian Authority—the main "Palestinian factions"—are supportive of Israel's battle against Hamas terrorism. But Carter has special insight denied others.
These include Bill Clinton, whom Carter irked (putting it mildly) by flying to North Korea in 1994 for personal diplomacy with Kim Il Sung. Carter went because the Chinese—who shared "advice" with him—told him that if we declared North Korea "an outlaw government" and that "their revered, worshipped leader, Kim Il Sung, was a criminal, that they would have to save face by launching an attack."
So Carter to the rescue. And since he "hadn't been able to get approval" from Clinton, he just wrote Clinton "and told him that I had decided to go."
During his June visit, Carter found Kim "vigorous and alert." Kim died that July. Carter added that Kim was "very friendly towards Christianity." This surprised North Korean Christians, among the most persecuted anywhere. Kim's legacy here lives on. Open Doors, a not-for-profit that helps persecuted Christians worldwide, ranked North Korea No. 1 on its 2014 list of nations most hostile to Christianity. That's 12 straight years on top.
Carter's insights on Hamas are just as accurate. One wonders if he even knows what Hamas and its leaders say.
In 2008, Carter visited the region to meet Hamas leaders. Here's what Hamas' leading TV cleric was then preaching: "Very soon, Allah willing, Rome will be conquered." Rome is "the Crusader capital, which has declared its hostility to Islam, and has planted the brothers of apes and pigs in Palestine in order to prevent the reawakening of Islam." Those, of course, are the Jews.
Hamas' charter calls Carter's proudest achievement "the treacherous Camp David Agreement," by which Egypt committed "high treason" in leaving "the struggle against Zionism."
Other charter highlights: Jews were behind "the Communist Revolution." They "formed secret organizations"—like "Rotary Clubs and the Lions"—to "destroy societies." Jews were "behind World War I"; formed "the League of Nations through which they could rule the world"; and "were behind World War II, through which they made huge financial gains."
Then there's this aspiration: "The prophet, prayer and peace be upon him, said: The time will not come until Muslims will fight the Jews [and kill them]; until the Jews hide behind rocks and trees, which will cry: O Muslim! there is a Jew hiding behind me, come on and kill him!"
And remember: "There is no solution to the Palestinian problem except by Jihad. The initiatives, proposals and International Conferences are but a waste of time, an exercise in futility."
This is what Israel is dealing with, in a struggle for the safety of its citizens and its very survival as a nation. Carter and most in our media ignore this. The rest of us should not.•
__________
Rusthoven, an Indianapolis attorney and graduate of Harvard College and Harvard Law School, was associate counsel to President Reagan. Send comments on this column to ibjedit@ibj.com.
 
Please enable JavaScript to view this content.