Indianapolis-based Emmis Communications Corp. executives believe their latest acquisition, a flexible-pricing software firm, can revolutionize any number of businesses, including radio.
Locally based Digonex Technologies—which designs software that deploys pricing strategies similar to what airlines have been using for years, called dynamic pricing—does not have a ready-made solution for the radio industry. But Emmis has its sights on making that a reality.
Smulyan
Digonex's software collects sales data and adjusts prices for every item in a company's product catalog in real time to maximize profit. Digonex also implements a sports and entertainment ticketing system to find the best price for each ticket. Emmis wants to apply the same concept to advertising sales.
"Digonex has discovered some of the secret sauce to do [dynamic pricing] really well," said Emmis Publishing President Greg Loewen, who is also tasked with directing the Digonex unit. "This is going to become common business management."
Some of Digonex's clients include the Anaheim Ducks, Indianapolis Zoo, University of South Florida, Cleveland Cavaliers and Warner Music Group.
"We like the business," Emmis Communications CEO Jeff Smulyan said. "We think it's going to grow and we think we can provide some management skills. We did research on dynamic pricing and we think it's going to change the [radio] industry."
Emmis is the ninth-largest U.S. radio group, with 19 FM and four AM radio stations including locals WIBC-FM 93.1, WYXB-FM 105.7 and WLHK-FM "The Hank" 97.1.
Digonex stakeholders familiar with Emmis approached Smulyan in the fall of 2013 as part of a larger search for capital and a management partnership.
"It's pretty typical for an early-stage company to need to raise numerous rounds of capital to fund its growth and Digonex was approaching the point of requiring a new influx of capital for that purpose," Loewen said. "We undertook a fairly extensive analysis of the dynamic-pricing marketplace, analyzed the competitors, and talked to current and potential future Digonex customers."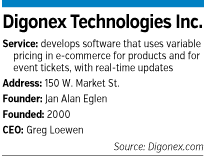 Seeking out innovation
Emmis' move to acquire a majority stake in Digonex was not out of character, said Robert Unmacht, a partner at iN3 Partners, a Tennessee-based investment banking consultancy focused on radio.
"Obviously, they see this as a way to help them sell more radio," Unmacht said. "Emmis has always been excited about staying on the technology side."
In the fall of 2013, Emmis launched NextRadio, an app that allows certain wireless phones to receive FM broadcast signals. Emmis also owns a significant minority position at Indianapolis-based software developer Courseload, an e-learning platform for post-secondary education.
To date, Emmis has used Digonex only once—to sell tickets to a hip-hop music festival for its recently acquired New York radio station, WQHT-FM 97.1, Loewen said.
"Digonex built an algorithm to help our team price the tickets," he said, adding that the event sold out MetLife Stadium. "Dynamic pricing is a complex science and the company has been working at fine-tuning it for over a decade."
Earlier this summer, the Indianapolis Zoo made the switch to variable pricing after consulting with Digonex. Zoo spokeswoman Karen Burns said it has been a success in accomplishing the not-for-profit's goals.
"The zoo is a different type of client than most organizations using dynamic pricing because our objective was to manage crowd capacity, not maximize revenue," Burns said. "For that reason, among others, we needed a company that was willing to partner with us to find unique solutions that work for our business."
The zoo has seen an increase in weekday attendance and a manageable 10,000 visitors per day on the weekends, Burns said.
E-books to warehouses
A number of other businesses across differing industries also are reporting a preference for dynamic pricing.
Richard Billings, CEO of recent e-book startup Screwpulp, said it just makes sense to base prices on actual consumer demand.
"Right now, I don't really know of any other companies using dynamic pricing in the e-book marketplace," Billings said. "As allegations of price fixing persist in the sales of digital content, I think that dynamic pricing models that rely solely on market reaction will become more prevalent."

Loewen
Screwpulp makes its books available for free initially. As consumer demand grows for a certain book, the price goes up. If the book remains stagnant, Screwpulp pitches it.
Matthew Turner, founder of strategy firm The Boston Turner Group, said he has seen dynamic-price-like activity in the wholesale distribution industry, specifically with a program called epaCUBE.
EpaCUBE software analyzes a distributor's product and researches its customer segments, then the distributor uses the results to adjust pricing, "boosting gross margin percentages 2 [percent] to 4 percent or more," Turner said.
New York-based Car Part Kings regularly uses dynamic pricing. Its president, Mike Dash, said the strategy has nearly doubled business in the last year.
"We reprice items in real time on our website," Dash said. "By applying a baseline markup on our cost determined by where the rest of the market is pricing, we are able to attract more customers with lower and sometimes higher pricing."
Dynamic pricing is even being used by legal advising sites like legaladvice.com, which searches all 50 states to connect clients with licensed attorneys.
The site's founder and CEO, Matthew Reischer, said dynamic pricing makes a lot of sense for the industry.
"In the legal services industry, there is a move to offer pricing based on the availability of attorneys online for discussion at any given moment," Reischer said. "The idea is that, if there are few attorneys online to counsel a client on a particular legal matter, then those attorneys that are available will benefit by the automatic setting of a higher price."
Emmis officials feel confident about their acquisition.
"The company has a strong track record of success," Loewen said. "Typical results see revenue growth of between 7 [percent] and 20 percent, depending on the circumstances. And every client we spoke to confirmed that Digonex made them money."•
Please enable JavaScript to view this content.