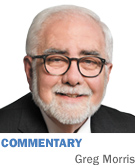 Do you enjoy drinking a good cup of premium coffee to get your day started? I'm not talking about your average cup of joe, but the good stuff. The aroma, the anticipation, the warm sensation and the mild rush provided by that first sip of coffee gives you the jump start you need to get your day moving. You've had your first cup, and you're ready for anything. It's going to be a great day!
If you don't pause your morning routine long enough to be in the moment to that degree, you should try it.
Why am I all pumped up about coffee? Because of my friend Peter Beering, whom I met seven years ago when I attended my first Mickey's Camp. We just spent some time together at this year's camp and I attended his "coffee cupping" session. Imagine a wine tasting experience, only with coffee.
Peter is an interesting guy. He's an expert in emergency preparedness, planning, response, counter-terrorism, arson and bombings. His professional focus is on preparedness and response to difficult problems. A guy with those credentials needs a good cup of coffee to keep him going!
Beering has other ventures, including snow and ice management. But I believe his real passion—his true love, other than his family—is the coffee business. Actually, it's more of a mission. And that's the name of his company, Mission Coffee LLC. Even though the coffee is truly outstanding, it's the back story that drives Peter's passion.
Mission Coffee imports and resells coffee grown on the Boquete medical mission in northwest Panama. The company is committed to assisting the indigenous people who tend the coffee and to breaking the cycle of agricultural enslavement.
Beering has made many trips to Panama and knows virtually everyone who touches the coffee, from planting to harvesting and delivery. His efforts are not to make money personally from this venture, but to help Panama Christian Evangelism help these needy people. Funds are raised all year to send medical equipment, medicine and money to the mission.
Here's how the Mission Coffee company helps PCE. Once the coffee is harvested, sorted, washed and dried, Beering buys it at retail prices, then pays Cafe Ruiz, an indigenous company, to roast, box and truck the coffee to Panama City. This allows them to beat the Fair Trade price by a wide margin, support the employment of the people PCE serves, and maintain a tightly integrated supply chain.
The coffee is flown to the U.S. via United-Continental airlines. Unlike transport on ships, which can take weeks, the coffee is here in days. Once inspected by U.S. Customs, it's packaged and ready for retail sale. Costs are recovered and profit is returned to PCE in medicine, materials or money.
So you can see this is about a lot more than coffee. Beering's coffee also happens to be some of the best in the world.
So, if you appreciate good coffee, please look for my friend Peter Beering and his high-tech "java van" every Saturday through Sept. 27 at the Carmel Farmers Market. This fancy van is a fully loaded coffee café on wheels. If the weather is hot, you can try his newfangled nitro cold-brewed coffee. It is kept cold and served from a beer tap. Very sophisticated!
At the Carmel Farmers Market or at missioncoffee.org, you can buy whole beans, or ground in bulk, or one-pot packets, or Keurig-style individual serving pods—all in regular or decaf. For an adult beverage in the evening, did I mention a cup of premium decaf coffee with a little Bailey's Irish Cream or RumChata provides a nice treat?
So, go see Peter. He'll help you up your coffee game and you'll be supporting a great humanitarian cause at the same time … the PCE mission in Panama.•
__________
Morris is publisher of IBJ. His column appears every other week. To comment on this column, send e-mail to gmorris@ibj.com.
Please enable JavaScript to view this content.