The ears of the local radio community—and those across the country—perked up earlier this month when Walt Disney Co. announced it would sell its 23 radio stations that target children ages 3 to 15.
The only Radio Disney outpost on the FM dial, WRDZ-FM 98.3 in Indianapolis, could be particularly sought after if the stations are sold individually.
A person familiar with Disney's intentions said a sale could come as soon as late September. Federal Communications Commission approval of the sale could take three to six months, but a new owner could begin programming the station before final approval.
In addition to questions affecting the local market—how much Los Angeles-based Disney will ask for the station and who might buy it—a larger question looms over the industry: Is radio dying a not-so-slow death with younger listeners?
"This sale gives us a lot to think about," said Robert Unmacht, a partner at iN3 Partners, a Tennessee-based investment banking consultancy focused on radio. "It certainly demonstrates that apps, podcasts and digital services have grown in a way that radio hasn't."
The sale was triggered because young listeners have adopted satellite radio and online platforms for listening to music and other programming, Disney officials said. Radio Disney will increase its investment in both digital distribution platforms and music-centric programming to optimize the network for long-term growth and to better reflect the habits of its listeners, a national audience of kids and families," Radio Disney said in a statement.
Radio Disney has been on Sirius/XM satellite radio since 2002. It recently signed deals with Harman's Aha Radio, Slacker and ShowMobile. Radio Disney also streams through its own apps. The company expects to sign other digital distribution agreements in the next few months, said a source familiar with Disney's plans.
Digital migration
Disney's research reportedly found that, among Radio Disney listeners 6 years old and up, 37 percent listen to the radio via satellite, 35 percent listen through the Internet, and 31 percent listen on mobile devices. Just 18 percent listen through AM and FM broadcast.
"Disney's audience is obviously very comfortable using mobile and digital technology," said Tom Taylor, publisher of a radio-industry newsletter. "Is there a cautionary tale there for the industry? I don't know."
One thing is certain, Taylor added: "Disney is usually good with its research."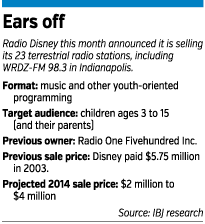 This isn't Disney's first radio divesture. In 2010, it sold six AM stations and one FM station that had been part of the Radio Disney Network. In 2013, it sold another seven stations.
In 2006, Disney sold the ABC radio network and 22 stations to Citadel broadcasting for $2.7 billion. Disney still operates ESPN Radio, which owns stations in New York, Los Angeles and Chicago and has 500 terrestrial affiliates.
Disney's music radio strategy was faulty from the start, said Chuck Williams, Radio One's Indianapolis market manager.
"I can't believe it took them this long to realize you can't reach people—of any age—with a music format on the AM dial," Williams said. "Music on AM hasn't happened for 20 years."
Williams admitted radio has its challenges, but said Radio One has retained much of its youthful audience in the local market. Radio One's WHHH-FM 96.3—which targets listeners in their 20s—has been atop the local ratings in recent months, according to Nielsen Media Research, and Williams said WNOU-FM 100.9 has also done well with audiences in their teens and 20s.
Jeff Smulyan, chairman of Indianapolis-based Emmis Communications Corp., also remains bullish on radio and its appeal to young listeners.
"We're holding onto our young audience very well," said Smulyan, whose company operates 23 stations nationwide and four in Indianapolis. "There's some decline in time spent listening, but not as much as TV. You have to remember, Disney's audience is very young. We're finding that, when most people get to a certain age, they're tuning into radio on a regular basis—over 90 percent of Americans listen every week."
Demand signals
No one doubts that the stations Disney is selling will be sought after. And even though some of the Disney AM stations are in mega markets such as New York, Chicago, Philadelphia, Dallas, San Francisco, Boston, Atlanta, Houston and Detroit, brokers think Indianapolis' station will be one of the most desired since it is on the FM dial.
"I would be surprised if one or more of the radio clusters operating here haven't already contacted Disney," said Scott Uecker, WICR-FM 88.7 general manager and communications instructor at the University of Indianapolis.
"It's an FM station with a good signal with a frequency in the middle of the dial. It would be a good complement to any cluster currently in the market. Those [radio] operators could realize some good economies of scale."
The five major clusters operating in Indianapolis are Emmis, Radio One, Entercom Communications Corp., Cumulus Media Inc. and Clear Channel Radio.
Smulyan said of Emmis' interest: "At this point, I'd say it's unlikely. But I'd never say never. Because it's an FM station, there will definitely be some interest."
Disney bought the station in 2003 for $5.75 million. And while several national brokerage firms value it currently at $2 million to $4 million, Uecker said it could sell for as high as $6 million.
"The five clusters here are pretty well entrenched with their stations," he said. "I don't see a lot of other movement in the market here. This may be the only quality FM station to become available for quite some time. That right there should create strong demand."
The station does have a few drawbacks. Since Disney isn't selling its content or youth format, it comes with no programming, no advertisers and no cash flow.
The station's tower is near Avon and its signal is weaker than most other major local stations. Some industry experts said it has difficulty reaching eastern Marion County and parts of Boone and Hamilton counties, including Zionsville, Carmel, Westfield and Noblesville.
"From a listener's perspective, I haven't had difficulty with signal fallout of that station in Hamilton County," Uecker said. "There's always a possibility the tower could be moved to improve its range."
According to BIA Kelsey, a Virginia-based research firm, the average FM station in Indianapolis brings in just less than $5 million in annual revenue with a 30-percent profit margin. A startup isn't likely to hit those numbers in its first couple of years.
It's unclear whether Disney will try to sell all 23 stations as a package or individually. Disney officials declined to comment.•
 
Please enable JavaScript to view this content.