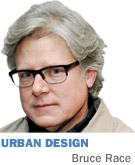 A number of years ago, I was part of an effort to organize a design competition for a highway rest stop in California's Central Valley. The goal was to come up with a totally green, off-the-grid project. The resulting rest stop received the highest Leadership in Energy & Environmental Design Platinum rating.
Sustainable features included energy-efficient fixtures and heating, natural daylighting of interiors, and a shade pavilion covered in solar panels. Special attention was paid to healthy indoor air quality that eliminates mold, dust and moisture. Although they had me at "fresh air," the project went a step further and included public art.
I wish Indiana's rest stops left such a good impression. As a boomer, nothing says summer vacation to me like a rest stop on the interstate. It reminds me of all those times we crammed the family into the station wagon and headed off to the beach. Indiana's welcome centers and rest areas are creating memories, good or bad, of vacation travel for future generations.
Indiana has branded itself as the Crossroads of America. We take pride in being an automotive and industrial state. You'd think we'd embrace the idea of rest stops that welcome visitors and celebrate the car culture. Yet our rest areas are lacking compared to those of our neighboring states.
Having stopped in Michigan's Welcome Center rest stop on Interstate 69 a number of times, I can see how the Pure Michigan branding effort has influenced design and maintenance of their highway comfort stop experience
On the flip side, the first rest stop in Indiana feels like it was designed by highway engineers and is stuck in a 1960s time warp. The lack of investment in basic plumbing, landscaping and maintenance results in a visit just a click above a Third World experience.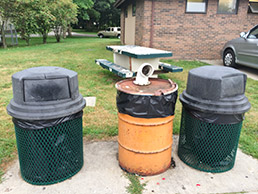 Indiana visitors are greeted with unattractive trash receptacles and tired picnic tables. (Photos courtesy of Bruce Race)
Indiana has 30 separate rest areas along our interstates. Seven are welcome centers at our borders. Four of the welcome centers were built in the 1980s and have a conservative and institutional budget-driven appearance. Only three look as though they had design architects.
By far, the best of the three is Clear Creek Welcome Center, built in 1992 near Terre Haute on I-70. The formal site plan includes a nice tree-lined park and long entry drive. The design takes advantage of the unfolding view of the center on the driveway approach. The view of the postmodern façade is cradled in a circular glade and curved parking lot.
The Batesville Welcome Center on I-74 is a modest facility built in 2005 that has a simple pyramid roof and high windows wrapped in a limestone and brick wall. There is a matching picnic pavilion with limestone walls and timber trusses. However, the site is poorly landscaped, and dirt paths have been worn into the grass in front of the building.
The Black River Welcome Center on I-64 near Evansville was built in 1976. It has that 1970s Late Modern esthetic with a heavy concrete facade split with a tall glass lobby space and caped with offset shed roofs. The approach is along a driveway that reveals the center's informally landscaped setting.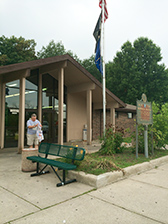 Uninspiring architecture and poorly maintained landscaping are standard features at most Indiana rest stops.
Most of the other welcome centers and rest areas are prototype "canned plans" built in the 1970s and 1980s. These depressing and worn-out facilities are going through a program of phased replacement. Unfortunately, the replacements are also canned plans that appear to be tornado shelters or bunkers. They are new and clean, but we will be saying the same things about them in 20 years.
The Pipe Creek Rest Area near Muncie is perhaps the best of the new prototype plan. It has brick striping, a shallow arcade, glass block for daylight in the rest rooms, and a small lobby with a translucent pyramid skylight and metal roofs. The landscaping is contained in curbed planting areas that direct people to the lobby. The Greenfield Rest Area is similar but with a green metal roof and concrete block.
The Centerville Welcome Center on I-70 is a meaner version of Pipe Creek with buff brick, a low-slung metal roof and horizontal gun-slot windows bracketing a residential-scale lobby. The formal crossing walkways on the site plan lack landscaping reinforcement and articulation. Centerville has a twin in Auburn on I-69 with a darker metal roof and tan brick.
We are missing an opportunity to make a statement about the Crossroads of America and stated policy commitment to the private automobile. Our rest areas and welcome centers reflect Indiana's legislative chintziness. They match our rough highways and general lack of pride in the state's public domain. Our interstate travel experience is a symptom of fiscal neglect of infrastructure investment in favor of low taxes. If our state is not going to fund trains and buses, we should fully fund highways and provide beautiful rest areas.
Michigan, Illinois, Kentucky and Ohio rest areas have interesting designs. They are landscaped and maintained as though your comfort in and impression of their state are important.
Our neighbors seem to understand that you get only one chance to make a good first impression. What message do our welcome centers and rest areas send? That the Crossroads of America has low expectations.•
__________
Bruce Race, FAIA, FAICP, PhD is an award-winning architect and urban planner, owner of RaceStudio and recipient of the Indiana Sagamore Planning Award. He lives in a historic Indianapolis neighborhood and teaches urban design at Ball State University's Downtown Indianapolis Center. His column appears monthly. He can be reached at br@racestudio.com.
Please enable JavaScript to view this content.