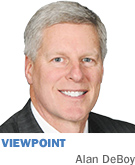 As challenging as developing and preserving water supplies for the next 50 years might be, as identified recently in a water resources study by the Indiana Chamber of Commerce, another significant challenge looms just as large for most water utilities.
Stories of major water main breaks around the country are becoming more common as our water infrastructure is starting to show its age. The challenges these aging pipes represent are a constant point of discussion for water utility leaders, and they are worthy of greater focus for a broader audience, too.
In 2013, the American Society of Civil Engineers, in giving a letter grade to America's infrastructure, rated our nation's overall drinking-water system infrastructure a "D." The U.S. EPA projects $380 billion is required to replace this aging water infrastructure over the next 20 years.
How did we get to this point? Much of America's water infrastructure was installed in the mid- to late-1800s. Certainly, many water system replacements and upgrades have occurred over time, but vast amounts of old water pipes remain in service, with many approaching 80, 90 or even 100 years old. Most utilities are not replacing and upgrading their infrastructure at a rate that will enable sustainable, reliable water service.
As an example, Indiana American Water replaces only about one-third of 1 percent of its 4,700 miles of water pipe across the state each year, representing a 300-year replacement cycle—an important fact when you consider that steel and cast-iron pipes, constituting nearly 40 percent of those in the ground, are expected to last only 50 to 100 years before failing. Many of these pipes, especially in older urban centers, are approaching or have already exceeded their expected useful life.
It's understandable that no one desires to see costs for anything go up, but the fact is that the cost of not fixing these water systems in a timely manner will be far greater in the long run.
Emergency main repairs are much more costly than preventive replacement programs, and construction costs will continue rising. We must find new ways to make the investments now to upgrade and fix these systems to meet modern needs, comply with stricter regulations and ensure our economic vitality.
Indiana American Water is playing a role in these discussions, and we invite others to join in the conversation. Take the time to learn more about water infrastructure issues; the true value of water service; and what it takes to draw water from a natural source, transform it into quality drinking water, and deliver it directly to the tap. It's a much more complex topic than many realize.
Strong, viable water systems are necessary for economic development, and investment in infrastructure brings jobs to communities. Convenient, quality tap water was one of our nation's greatest accomplishments during the last 125 years.
We need industry and community leaders across the country and here in central Indiana engaged in discussions about how we will keep quality water flowing for the next 125 years and beyond.•
__________
DeBoy is president of Indiana American Water and has more than 32 years of experience in the water utility industry. Send comments on this column to ibjedit@ibj.com.
Please enable JavaScript to view this content.